October 31; 12 noon. At Syntagma Square, four girls from Poland who live in Greece, studying or working here for the past few years, invited Athenians (via social media) to participate in a sit-in protest to express their support for the women of Poland who find themselves facing the new law which universally bans abortions except for cases of fetuses with Down's syndrome.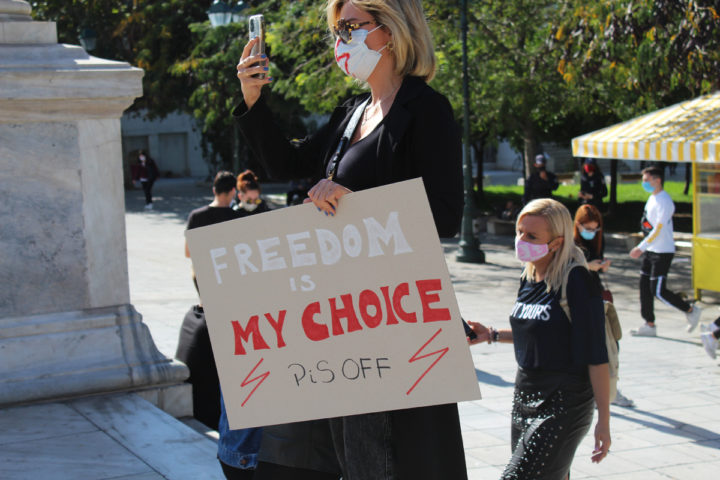 One of the organizers, Maia Mazurkiewicz, spoke to us about their initiative and explained the situation concerning this law in Poland:
"Today we are gathering to support women in Poland who are demonstrating after the incredibly politicized Constitutional court ruled in October 22 that abortion in cases of defective fetuses was unconstitutional. This represents 98% of the terminations which are carried out in Poland. Even before this decision, the Polish law on abortion was the most stringent in the European Union. 80% of Poles do not want further restrictions included in this law. In spite of this, the PiS (ultra-conservation government of the Law and Justice Party) once again used human rights to protect the power given them by fundamentalist Catholic supporters. The people in Poland are in the streets in the middle of a pandemic, because they cannot stand it anymore. Demonstrations are taking place in hundreds of places in Poland. Yesterday, over 150 thousand people demonstrated in Warsaw."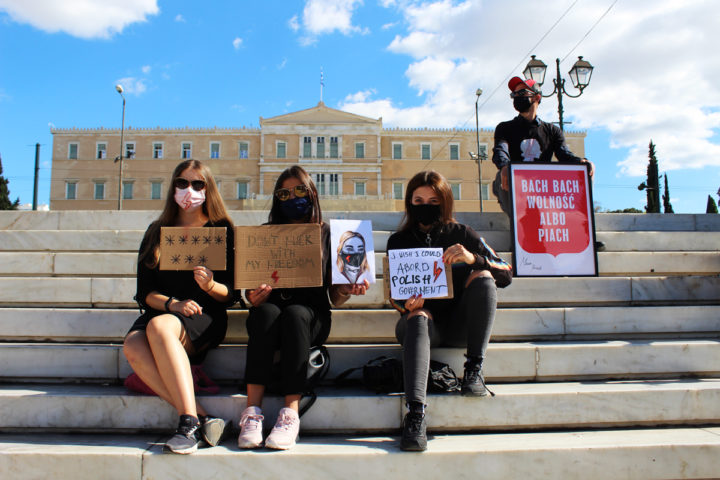 This initiative was supported by male and female university students, Poles who live in Athens, and members of feminist and LGBTQ+ movements. Today Greece and Poland stand side by side. The revival of such policies, anywhere on the planet, brings the people who respect human rights onto the streets, to defend them.
Video: Sit-In demonstration at Syntagma Square. Pressenza Athens
Translation by Jeannette A. Arduino, from the voluntary Pressenza translation team. We are looking for volunteers!