Pressenza Featured Articles
Latest News
19.05.2019
The Hellish Cycle
By Baher Kamal Indebted, exploited, hunt down, shamed at Home… The harsh reality of Southeast Asia's migrants Sorry for coming…
18.05.2019
Long Life to Their Majesties, The Bees!
By Baher Kamal* Amazingly organised social communities, bees ensure food chain. 'Bee' grateful to them… at least in their Wold…
18.05.2019
We've declared a climate emergency – here's what universal basic income could do to help the planet
Mark Maslin, UCL and Simon Lewis, UCL for The Conversation Governments around the world are declaring…
17.05.2019
Refugee journeys on the Balkan Route: denunciation and solidarity
It has been an intense few days of events about migration on the Balkan route. It starts on Wednesday the…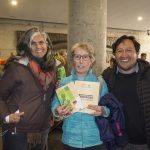 17.05.2019
The Humanist Forum seen from the outside
I left Santiago with the memory of the most beautiful closing event that I have ever lived… and considering that…
Newsletter
Enter your e-mail address to subscribe to our daily news service.
Film: The Beginning of the End of Nuclear Weapons
Milagro Sala