Playwright | Theater Director | Social Activist | Founder- Charaka, Desi, Gram Seva Sangh(GSS) & Ragi Kana.
A major Indian theatre director and playwright, and lifelong social activist, Prasanna lives in a small village of Heggodu in the Indian state of Karnataka. One of the pioneers of modern Kannada theatre in the 70s which he developed with other activists, he founded Samudaya, a radical theatre movement for workers and the masses, staging street plays, protest plays and propagating political thought in villages. He also has founded Charaka,  a women's co-operative society in Bhimanakone village in Sagar taluk of Shimoga district in Karnataka. Charaka produces naturally dyed cotton handloom garments, which are sold under the 'Desi' brand name across the state.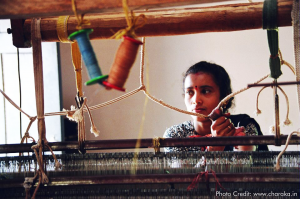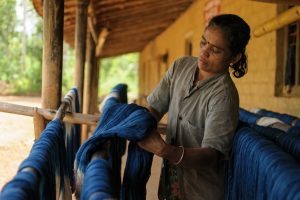 The Gram Seva Sangh is a federation of constructive work organizations in India, acting as a bridge between city folk and constructive workers in the village. This bridge helps urban youth and city dwellers come in contact with, and learn from the village–things such as simple living, working with ones' hands and nature. In turn, the Sangh helps the village constructive organizations with a market for their 'hand' produce and with trainings in building equitable systems and organizations. Simply put, it is a bridge to transport good things from both ends and a Constructive Programme to shed bad qualities at both ends.
At present, the organization has launched a campaign to save the rivers and is strongly supporting the needs and struggles of artisans across India who constitute a majority of its poor, disadvantaged and marginalized. Over the last year, Gram Seva Sangh has been spearheading a movement to enable sustainable livelihoods through better value for handmade products. As part of the movement, the Sangh has organized a wide-ranging Satyagraha across large parts of Karnataka, comprising of peaceful protests, padayatras as well as a hunger strike, demanding zero-GST (tax) for handmade products.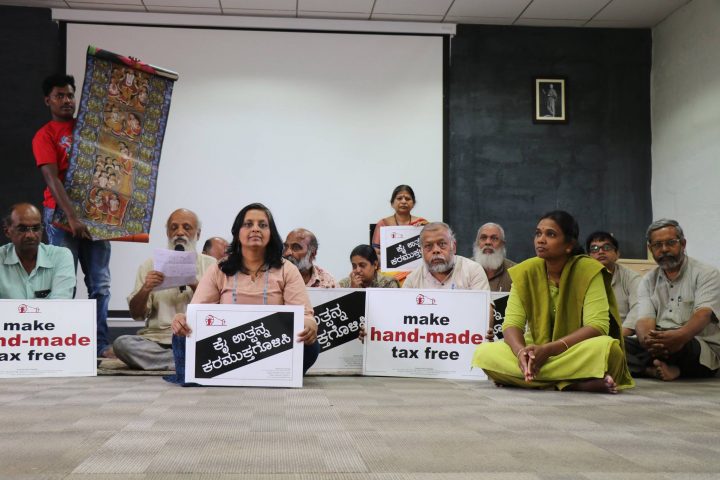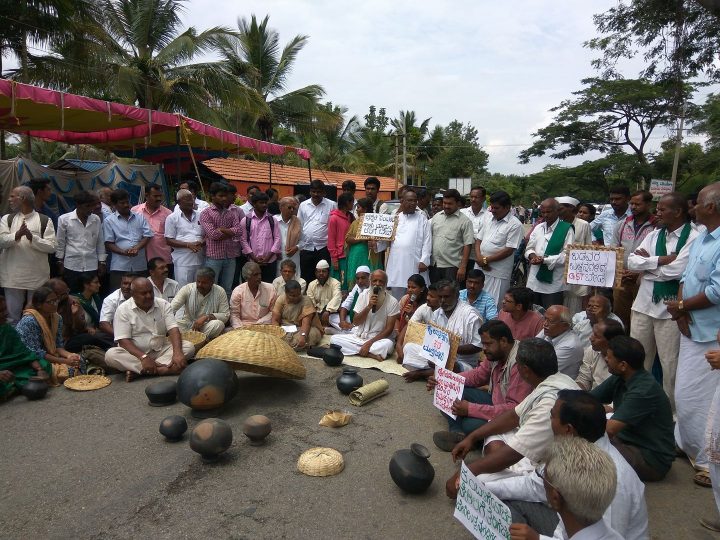 Because of his involvement with Gram Seva Sangh (among his other endeavors), Prasanna received the Mahatma Gandhi Service Award – 2018 from The Government of Karnataka.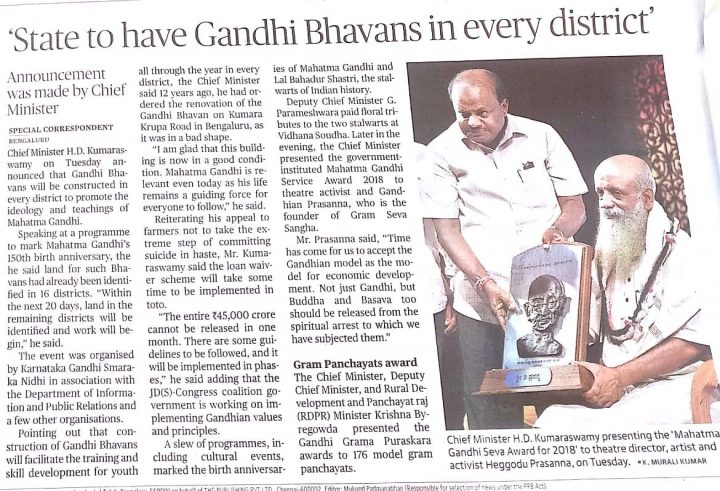 Here is the speech delivered by Prasanna, founder of the Gram Seva Sangh movement, on October 2, 2018, upon receiving the Mahatma Gandhi Service Award – 2018 from The Government of Karnataka:
Sir, I am happy, as an activist of Gram Seva Sangh, to receive this award. I thank you. Let me say a few words in reply.
     Time has come for us to accept the Gandhian model as the model for economic development. Not just Gandhi but Buddha Basava and the likes should also be released from the spiritual arrest to which we have subjected them, that they be released to move freely in the field of economic growth. Time has come for us to reject the present model of development that whirls around Big Industry, Big Planning and Big Cities. That only makes human beings slaves of the marketplace. However, I do not mean that we switch off, like one switches off the electric light, the big model. That is neither possible nor advisable.
     We should, instead, realize that the big model is coming to an end. The economic slowdown as felt in 2008 is still being felt. It shall continue to be felt. It is like a terminal illness, which creates illusions of recovery now and then but shall ruthlessly take us to our doom. Western Ghats, for example, is slipping. It is getting washed away. This year we had extra rains and extra famine both! Streams and rivulets, that used to flow through the year, are getting dried up within a month after the monsoon. Cities that were like monuments of modernity are now immobile because of excessive mobility. Dust, Poison, and Violence have engulfed us. The big model has a tendency to put all the wealth in the pockets of a few, thus enlarging the gap between haves and have-nots. It has a tendency to kill Jobs, to corrupt Politics and Religion both.
     All this is not new, I agree. The creamy layer always existed. But now the society is like the split milk. It has put all the nutrients at the top, leaving only smelly water down below. But I am not rejecting modernism per se. I acknowledge that the twentieth century brought science to the fore, brought Ramakrishna, Vivekanada, Ramana and Arabindo to the fore, brought Gandhi and Ambedker to the fore. Equality and cooperation were made the guiding principles of the society. Our poets dreamt of becoming citizens of the world. But unfortunately, we did not become citizens of the world. Instead, we put humanity and nature both in danger.
     While Gandhiji was alive, The Big still held sway. But not anymore. Today there is no alternative to The Small. Gandhian model asks us to stretch only as far as the bed can hold. Gandhian model, simply, is a model of simple living. It is the small, as proposed by Gandhiji, that can enjoin the sacred and the secular. And in a positive manner at that. Right-wing politics the world over, on the other hand, is doing this in a negative manner. They are bringing religious intolerance and economic intolerance together.               
     Lastly, I beg the attention of the Chief Minister of Karnataka to a specific sector i.e The Handlooms. Please focus your attention on this sector, sir. It is the next best to Agriculture, in developing Karnataka, especially the impoverished North Karnataka.
     Thank you.   
     Prasanna, 2.10.2018
     Gram Seva Sangh(GSS) & Ragi Kana.
(as reported by Chandra-Weavers Wheel, written by Karina Santillan)
For more information about Gram Seva Sangh(GSS), its underlying principles and ongoing projects, do visit the following:
Website: www.gramsevasangh.org
Facebook: https://www.facebook.com/gramsevasanghindia/
Twitter: https://twitter.com/gramasevasangha
Or send an email: gramsevasanghindia@gmail.com