The tenth edition of the Deutsche Welle Global Media Forum is currently underway in the impressive former West German parliament building in Bonn, Germany. As part of the programme, Pressenza International Press Agency, with its unique focus on peace and nonviolence, hosted the workshop "How to humanise the dehumanised: journalism for peace and nonviolence."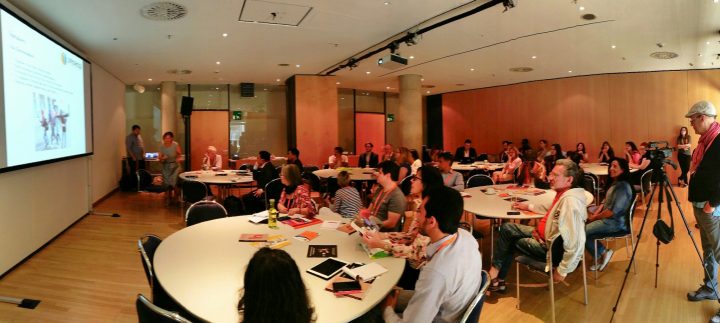 Presentations in the workshop moderated by Johanna Heuveling were made by Nelsy Lizarazo, the president of Pressenza, on the contribution of the agency to the peace process in Colombia; Luz Jahnen on personal and social reconciliation as an alternative in the face of the mechanical history of revenge; and Ina Darmstaedter who presented her experiences as an activist in the process of Palestinean-Israeli reconciliation. Among the participants were journalists, academics and representatives of agencies from diverse regions of the planet interested in the subject posed.
Lizarazo emphasised "the importance of working together with other media and platforms that also drive forward communication processes for peace as the only alternative for broadening the possibilities for dissemination and participation" in her presentation, and added, "Pressenza prioritises the voice of the people and communities that have inspiring experiences of personal and social transformation".
The workshop turned into an exercise of reflection on the situation of global crisis and the possibilities for journalism to contribute to processes of peace and nonviolence in different politico-social scenarios. The event culminated in a round of questions and answers with an interchange of opinions and agreements for professional cooperation.