A Marathon in Bethlehem – rather a promenade for the right to movement
This post is also available in: Spanish, French, German, Greek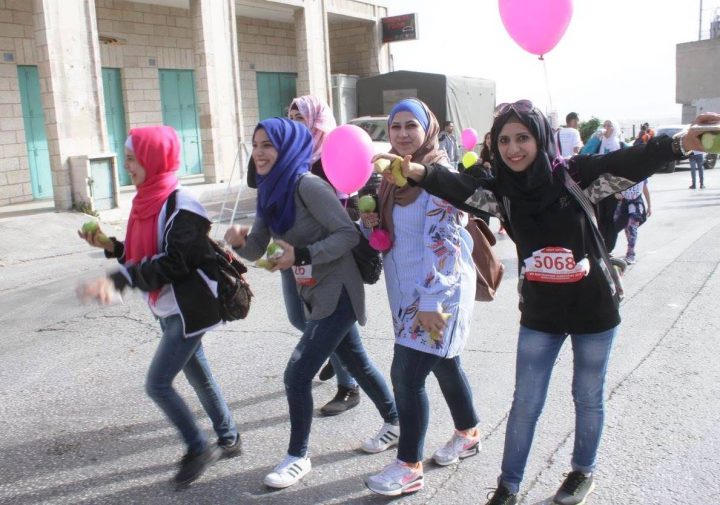 Hebrew below
It is probably the shortest marathon in the world. Bethlehem is encircled by the wall to such extent that there is no 42 km route that the sportsmen and women could pass. On the other hand not many athletes seem to be among the participants. The majority of the starters armed with posters, flags, and baloons complete the distance at walking pace rather than being ambitious for olympic results.
The oldest participant, at 87 years old, supported the motto of the marathon with particular conviction. Having, in his life, experienced the occupation by Ottomans, British, Jordanians and Israelis he is now walking with energetic steps for the "Right to Movement".
The atmospere of the event that was organised by hundreds of volunteers resembled a festival. Music greeted the participants in front of the Peace Center of Bethlehem. On video screens and loudspeakers the runners were motivated while water, apples and cut oranges provide the energy necessary for lasting the course.
Wheelchairs were pushed up the hilly sections, and people waved kindly to the Israeli soldiers in their watchtowers, although only a few steps further the pictures of imprisoned Palestine youngsters reminded everyone of the military occupation that too often hurts fundamental human rights.
The organisation was a huge accomplishment for Sports Director Eitedal Ismail who coordinated this marathon in the heart of Palestine for the fifth time. Only a deficit with the posts along the routes is still pending, with the feeling of having walked one or two kilometers too many remaining. However time and distance did not play a role because on many T-shirts you could read:
We run for:
Peace
HAppiness
Love
FrEedom
JuStice
DigniTy
Identity
HumaNity and HopE
WE RUN FOR PALESTINE
Pictures  by المصور العجوز  and Ina Darmstädter
מרתון בבית-לחם- יותר טיול רגלי למען חופש התנועה
זהו כנראה המרתון הקצר בעולם. בית לחם מוקפת בחומת ההפרדה ואין לספורטאים אפשרות לרוץ 42 ק"מ רצופים. עם זאת, נראה שרק חלק קטן מ 6000 המשתתפים שהשלימו את מרתון בהליכה עם פוסטרים, באנרים ובלונים הם ספורטאים.
המשתתף המבוגר ביותר בן 87 תמך באופן חד משמעי במוטו של המרתון. בתור מי שחווה בחייו הארוכים שלטונות זרים רבים- עותמאני, בריטי, ירדני וישראלי, הוא צועד מלא אנרגיה למען "הזכות לתנועה".
האווירה הייתה כמו פסטיבל עם. מוזיקה בירכה את המשתתפים מול מרכז השלום בבית לחם. המשתתפים לוו עם מסכי ענק ורמקולים עם מוזיקה תוך כדי שקיבלו מהתומכים משקאות על הדרך כדי לספק את האנרגיה להתמיד.
משתתפים בכסאות גלגלים נעזרו בדחיפה בעליות חדות, ניפנפו לשלום לחיילים במגדלי השמירה, כשבמרחק מטרים ספורים בלבד תלויות תמונות של נערים ונערות פלסטינים עצורים, תזכורת לפגיעה הקשה בזכויות האדם בסיסיות במשטר הצבאי של הכיבוש.
הארגון הציג את הופעתה המבריקה של המנהלת הספורטיבית של המרתון, איתדל איסמעילֿ, אשר מארגנת את המרתון הפעם החמישית בליבה של פלסטין. אפילו סימון המסלולים היה אתגר ונראה שפה ושם משתתפים הלכו יותר מהמתוכנן. אבל כל אלו משחקים תפקיד שולי, כי על החולצות של המשתתפים ניתן לראות מה מהות המרתון בשבילם:
שלום
אושר
אהבה
חופש
צדק
כבוד
זהות
אנושיות ותקווה- אנחנו רצים למען פלסטין
התמנות צולמו על ידי المصور العجوز ואינה דרמשטטר