Interview to Georgina Hassan, Argentinean singer and songwriter who has joined the campaign for October 2 #diadelanoviolencia #nonviolenceday
This post is also available in: Spanish, French, German, Portuguese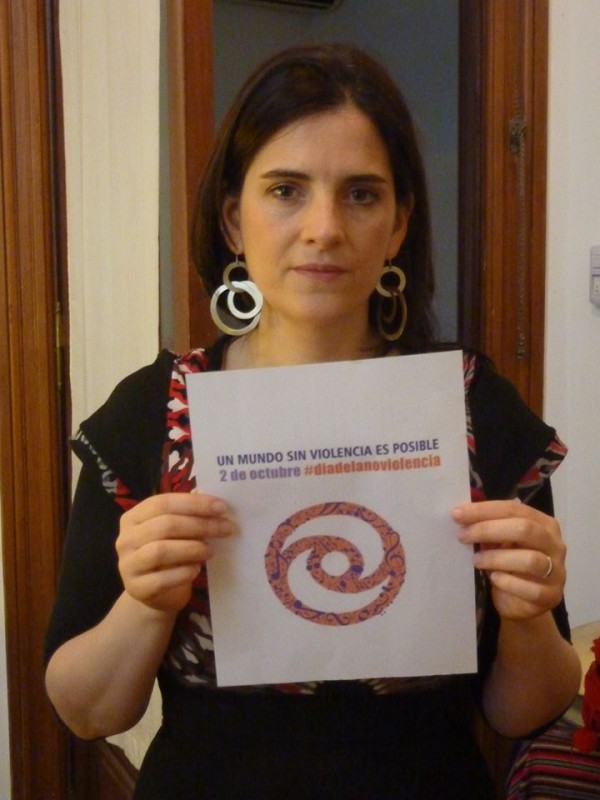 Buenos Aires, September 8, 2014
1. Georgina, we know you're working on a new album / book called Calculus. Can you tell us a little about how did this third album of your career came about?
Tornasol began brewing when I was pregnant with my daughter Violet. It was a very beautiful and inspiring time. I found the need to move away from my familiar places. In this way songs in Spanish and some in Portuguese were born. It was by playing with that beautiful language that I found a way to say different things, out of the limitations of not speaking the language fluently. While the songs were appearing I was writing texts freely.
When I started to think about recording this music I realised that those texts had to accompany them as a different universe but intimately tied to the creative process.
So Tornasol (Litmus) is a record and is also a book of poems. It was a profound work, enriched by great musicians who participated in it and the wonderful illustrations of Mary Wernicke.
2. The system of crowd funding used for this production is characterised by the assembly of a supportive network of small contributions through internet. We want to know how this cooperative influences the link between you and your collaborating audience (We would like to know how this system of joint financing works, and if this new form strengthens the bond between artist and audience?)
The collective funding or crowdfunding, is a tool increasingly used. It is a direct association, without intermediaries, between the artist and the people. The artist has an idea and people make it happen. It is something that has exists for a long time. The Argentine group MIA used it over thirty years ago, in an artisan way, before there were social networks.
With Internet today is simpler. Anyone, anywhere in the world can participate by buying Tornasol in advance at a discount, or choose among other rewards through my web www.georginahassan.com
To think that an idea can be pursued by the will and support of many people is a powerful thing.
Beyond the economic aspect, collective funding generates a deep and close relationship with the public. I am infinitely grateful and touched by the response from people. At this time it has given me birth stories, games, reunions, loneliness, celebration, healing, inspiration, intimate instances where my music has been present.
That is food for my soul, and is confirmation that I have to move on with my own search.
3. Finally, in the context of the campaign for the October 2, day of nonviolence in honor of Gandhi's birth: how you imagine a world without violence?
When I read this question I thought at first I had a pretty simple answer. But then I began to meditate and realised its depth and complexity.
I think there are different types of violence. I am against any violation of human rights, and also against wars, which generally hide a financial interest. I would like to imagine a world where finally we accept diversity, in which we realise that being different enriches us. A world without hunger, where everyone can choose their own path for their life.
But there is another violence that is part of our species. Growing and teaching to grow it often violent. That other violence, with which we come, I don't think It can cease to exist.
Each one of us has to continue working on it to improve every day.