STATEMENT – #OCUPEESTELITA (OCCUPY ESTELITA) MOVEMENT
This post is also available in: Spanish, French, Italian, German, Portuguese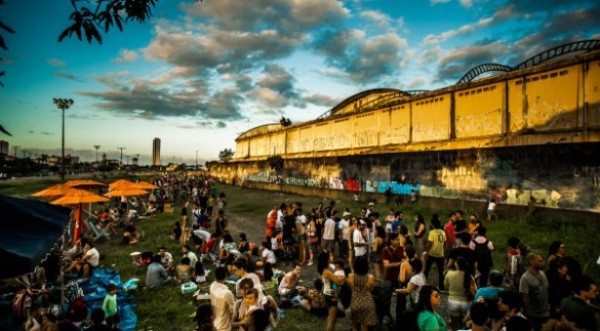 June 17, 2014
In the early hours of Tuesday, June 17, 2014, the members of the #OcupeEstelita movement that occupied the Cais José Estelita (Jose Estelita Quay) were surprised by the Military Police of Pernambuco. In utter disregard of all agreements that had been established over the past few days, State representatives came to fulfill a writ of ejectment in favor of the Consórcio Novo Recife (New Recife Consortium.).
In an authoritarian way, it was demanded that all occupants were to leave the land in dispute in five minutes. Even before that, the camp was destroyed and those who dared to resist peacefully were removed by force . Communication equipment such as cameras and computers were confiscated. The cowardly act ended with four people arrested and several injured with shrapnel, concussion grenades, rubber bullets and whiplashes.
Police denied any offense to the protesters. Tents were torn, equipment was destroyed, food was rendered useless and art installations were ruined. The process of repossession disobeyed official protocols, which ensured 48-hour prior notice to both occupants and public prosecutors, which would function as mediators to a solution without violence.
The act, promoted by the Government of the State of Pernambuco, ignored the public outcry against a project riddled with irregularities by the Consortium. It shamed the citizens of Pernambuco, making it clear that state and city governments do not have, as their main goal, the respect for democracy and their population, but the petty interests of a few, who are wealthy and powerful.
The violent repossession happened exactly one day after the city council published a document providing guidelines for negotiations, including public hearings to discuss the project, and a day before the court decision which would possibly overrule the writ of ejectment.
Cowardice, lack of civic spirit and the connivance of the governor João Lyra and the mayor Geraldo Julio will not undermine the movement that multiplies its supporters every day, in various parts of Brazil and the world.
Participants in the Occupy Estelita Movement remain put, right outside the land in dispute, and once again call upon the society to come to the Quay and show that authoritarianism is tackled with democratic popular organization!
Resist!
#ResisteEstelita
#OcupeEstelita
Translation: Juliana Cesar (and other colaborators)