A Harmony Peace Pilgrimage across various places of worship in the Pune Camp area will be held as part of an ongoing series of Harmony Peace Pilgrimages, as part of celebrations in preparation for 'The International Day of World Peace' held yearly on September 21, and in line with Bharat's initiative of Vasudhaiva Kutumbakam under G20.
The Harmony Peace Pilgrimage will be held on September 10, Sunday, and will visit 10 religious sites to demonstrate love and respect for all religions. Pune has all these places operating in perfect harmony in close proximity over the years. The religious places selected represent 90% plus of the popular religious beliefs in Indian society.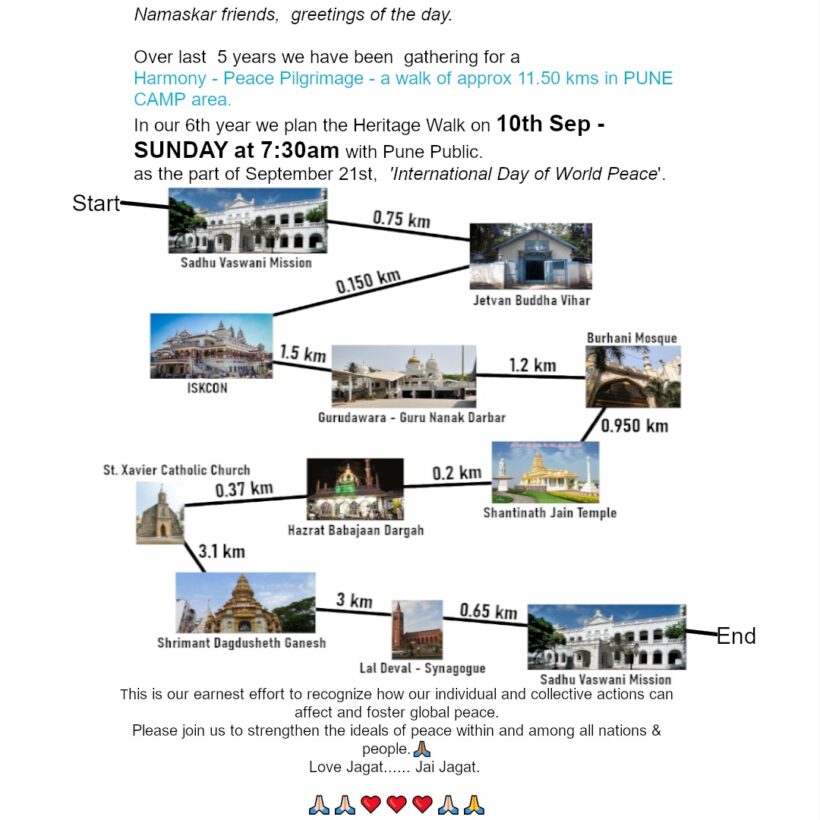 According to Yogesh Ravindra Mathuria, also known as VishwaMitra Yogesh, a peaceful warrior and wellness coach, "Over the last 12 years, I have dedicated my life to work on World Peace and Harmony under Gandhian thoughts. And, over the years, most people join from various Gandhian and related organizations who are focused on respecting all religions."
Over the last 13 years in spite of various challenges and heart attacks, Yogesh decided to dedicate the rest of his life to work on 'Peace & Wellness services', personally believing that peaceful coexistence of humanity beyond religion and regional boundaries is the way of life to promote inner and outer PEACE.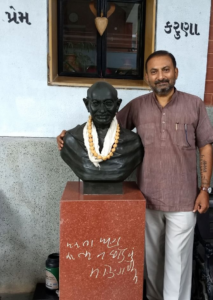 He relates, "By now, with the blessings of my divine parents and masters, I have already done multiple peace pilgrimages covering 16,502 kilometers over 652 days without using my personal money over the last 7 years, traveling through 22 Indian states, Sri Lanka, South Africa, Iran, UAE & Armenia."
"We completed a Peace Pilgrimage entitled 'Gandhi @150 to Mandela @ 100' in South Africa in 2018, an overall walk of 1,555 km in 70 days with my teenage daughter of 19 years in 2018 and 5 friends. We had to suspend our 'Jai Jagat 2020 – A Global PEACE Pilgrimage' as part of Ba & Bapu's  150th birth anniversary in the year 2019 (Mahatma Gandhi & Kasturba Gandhi) initiated by honorable P. V. Rajagopal of Ekta Parishad from Raj Ghat, New Delhi starting on 2nd October 2019 to Geneva, Switzerland in Armenia on March 16 2020 the 166th day due to global pandemic."
Yogesh hopes to continue doing Peace Pilgrimages to the neighboring countries namely, Bangladesh, Nepal, Bhutan, Myanmar, Maldive, Pakistan, and China over the next 5 to 6 years. "I also have a dream to do 'Peace Pilgrimage – A Walk Around the World' covering 51,000 kilometers across 100 countries in about 7 plus years starting in the year 2027."
What moves and inspires VishwaMitra Yogesh to do and go on these Peace Pilgrimages with friends, family and, likeminded souls?
"I believe 'Peace Pilgrimages and Wellness Services' is the purpose of my life, and is also my gratitude, my sadhana, my penance for a peaceful and thriving of self and also of Mother Earth.
My religion is HUMANITY – I unconditionally LOVE all, ACCEPT all, FORGIVE all, and SERVE all.
May PEACE prevail on Mother Earth….. LOVE JAGAT."
Here are some pictures from the Harmony Peace Pilgrimage in 2022: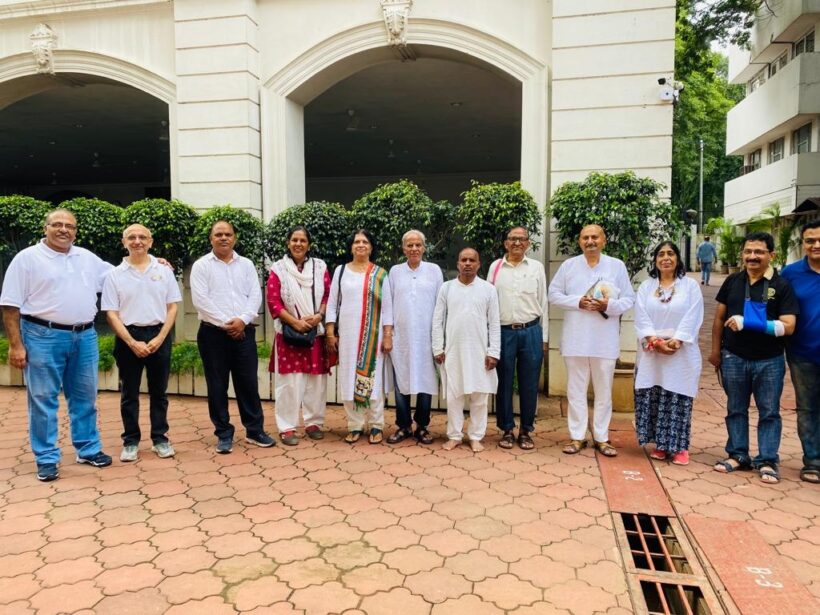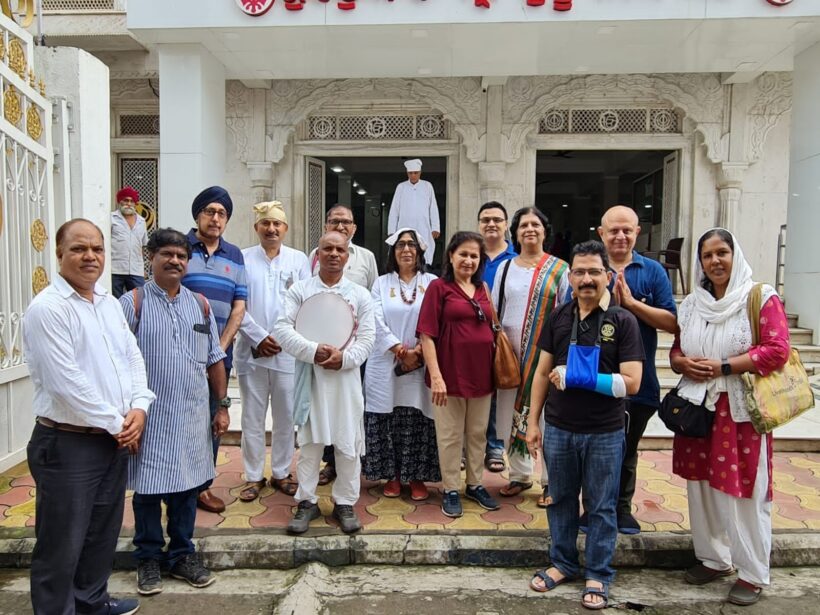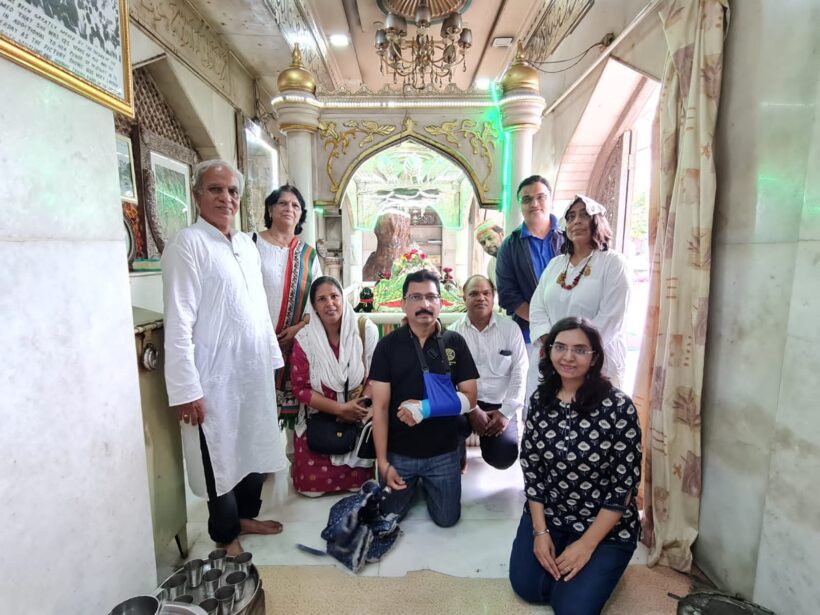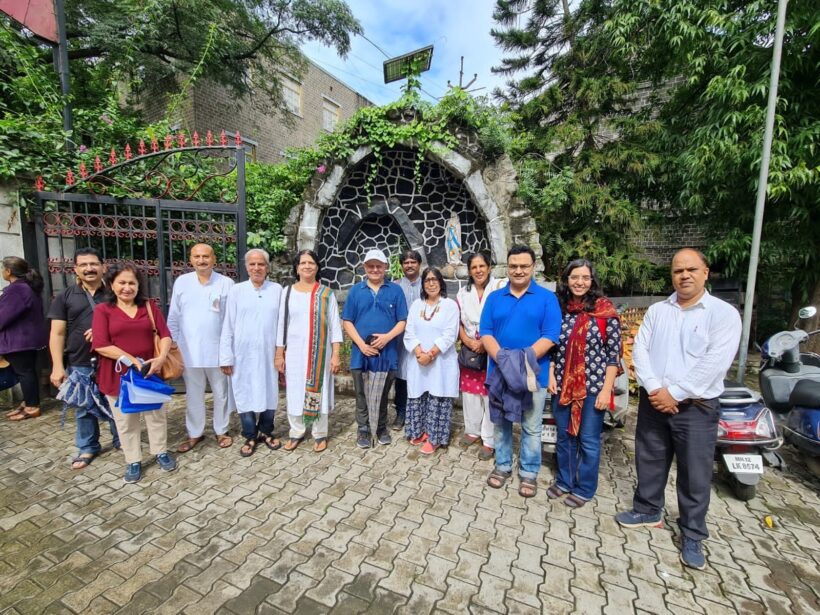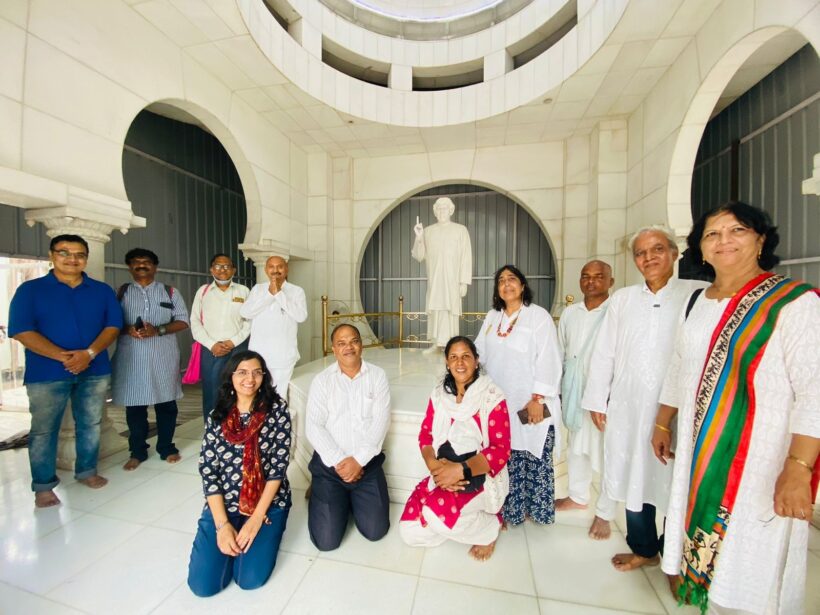 Reference:
https://en.wikipedia.org/wiki/Vasudhaiva_Kutumbakam