Mi Hwa Kim: Making Zero Waste a Reality in South Korea
by Doun Moon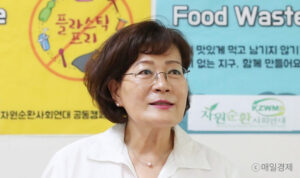 From a country girl to the leader of the largest civil society organization in the zero waste movement in Korea.
Born as the second daughter in a rural village in a province in eastern South Korea in the 1960s, Mi Hwa Kim bravely paved a different path for her future, refusing the usual fate of sacrificing for the family. In poor farm villages during the postwar years, girls were not given many options other than providing for their families. Mi Hwa was determined early on to go to university, dreaming of a forward-looking, adventurous life.
When she started her studies at the university in the 1980s, university students were experiencing a turbulent period where social movements sparked on a wide range of issues including labor, democratization, gender, disabilities, and unification. Driven by resentment over the dictatorship, it was only natural for Mi Hwa to take interest in social movements and start engaging in cultural movements after her graduation. 
Then, in 1987, she was deeply shocked by the environmental health damages caused by the Yeonggwang Nuclear Power Plant in Jeollanam-do, including the occurrence of pneumoconiosis in the vicinity of the briquette factory and the migration of the residents who were living near the plant. 
"It made me realize how dangerous environmental pollution was. At that time, there was a belief that large-scale industrial facilities would revitalize the economy and that anyone could live well if they worked hard. However, on the other side, we could see people suffering from environmental pollution and endangering their lives. I thought that environmental issues will be very important in Korea in the future."
Having started as an education campaigner at the 'Pollution Removal Movement Coalition,' now Mi Hwa leads Korea Zero Waste Movement Network (KZWMN) which was founded in 1997 by 180 environmental, consumer rights, and women's rights organizations across the country, to solve waste issues and build Zero Waste systems.
Making Zero Waste policies a reality
The greatest joys she finds in her life are the moments of seeing real changes after struggling to propose a new policy. As her efforts usually face tough opposition, the moments of victories create a dramatic contrast and bring her pride. In the 2000s, very few people believed in Zero Waste systems and a circular economy, casting doubt on the feasibility of the concept. 
"People asked me why I was talking about something unrealistic when I first introduced the term Zero Waste. I've tried to explain that it's about maximizing circularity through reuse and recycling, not about zeroing in on the use of materials. I feel content now that Zero Waste is a commonly-accepted concept after 20 years of communication and outreach," she said.
Mi Hwa takes pride in contributing to developing virtually every bill related to Zero Waste over the past 20 years: restricting the use of disposable cups, prohibiting direct landfilling of food, introducing the volume-rate system, introducing extended producer responsibility, and developing the resource circulation law, just naming the most representative ones. She humbly notes that it was regrettable that the sharp increase in single-use plastic could not be stopped, and the monitoring activities for illegal export and illegal waste did not respond promptly. Going forward, the KZWMN will urge the government to strengthen measures to reduce the use of disposable products and to improve the convenience of separate collection and recycling systems. 
"In Korea, waste policies are often dictated by the political disposition of the government. It is challenging when policies shift in between reinforcement and deregulation according to the political environment. Reinforcing new and existing regulations is of course important, but the role of monitoring deregulation is critical. In our society, the waste problem should not be politically interpreted. Because no one is free from harm caused by waste. Everyone is a cause and a victim, and what we need is a common solution," she said.
Lessons for leaders in the next generation
Mi Hwa has dedicated over three decades to the civil society movement. Looking back, the feeling of having brought positive changes in society through the power of a grassroots network has been the most rewarding part of her life, she says. Staying focused on waste issues and building governance through the network was the key to her persistence and professionalism. She also noted how she learned to be open-minded and to embrace different views from actors involved in the waste sector over time, which brought mutual understanding and synergies among different stakeholders, including governmental officials and industry insiders.
Finding a balance between passion and devotion keeps her going. In her early years as an activist, Mi Hwa did not hesitate to surrender everything to social and environmental causes. As she realized how such practice can lead her to burnout and drag her into a slump, she has embedded health and self-care as a priority in her daily routine that starts with three hours of yoga and physical activity from 6 am to 9 am. Allowing three hours wholly for herself has given her the energy to continue.
"To the next generation in the environmental movement, I would like to tell them to go on without looking back or hesitating, considering activism is a lifelong job. For this, you would need to take good care of your health, keep your ears open to listen to others, and remind yourself of the humbleness and respect that you had towards nature and people in your early days, which could help you feel stronger along the way," she advised.