(Note: The discussions on Hybrid Teaching Learning Modality can be found in the first part. Here is the link: https://www.pressenza.com/2023/03/offshoots-of-the-resilient-academe-hybrid-teaching-learning-modality-and-faculty-research-presentations/)
— by Genevieve Balance Kupang
Empowered to embrace positive VUCA (Vision, Understanding, Clarity, and Agility), some faculty were able to complete their respective research. The Research Management Office through its PUPSJ OIC Research Coordinator Inst. Ian  Saguindan, BSED English Coordinator Inst. Jane Mendoza, and President of Faculty Inst. Rizza Valdez-De Vera created this learning space where some faculty were given the opportunity to disseminate studies in their respective fields.
Harnessing Integrative Intelligences at a Time of Existential Threat: Lessons Learned from the 2022 Exceptional Women of Peace Nominees
Dr. Genevieve Balance Kupang presents her research on the Lessons Learned from the Exceptional Women of Peace Nominees. She is an Assoc. Prof. Lecturer V of PUPSJ and Chair of the Special Interest Groups (SIG) & Peace Education Coordinator of the World Council for Curriculum and Instruction (WCCI), an NGO of the United Nations in special consultative status with Economic and Social Council  (ECOSOC) and UNESCO.
Her presentation explored how the selected co-researchers thrived in the VUCA situation, exacerbated by the covid-19 pandemic and war. Months of prolonged lockdown yielded withdrawal, uncertainty, unforeseen challenges, fatigue, depression, deaths, coronavirus disease stress, and anxiety. All felt the brunt of the pandemic and violence in varying degrees. The human toll, financial crash, and cultural-psycho-social effects are overwhelming. Nonetheless, the cultivation of integrative intelligences grounded the thirty exceptional women of peace nominees in 2022, the co-researchers in this study, to survive and thrive.
The researcher utilized existential phenomenology, exploring in-depth, embodied insights into the meaning of their human existence. Their narratives provided data into the richness and diversity of harnessing integrative intelligences at a time of existential threat. Findings revealed that the following helped them transcend VUCA, the pandemic, and war: the ability to rebound, aesthetic/artistic intelligence, collaborative, communal, collective activism, creative versatility, ecological intelligence, emotional, entrepreneurial, existential/spiritual intelligence, gratitude, grit, healthy self-esteem, humaneness, innovative intelligence, interconnectedness-recognition that the pain of one is the pain of all, networking, poetic intelligence, power of forgiveness, radiating joy, recognition of the wisdom reservoir within oneself, and transformative leadership harnessed capacity to thrive.
The study brought to the fore that the essential quality of being human is to be accountable for oneself, altruistic to others, and grateful to the Giver of Life.
Challenges Encountered on the Effective Implementation of Modular Distance Learning
Dr. Cristobal F. Melegrito presented his paper titled "Challenges Encountered on the Effective Implementation of Modular Distance Learning Instruction in Corazon C. Aquino High School: Basis for Intervention Plan."
Dr. Melegrito's paper was descriptive basic research that determined the challenges encountered in the effective implementation of modular distance learning instruction in the new normal distance learning of secondary junior and senior teachers in Corazon C. Aquino High School, Gerona, Tarlac.  The respondents were sixty (60) secondary teachers and students as determined by stratified random sampling and used an online survey questionnaire in gathering the data.
Results show that modular distance learning implementation as perceived by learners manifests a high degree of challenges, thus affecting the effectiveness of the distance learning modality. It is recommended that:
a) teachers should regularly check their social media accounts such as messenger since all the learners' means of communication are through messengers;
b) the government must allocate sufficient funds to augment the school's financial needs in reproducing Self-Learning Module (SLM); and,
c) sufficient consultation time and interventions be afforded to the struggling learners by the teachers concerned. An intervention plan was introduced as a result of this study.
Satisfaction Level of PUPSJ Batch 2020 Graduates: Basis for Enhanced Student Support Services
Ms. Arellano's paper presentation focused on the student support services offered by the student affairs which have been significant in the students' lives during their stay in HEIs. Periodic evaluation and assessment ensured the quality of service being offered and delivered to the clientele. Utilizing the quantitative research design framework, she determined the satisfaction level of batch 2020 graduating students on the student services provided by PUP San Juan namely student affairs, guidance, counseling, admission and registration, library, medical, dental, ancillary and security services.
She likewise reported the respondents' overall satisfaction rating in terms of availability and quality of services, sense of safety and security, and sense of community in the campus.   The survey instrument used in this study was a researcher-made instrument via Google Forms. The study concluded that the respondents rated the student affairs and services office/unit and its delivery of services as Very Satisfactory. Recommendations and other ideas were also included in the study.
Work-From-Home Arrangement and Its Impact on Audit Quality
Assistant Prof. Jonald P. Binaluyo presented "Work-From-Home Arrangement and Its Impact on Audit Quality." He is a Certified Public Accountant with more than a decade of teaching experience in various Metro Manila universities. He is engaged in his practice with clients in advisory, tax compliance, financial reporting, and audit.
Assurance Services are independent professional services that improve the quality or context of information in financial statements for decision-makers. It radiates the importance of the audit quality rendered by professional accountants to their clients. The study provided information on the impact of work-from-home arrangements on audit quality that not only benefits the CPA practitioners but also, the audit clients and the users of financial information.
Employing a descriptive research method, he gathered data from 386 audit practitioners from Metro Manila cities. The majority of the respondents were female and working in Makati. Most of the respondents have two to five years of experience in the audit industry and have a monthly salary range of Php22,001 to Php44,000. The respondents' current audit client industry is the consumer sector. The respondents used electronic mail to conduct audit procedures. Results show that the work-home arrangement has no significant impact on audit quality based on the following variables: audit fees, going concern judgment, audit measures, audit human capital, and audit employee remuneration.
However, results showed that there is a significant difference between years of experience and audit employee's remuneration; location of office with audit measures and audit employee's remuneration; and monthly salary range with audit fees, going concern judgment, and audit employee's remuneration. It is highly recommended that as professionals, audit practitioners shall always abide by the principles of integrity, transparency, and accountability to make sure that audit quality is always at its highest level.
Inst. Saguindan encouraged all attendees to continue contributing to the realization of the Research Management Office mandate in research production, dissemination, publication, and utilization.
Mabuhay ang Sintang Paaralan ng PUP!  (Long Live the Beloved University of PUP)
---
About the author: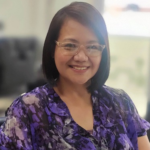 Genevieve Balance Kupang (Genie) is an anthropologist, consultant, researcher, and advisor to individuals and organizations engaged in working for good governance, genuine leadership, justice, the integrity of creation, peace, the indigenous peoples, preservation of cultures, and societal transformation processes. She is a peace educator, author, interreligious dialogue practitioner, and resource person with a career in the academe and NGO.