"A productive tree never ceases to bear fruits even in the hardest of seasons."
— by Genevieve Balance Kupang
Committed to promoting lifelong learning opportunities for human development and social transformation, and showcasing its commitment to research engagement, the Polytechnic University of the Philippines, San Juan (PUPSJ) held last March 1, 2023, the faculty development program 2023 dubbed "Pagbangon sa Pandemya: PUP San Juan sa Ikalabing Limang Taong Sentro ng Karunungan, Kasanayan, at Kahusayan." ("Rising up/Recovering from the Pandemic: PUP San Juan in its 15th Year of Being a Center of Knowledge, Proficiency and Expertise.")
Resilience and agility are part of our institutional learning outcomes (ILO). Thus, the administrators and faculty demonstrate to their students, a flexibility and growth mindset to adapt and thrive in the volatile, uncertain, complex, and ambiguous (VUCA) environment. To keep abreast with the university's emerging policies, this OFFSHOOTS of the Resilient Academe highlighted the discussions on Hybrid Teaching and Learning Modality as well as studies gathered, collated, analyzed, and shared with academic stakeholders.
HYBRID TEACHING AND LEARNING MODALITY
Dr. Rosales, director of the PUP Office of Teaching and Learning Development discussed the scope and limitations of the Guidelines containing the parameters in Hybrid Teaching and Learning Modality. These include the strategies, pedagogies, instructional materials, and assessments carried out by the University in its academic programs—undergraduate and graduate—in all its campuses and branches.  These Guidelines are applied at the College of Law, the Institute of Technology (ITech), the PUP Laboratory High School (PUPLHS) and the PUP Senior High School (PUPSHS) in consideration of each level's/unit's respective issuances.
By optimizing its available resource, Dr. Rosales communicated how her office modified and adjusted schemes and policies on the hybrid teaching and learning modalities which are synchronous, asynchronous, correspondence, limited face-to-face, full face-to-face, and full online delivery. For the AY 2022-2023 second semester, the correspondence mode is no longer an option for students. Considerations were also due to the changing guidelines and advisory coming from the Inter-Agency Task Force (IATF) for the Management of Emerging Infectious Diseases, the Department of Health (DoH), Commission on Higher Education (CHED), and the Joint Memorandum Circulars (JMC) of the DoH and CHED.
The Office for Teaching and Learning Development (OTLD), an office under the Office of the Vice President for Academic Affairs (OVPAA), according to Dr. Rosales, is a young office. It was formed recently during the pandemic to "extends its reach to students who attend the full face-to-face classes, limited face-to-face, full online, and correspondence modes of learning delivery. It is a learning design unique to the university that supports the academic sector in fostering Outstanding, Technology-aided, Learner-centered, and Dynamic teaching and learning modalities and in benchmarking the best practices in online learning, pedagogy, assessment, and evaluation of technology-aided modalities."
In PUP, we have embraced the positive VUCA (Vision, Understanding, Clarity, Agility/. As think tank groups expressed volatility yields to vision, uncertainty yields to understanding, complexity yields to clarity, and ambiguity yields to agility. In education, Dr. Rosales expressed that faculty whose expertise is shared collegially with fellow faculty and with students who benefit from the consultations and workshops provided online and in-person is beneficial for the academic community.
FACULTY RESEARCH PRESENTATIONS
Some faculty were able to complete their respective research. The Research Management Office through its PUPSJ OIC Research Coordinator Inst. Ian  Saguindan, BSED English Coordinator Inst. Jane Mendoza, and President of Faculty Inst. Rizza Valdez-De Vera created this learning space where some faculty could disseminate studies in their respective fields.
The research presentations covered five areas:
Questionnaire Development for Online Teaching and Learning Experiences Amidst Covid-19 Pandemic
Harnessing Integrative Intelligences at a Time of Existential Threat: Lessons Learned from the 2022 Exceptional Women of Peace Nominees
Challenges Encountered on the Effective Implementation of Modular Distance Learning
Satisfaction Level of Batch 2020 Graduates: Basis for Enhanced Student Support Services
Work-From-Home Arrangement and Its Impact on Audit Quality
The faculty researchers and organizers of this OFFSHOOTS; namely, Inst. Rizza Valdez-De Vera, Inst. Jane L. Mendoza; Inst. Ian  J. Saguindan with the support of the Academic Program Head Asst. Prof. Alfred M. Pagalilawan and Director Edgardo Delmo came up with the questionnaire development for online teaching and learning experiences amidst the covid-19 pandemic. They utilized a rigorous procedure of questionnaire development. The questionnaires focused on the experiences of faculty members and students primarily on the preparation, execution, and assessment of the lessons. Applying the principles of content validity thru acceptable Content Validity Ratio (CVR), and internal consistency reliability thru Cronbach Alpha (a) Reliability Coefficient, three sets of Online Teaching-Learning Experience Questionnaires (QTLEQ) were derived: one that can be used by high school and college faculty members (11-item profile section and 77-item Likert scale items), one by high school students (12-item Profile section and 72-items), and one by college students (12-item Profile section and 58-items).
Highlights of the other research presentations will be available in the forthcoming post.
AWARDING CERTIFICATES OF RECOGNITION
After the awarding ceremony, the PUP Hymn was sung and appreciation given for all the participants who attended OFFSHOOTS, a moment full of learning and sharing of new knowledge.
The PUPSJ academic community appreciates the efforts and initiative of OIC Research Coordinator, Inst. Ian J. Saguindan, Master of Ceremony, Inst. Rizza Valdez-De Vera,  and BSED English Coordinator Inst. Jane L. Mendoza,  for executing gracefully the plan for this event.
Inst. Saguindan encouraged all attendees to continue contributing to and realizing the Research Management Office's mandate in research production, dissemination, publication, and utilization.
Mabuhay ang Sintang Paaralan ng PUP! (Long live our beloved university of PUP)
---
About the author: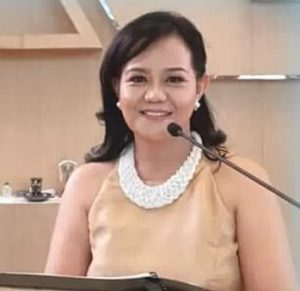 Genevieve Balance Kupang (Genie) is an anthropologist, consultant, researcher, and advisor to individuals and organizations engaged in working for good governance, genuine leadership, justice, integrity of creation, peace, the indigenous peoples, preservation of cultures, and societal transformation processes. She is a peace educator, author, interreligious dialogue practitioner, and resource person with a career in the academe and NGO.