The International Peace Bureau, IPB awarded the Sean MacBride Peace Prize to the Japanese organization HIDANKYO who launched the International Signature Campaign in Support of the Appeal of the Hibakusha for the Elimination of Nuclear Weapons. The award ceremony was held online on March 17, 2021.
HIDANKYO was awarded the peace prize for "being one of the largest signature campaigns ever carried out in the world and a powerful popular force manifesting global demands for the complete elimination of nuclear weapons" reads the statement on the IPB official website.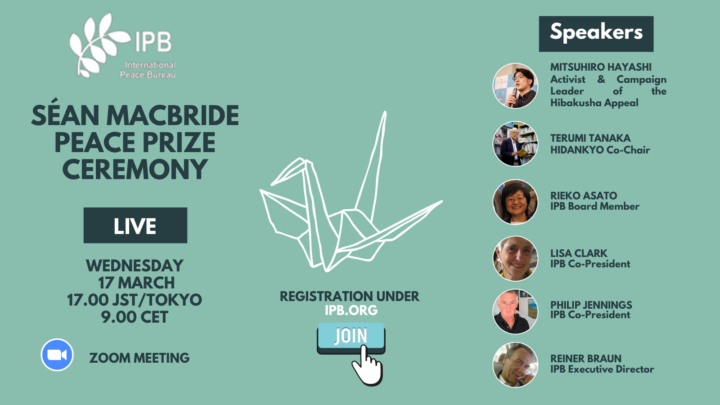 It was so interesting hearing a testimony from Mr. Terumi Tanaka, a Hibakusha, he himself a survivor of the atomic bombing of Nagasaki. After 75 years of the catastrophe, he is now a Japanese anti-nuclear and anti-war activist running the HIDANKYO organization as a co-chair. After receiving the award certificate, Mr. Tanaka expressed in his speech his gratitude by sharing his own reflection on the encounter of the worst human-made tragedy of devastation. "I have experienced the atomic bomb in Nagasaki when I was 13 years old; I was at my home in the mountain region about 3.2km from the hypocenter. I saw the tremendous flash of the explosion, and then after that, I lost consciousness."
Miraculously he survived without serious injuries. However, five people from his family lost their lives. Mr. Tanaka recalls that there were no words to describe the devastation at that time. The damage he had seen never left his mind since then. He thought that despite his prior understanding of military education, this kind of cruel killing and aiming at civilians should never have been allowed to happen. That was the origin of his involvement to join the Hibakusha peace movement. The speech was heartfelt and great in that it actually reminded us about the nonviolent and peaceful campaigns we are undertaking to abolish nuclear weapons and disarmament.
It was an event reminding us that Japanese and Korean atomic bomb survivors have experienced nuclear bombs with their own bodies. The historic mission to create a world with no nuclear weapons comes from these horrors. Therefore, over these many years, they have spoken out, like-minded organizations such as HIDANKYO and the Korean Association of Atomic Bomb Victims, stressing that humans and nuclear weapons cannot coexist and working tirelessly with citizens from around the globe who treasure peace.
For more information please visit the IPB website https://www.ipb.org/news/sean-mac-bride-peace-prize-ceremony-2020-21/
Hibakusha: meaning  "person affected by a bomb" or "person affected by exposure [to radioactivity]") is a word of Japanese origin generally designating the people affected by the 1945 atomic bombings of Hiroshima and Nagasaki.