As we mentioned a few days ago, Multiconvergence of Global Networks will participate in the WSF 2021, carrying out activities on the 24th and 27th of January. We will explain below the two events, which will be held with simultaneous translation in the collective spaces and discussion in groups in four languages, including English.
January 24th. The Conviviality Pact
It is about building an agreement for the relationship between people and organisations within the dynamics of global citizenship. It is true that, despite sharing many aspirations, people often find it difficult to overcome their differences. In the face of this, "we recognise the WSF Charter of Principles itself as a valuable precedent, with a profoundly innovative spirit, but we also think it is essential to look at this collective movement internally and that is why we propose the Pact," say the organisers of the event.
The activity of 24.01 will begin with the reading of the WSF Charter, to continue the group discussion of the proposed Pact.
"To the image of the world to which we aspire, we want to add an interior look at each person and each process, a reflective look that respects each individual and each organisation. To this end, we want to promote coherence between what we want, think and do, as a basic, necessary and effective practice for a new way of doing politics".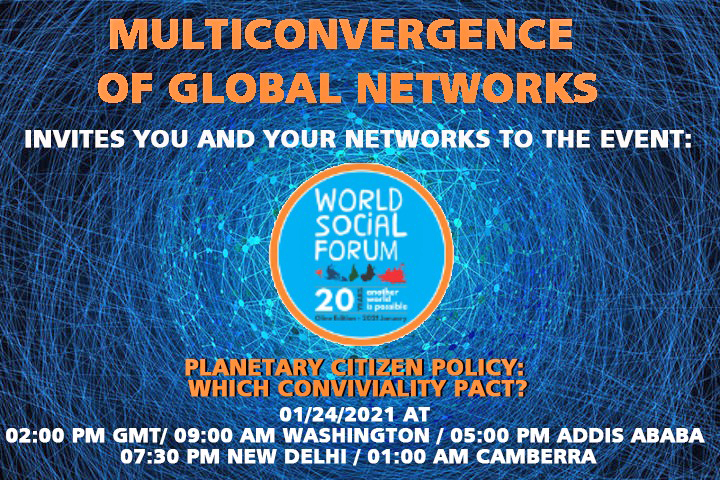 Zoom Link: https://us02web.zoom.us/j/81822860342?pwd=M2RGZzM1MmFIZkpwQ3dkYUhhY095UT09
Access Code: 898831
January 27th. Parliament of world citizenship
Assuming an initial proposal from the International Convivialist, Multiconvergence enriched, deepened and reformulated the idea, including the networks in the discussion since the very beginning. The consensus reached so far is that the Parliament should have two chambers: a Council of Wisdom of the Peoples of the Earth and an Assembly of Planetary Citizens. Details of proportions, selection mechanisms and functioning should be discussed afterwards.
"For us, the ideas of process and diversity are very important, so it is vital for us to open up the discussion to all sectors, because there can be a wide variety of views and proposed formats from different latitudes and experiences. We want to move forward in a polyphonic proposal, of many shades," say the members of Multiconvergence, who this year, 2021, will propose a Parliament essay within the structure of their own networks.
At the meeting, besides starting to discuss various possible mechanisms, it will be proposed to consider the Golden Rule, "do to the others whatever you want them to do to you" as a form of interpersonal and collective relations.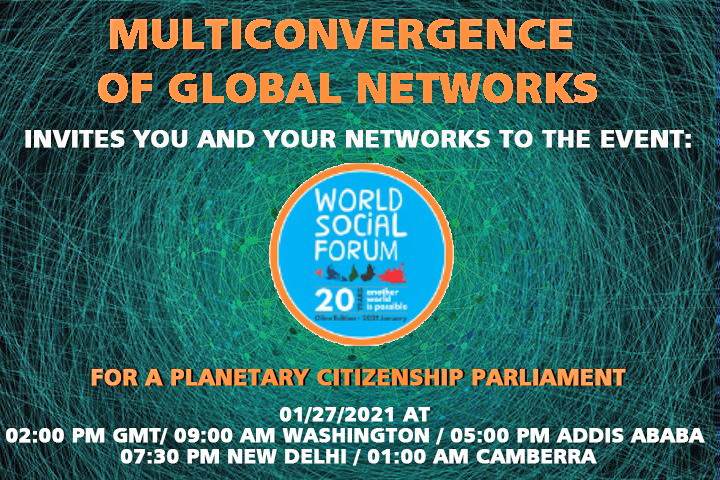 Zoom Link: https://us02web.zoom.us/j/89266778689?pwd=YnRTUldpdFE0bGxsZzliNnM3ZFFVZz09
Access Code: 989149
---
Download: Conviavility Pact  |  WSF Charter
To access other articles published on this same subject, click here.