The World Center for Humanist Studies launches a campaign to endorse the Humanist Document
This post is also available in: Spanish, French, Italian, German, Portuguese, Greek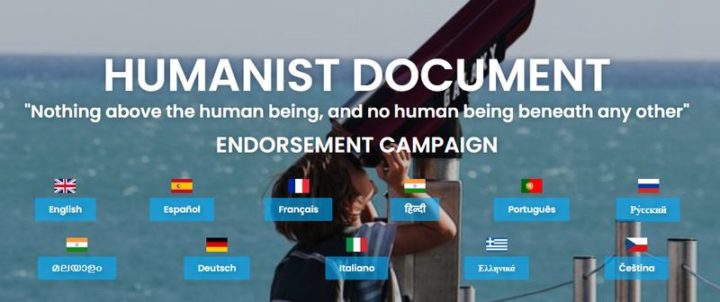 "Throughout history, human beings have been the protagonists of many revolutions in many fields. These evolutionary, non-linear leaps have occurred at times when social organization and current values were no longer able to respond to the needs of growing human groups. This is the situation we are living in today on a global level. That is why it is of great importance and of the highest moral value to restore strength to a New Universalist Humanism.
"Universalist Humanism takes human beings as its value and central interest; affirms the equality of all human beings; recognizes personal and cultural diversity; promotes the development of knowledge above what is accepted or imposed as absolute truth; affirms freedom of ideas and beliefs; rejects violence."
With this statement, the World Center for Humanist Studies launched the new multilingual website www.humanistdocument.org with the aim to promote a campaign to endorse the Humanist Document, a statement first made public in 1993 in "Letters to My Friends, on the personal and social crisis in today's world" by Silo, founder of the Humanist Movement.
"In these times of great crisis it is necessary to spread and examine the basic elements of the Humanist Document in depth as a coherent and complete response to the situation we have to live in, but even more so as an essential tool for the union of all humanists in the world."
On the site you can endorse the Document (https://www.humanistdocument.org/endorsement-en/) and join the nearest group of the World Centre of Humanist Studies or start a new one.