Rehuno interviews Esperanza Fernández, nurse, member of Marea Blanca Catalunya and of the Humanist Movement.
Marea Blanca is a social movement made up of about sixty entities that act on Catalan territory in connection with the "tides" of the territory of the State. Its objectives are to stop the cuts in health and to guarantee public, universal and quality health for all citizens.
By Cloty Rubio
Rehuno: When was Marea Blanca de Catalunya born?
Esperanza Fernández: It was incorporated in February 2015, but its antecedents go back further. It has already started to move away from the cuts to health initiated in 2011 in Catalonia by Artur Mas, former president of the Generalitat de Catalunya.
Artur Mas eliminated 5,000 professionals from the health system by reducing Human Resources, made budget cuts which currently place Catalonia in the last place of the "ranking" compared to the rest of the Autonomous Communities.
Rehuno: One of Marea Blanca Catalunya's (MBC) main complaints is concerned with cuts in primary care. In the current context of the health emergency due to Covid-19, how have these cuts been highlighted, as a complaint from MBC?
EF: You have to take into account that primary care is the gateway to public health. From there, the patient can be directed to different specialties. The person is in direct contact with his doctor and his appointed nurse within an EAP (primary care team) who know the pathologies and the needs of their patients and, in this perspective, provide quality follow-up.
When a state of health emergency was declared for Covid-19, agendas were closed in all EAPs. Telephone support has been implemented in all MDTs(Multi-Disciplinary State) both to screen for possible Covid-19 and to monitor chronic disease, acute visits or communicate diagnostic test results.
At present, no agenda for doctors or nurses have yet been opened.
As have been already denounced before the Parliament of Catalonia, Marea Blanca (MBC) is concerned and fears that this form of action will end up implementing a model of telephone service, reducing and preventing patients from being treated by their doctor and nurse.
Rehuno: But phone service also makes it easy to contact and resolve the issue quickly, as long as it doesn't require face-to-face exploration. Don't you think so ?
EF: This may be valid in some cases, but not in general. For example, A stomach ache. Without being able to examine it and which has dragged on for some time can be serious and it is only when you are in a serious, serious condition that they will visit you. And important diagnoses can go unnoticed. In face-to-face care in your primary care facility, the doctor already knows you and will examine you carefully, advancing the diagnosis before reaching the extreme and avoiding an emergency room admission.
Rehuno: Regarding the management of this Covid-19 crisis by the health authorities, what does MBC think?
EF: It was very chaotic. Every day, the protocols were improvised with contradictory orders, generating confusion among professionals. EAPs (primary care teams) lacked PPE (personal protective equipment), a common occurrence throughout the state.
In Spain, according to data from the Ministry of Health, (as of August 8, 2020), 55,824 professionals have been infected and 63 have died (according to data established as of June 5, 2020)
Rehuno: Is there an open dialogue between health authorities and primary care teams to deal with the current health emergency?
EF: Not at all. It is decreed and ordered without taking into account our point of view. For example, in this crisis, the issue of Covid-19 has been prioritized, leaving aside other important and urgent health issues.
Rehuno: And how could the situation have been approached otherwise, according to Marea Blanca?
EF: Depending on the needs of each team, two or three doctors and nurses could have been assigned to the care of Covid-19 users and the rest of the staff continued with the usual care practice, without having to drastically modify the functioning of the patients. primary care teams. But the Ministry of Health imposed this way of operating.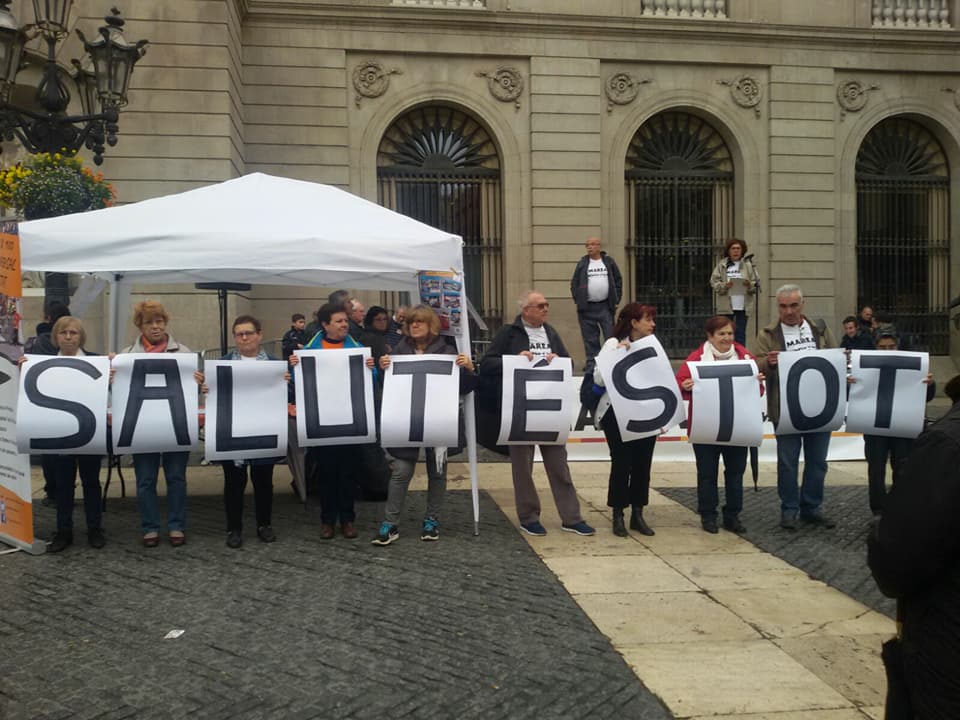 Rehuno: During the lockdown, people went out to the balcony every day to applaud the health workers, a nice gesture that encouraged them. But then we learned of layoffs, depressions and a lack of staff in public health. What does our healthcare system urgently need?
EF: As I said, since the budget cuts in 2011, there are no longer the same guarantees.
The lack of staff, for example. During sick or vacation leave, there are not enough professionals hired, which leads to overwork. This situation leads to fatigue, chronic fatigue, and frustration with not being able to provide optimal patient care.
Rehuno: Right now, what would be the most important thing to clean up the system and provide it with resources?
EF: We ask that the financial allowance for primary care be increased. The funding gap has been dragging since 2011.
The Department of Health has presented a plan to strengthen primary care. According to this, it will devote some 300 million euros to technological improvements and staff increases by 2022.
This improvement plan is late and insufficient. It does not compensate for the cuts in 2011: 350 million per year, and 3,000 fewer professionals. Effective responses to urgent situations continue to be delayed.
We have a great lack of resources and neoliberal policies have started to reduce public health to promote private enterprises.
Rehuno: How do you see the future of public health from the movements that defend it and from you in particular?
EF: What worries us the most now is the return to normal activity and the return of scheduled visits. And, also being able to honor a public and universal health service.
Marea Blanca is emerging in new municipalities, we need a social conscience and we are thinking about what we have and how to improve it. We cannot let ourselves be robbed and not say anything.
As a humanist, I consider that the neoliberal system over the past decades has destroyed public services all over Europe with impunity. This has resulted in the degradation and dehumanization of the public system.
To get out of this situation, we must become aware of what we have in common, of what makes the common good, organize ourselves in a united manner, and demand from our leaders good management of the public that we support with our taxes.
Translation by Lulith V., from the voluntary Pressenza translation team. We are looking for volunteers!