Maxine Lowy (i)
With the national referendum on the constitution just days away, young people of Huechuraba, born, like their municipality, in the dawn of post-dictatorship gauge the historic moment Chile is about to experience.
Huechuraba, in northern Santiago, nestled between hills painted with a palette of shades of yellow, orange and green, was born in late 1990. It is a municipality of great socio-economic diversity, varying between million-dollar portfolios of the architectural showcase in the Ciudad Empresarial corporate office park and the narrow lanes of La Pincoya and El Barrero where many inhabitants earn minimum wage.
The corporate office park's immaculate lawns, accented with sculpture, contrast with neighborhoods only a kilometer away, where green areas average 0,5m2 per inhabitant, when the World Health Organization recommends no less than 9m2 of green space for healthy quality of life. According to the 2017 Census, this predominant segment of Huechuraba has 17.5% overcrowded homes (16.4% in Santiago), and multidimensional poverty (health, education, and quality of life factors) reaches 28.84% (20.0% in Santiago).
According to official Health Ministry figures, in Huechuraba, a municipality of 112,500 inhabitants, up to October 20, there were 4330 confirmed cases, 160 deaths, and 52 active cases, resulting from the coronavirus pandemic. In mid-June, when coronavirus contagion was at its peak in Chile. Huechuraba ranked among the 20 municipalities with most deaths due to the virus, which appears to substantiate the relation between poverty and infection.
Past noon on a recent Saturday, in a lane of the working class neighborhood Población Pablo Neruda, people begin gathering outside a house; the aroma of cooking wafting from the house, tells them that lunch will be served shortly. Huge pots simmering with a stew of ten kilos of garbanzos, mixed with chard and squash will soon emerge, a meal for 150 persons. While they wait, some people read information about the referendum that the hosts have made available.
This is Pincoya Digna, the last remaining olla común or community kitchen of the many that mushroomed in Huechuraba between March and August 2020 to mitigate hunger, caused by job loss resulting from the coronavirus pandemic. The other community kitchens of this district extinguished as neighbors benefited from a law ratified in late July, despite government opposition, that created an emergency measure to allow people to withdraw up to 10% from their pension funds.
Initially this community kitchen operated outdoors by a church, until it transferred to this house, when its coordinator Juan Pablo Valladares, 29, known as JP, broke a foot. At present, the chief cooks are JP, his father Juan and mother Sandra.
"We began to organize the ollas because, even before, we saw the needs that exist in this neighborhood," says JP. "Every day there are more poor people, and the rich take advantage of them. With the new constitution we hope to be able to choose for ourselves and obtain the basic things for and with the people."
Sandra still is amazed at her own capacity to prepare meals for so many people from her small kitchen and dining room. "Never before did I cook for more than five!", she exclaims, while acknowledging that the intensity of the task leaves them tired and hot. But her husband Juan, laid off in March from his construction job, decidedly affirms, "We have to be here for the people. There are people who are truly in need." Those who wait for a serving of garbanzos do not have pension funds to cash in, and remain jobless, without the means to sustain their families.
During dictatorship, JP's paternal grandmother helped maintain an olla común, and his father gathered firewood from the nearby hills to heat the pots. Then, 20 years ago, Juan and Sandra prepared breakfasts and lunches for 40 children who attended a Sunday school in the neighborhood. That today Juan Pablo coordinates an olla común attests to an inherited spirit of solidarity. But it is not a tradition unique to the Valladares family; in the past it was shared by many common in this community, where solidarity between neighbors was a form of resistance against policies that marginalized broad segments of the population. It also is evidence of persistent needs, unaddressed 30 years after the inauguration of the first democratically elected post-dictatorship government.
"Neighbors should not have to organize these ollas comunes," emphasizes Juan Pablo. "The state holds responsible for making it impossible for people to obtain the most basic things, like other countries. That's why the social explosion came about. If we keep quiet, we will continue to suffer, as so many people here have."
From the Valladares' home, the family can hear what happens eight blocks away on Recoleta Avenue, the area's main thoroughfare: soccer fans cheer their team's victories, demonstrators keep memory alive and demand justice for human rights violations, and police respond, firing rounds of tear gas that permeate the neighborhood.(ii) They also hear the resounding beat of drums from batucada, the Brazilian percussion tradition that took root in working class Chile in the 1990s.
In recent weeks, a band of 30 drums, has ambled down Recoleta in marching-band formation, Friday afternoons, accompanied by banners and flags, calling for "Apruebo, Convención Constituyente" (Approve, Constituent Convention). Before hoisting her drum, Javiera, 28, a lawyer and member of a cultural group in La Pincoya, says: "Many people have little social or cultural understanding about how such a badly written constitution affects us. Now we have the chance to tell our parents and our grandparents that it's time for change."
The band's first row is formed by five young women, with repique drums strapped to their hips. In front of them is the repique mayor, Richi, 30, flag in hand, who marks the rhythm.
"I first picked up a drum when I was 7 years old. As a little kid I always wanted to carry the biggest, the loudest, the coolest drum. Now I know that all are important, and now I play the repique, smallest drum," says Richi. The batucada bands has created a Chilean grassroots culture in peripheral neighborhoods, giving voice to the "resistance of young people, especially in La Pincoya, who lack opportunities, lack education, lack jobs, but in this art discover a way to move forward."
Richi went to a private-subsidized primary school at the foot of the hills, and is acutely aware of being the only member of his class who was accepted by a quality secondary school. Subsequently, he studied and was certified as an auto mechanic at Inacap, a vocational training institute created by Salvador Allende's government. "Purchasing power produces segregation, and education is determined by the market. If you are poor, you can't choose where to study. That has to change."(iii)
His secondary school, the prestigious Instituto Barros Araña (INBA), to which boys apply from all geographic and social segments of this vast city, is located in the heart of Santiago. INBA students were active in the secondary school movement, that, in 2006, began the process of wakening up Chileans to the disastrous legacy of the dictatorship in their daily lives. "I experienced the penguin revolution. We were subjected to brutal police repression and punished by officials. It's something we will never forget, even though I did not live in dictatorship. But at last my country has woken up, at last its eyes opened."
His mother, Lupa Fuentes, 61, does remember dictatorship in Huechuraba, as well as the day in 1980 when people voted on the constitution that has governed Chile ever since. At the time, she lived with her mother and five siblings in El Bosque 1, another working class neighborhood of Huechuraba. Military trucks rumbled along the streets, and soldiers maintained a visible presence. Once they stopped in front of her neighbor's house and took the man away. That neighbor had "always explained things to us because he understood more. Everyone was afraid," she recalls. The night of August 10, 1980 the televised broadcast of a national soccer match was interrupted by General Augusto Pinochet to announce that, in a month- on the seventh anniversary of the military coup- citizens would vote on a new constitution.
The opposition was allowed a single public rally, headed by former president Eduardo Frei Montalva. In peripheral neighborhoods like Lupa's, people met surreptitiously to learn and talk about the referendum. "They said the election would be a fraud, and the changes would favor the military." Since the military junta had closed the voter registry years earlier, when people went to vote, a piece of their identification card was cut off. Poll watchers at the women's voting tables were designated by the National Women's Secretariat (SEMA-Chile), presided by the dictator's wife.
Richi listens attentively to his mother's account. He was born in 1990, but his entire life has been regimented by the constitution imposed in dictatorship. Last year, he and other batucada friends formed a band they called Resistencia to accompany the protest movement at Plaza Dignidad. "Politicians have so much power and are so greedy that they are capable of doing anything. The little trust I have in the system, I try to channel as concentrated as possible, to that last bit of hope I still have."
At the intersection of Recoleta and Del Pincoy avenues, a score of people waves flags promoting a new constitution. Huechuraba city councilwoman Carolina Rojas Charcas, of Aymaran descent, was among them. "The constitution transversally affects everyone: the elderly, indigenous people, women, students. That's why we are all for Apruebo. We inherited this constitution; it does not reflect what we want for our children and grandchildren."
At the same corner, visual artist Rayen Espíndola hands out flyers for Apruebo. Born after the dictatorship, Rayen notes, "We want a constitution that protects rights, not this one that sees us as consumers not people. And this constitution makes life even harder for women, who always have been oppressed. It's important to end this legacy of Pinochet. People have to loss their fear of change."
Neighbors here rehearsed for the plebiscite in December 2019, when the municipality of Huechuraba and the Chilean Association of Municipalities, of which Mayor Carlos Cuadrado Prats is vice president, held a citizen consultation. Of the 17,000 people who participated, 94.3% voted in favor of drafting a new constitution and 80.7% favored a Constitutional Convention as the method to do so. Voters also indicated as top three priorities the improvement of public health, higher pensions and quality public education.
Richi, the batucada leader, remains skeptical, pointing out that before last year's social mobilizations, a constitutional referendum was nowhere on the political horizon. "Even if the plebiscite achieves a minimum progress, we must not let go of the streets, because we really can't trust anything or anyone. As long as there is injustice, young people and people in general have to be in the streets, demanding what is fair for everyone."
Another Friday, the batucada resonates on the hills of Huechuraba. Each drum beat announces and denounces, as did the messenger drummers of Africa and later in Brazil. The post-dictatorship generation will send its own message October 25.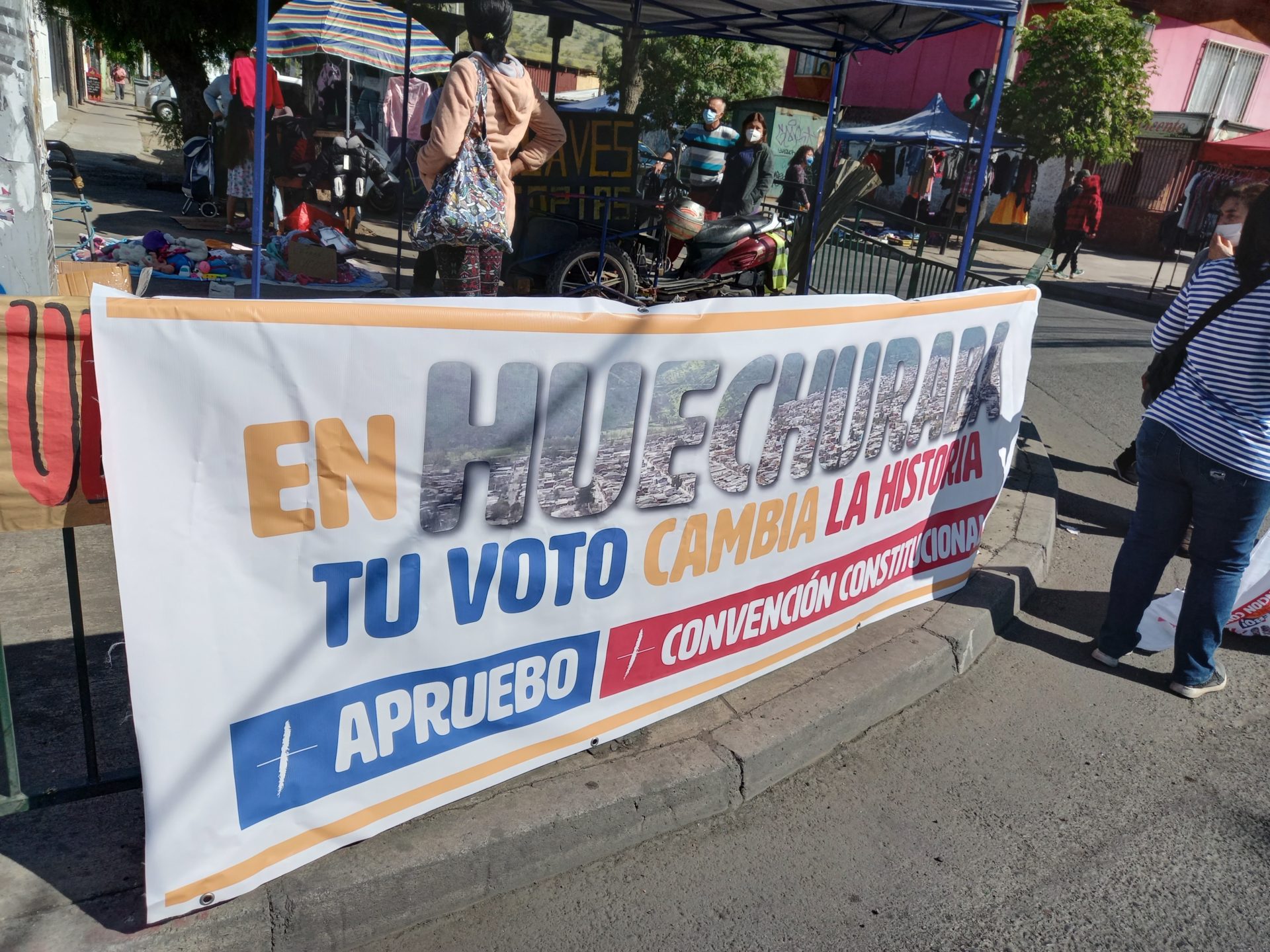 (i) Maxine Lowy, a journalist and translator, lives in a neighborhood of Huechuraba.
(ii) On September 11, 1998, during a protest on the anniversary of the military coup, the student and dancer Claudia López died by a bullet fired by police.
(iii) According to a 2020 study by Fundación Sol, Huechuraba ranks among 10 municipalities of the Santiago Metropolitan Region where students have most higher education debt, and end up dropping out for lack of means to repay loans extended by the CAE (Crédito con Aval del Estado). The mechanism was created by the government of Ricardo Lagos (2001-2006), to increase access to higher education, but ended up shackling low income families with a 5.8% interest rate, later reduced to 2% during the first government of Piñera (2010-2014).