This post is also available in: Spanish, French, Italian, Catalan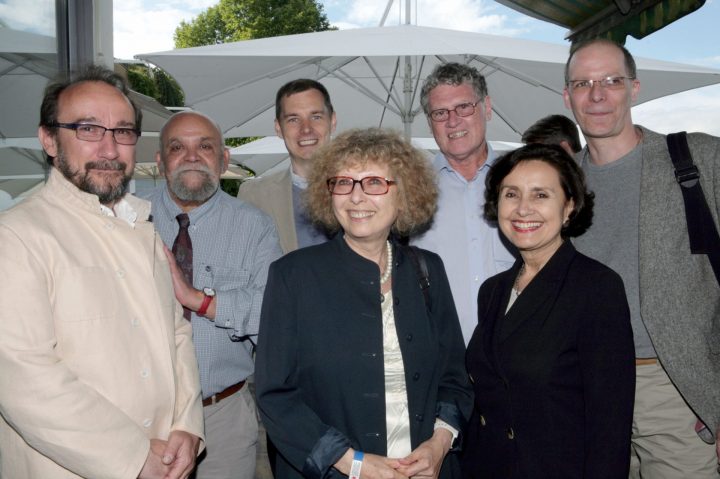 In the early morning of the 1st of April 2020, our great Silvia Swinden passed away after a tremendous battle against a number of medical problems that have taken their toll on her body over the last 3 years, but thankfully never dimmed her mind.
Siliva was born in Buenos Aires, Argentina into a non-practising Jewish family.  Both her parents were teachers with her elder sister, Luci, following in their footsteps, but Silvia wanted to be a doctor.  And thus she became in the early 1970s, during the military dictatorship in her country.
It was at this point of her life that she first came across the growing movement of activists following the teachings of Silo.  This was to be the pivotal moment of her life and changed her forever.  His message of how to heal suffering resonated strongly with her, "Only inner faith and inner meditation can end the violence in you, in others, and in the world around you," but the strange characters she came across at the time dissuaded her from participating formally!
Her work with the doctors' trade union eventually led to a four week period of incarceration during Argentina's most bloody war against its own people: she was one person among tens of thousands of people arrested at the hands of the military, many of whom were much less fortunate than her.  Silvia didn't need a second warning.  Upon her release she kept her head down, earned and borrowed all the money she could and took the first boat to Barcelona where she immediately contacted Siloists who had also established themselves there and started to grow their groups.
It was through Siloism that she eventually met the man who would be the love of her life, friend, partner and, eventually, her husband, Jon.  Siloists from all over the world met in the Canary Islands in 1978 and Silvia met Jon and immediately fell for him ("I had a thing for guys who looked like Jesus Christ", she told me once) despite the fact that neither spoke more than a few words of the other's language.
In 1981, after a 3-year complicated situation for both Silvia and Jon, she moved to London with some rudimentary English and immersed herself into the Humanist Movement which was then developing in the UK.  The timing was slightly unfortunate, however, as she almost ended up incarcerated a second time when the Falklands War broke out in April 1982 as the British authorities seriously considered rounding up all Argentine nationals in the country "for their own protection".
Silvia's Argentinian medical qualifications were not wholly recognised in the UK and thus she had to take UK medical exams and decided to specialise in psychiatry.  Eventually Silvia would rise up to be one of the country's leading forensic psychiatrists, dealing with the most violent female murderers.  She spent lots of her professional time in prisons and in court rooms working out how to stop these women from harming themselves and others.
But her career was never her life.  Her life was in Siloism.  As for many Siloists, it was the only philosophy that made any sense among all the physical, economic, psychological, sexual, racial and moral violence that the system imposed on the global population every day.  In the 80s, she spent hours of her spare time on the streets talking to people about the need for simultaneous personal and social change, building groups of the Community for Human Development, the Humanist Party, the Humanist Movement and later on the Centre of Cultures.
It was in those days (December 1988) that she met me, an innocent boy from the countryside who knew nothing about anything very important, and spent hours inspiring me to transform my own life using the techniques developed in the Humanist Movement.  It was magical the way she told the stories and the way she explained the doctrine.  I would sit there in awe, falling in love with the world she was painting in my head, thinking to myself, how will I ever have the capacity to remember all this so that I can repeat it to others?  No matter what the situation I found myself in, no matter what the difficulty, Silvia always knew the right part of Silo's teachings to look in, the right technique, the right anecdote to share.
Together we tried to humanise first Highgate the neighbourhood where she lived, and then Camberwell where I lived. When that didn't work very well we launched ourselves overseas joining the growing cohort of humanists who were developing missions to new parts of Africa, Asia and Latin America.
We arrived in Nairobi in August 2000, not knowing what to expect, and ended up coordinating a two-day workshop for 50 people.  We couldn't believe what was happening.  For the next 4 years we travelled frequently to Kenya repeating the experience to increasing numbers of people who, we naively thought, saw the world the same way we did.  Silvia, inspired by these experiences, started to repeat them in Colombia.  Taking sometimes extraordinary risks by travelling by bus through the Colombian countryside in a time of open civil war.  She also returned to Barcelona, re-connecting with many friends who she had worked with before in the 1970s.  This re-connection brought her enormous joy.
Silvia, for me, was characterised by her towering intellect and she eventually turned this to writing.  In the 1990s she started writing her first book, From Monkey Sapiens to Homo Intentional[1] which was eventually published in 2006.  It contained her insights into humanism, psychoanalysis, sociology and behavioural psychology, violence, Darwinism, economics and science, among many other subjects.  It was all her take on the world through the lens of Silo's teaching, and I remember her being absolutely terrified to send Silo a copy!  He was possibly the only person who made Silvia ever doubt herself.  He gave it his seal of approval, though.
When Pressenza was launched in 2009 amid the preparations for the World March for Peace and Nonviolence, Silvia joined whole-heartedly.  She always had something interesting to say about any current situation in the news and was one of the agency's most prolific writers.  There are 954 entries attributed to Silvia in our archive, translated to all our languages!
Silvia's last major writing was a monograph titled, "The Space of Representation as a Psychosocial Experience, A Psychology of the image, Intentionality, impulses and transcendence at the service of the non-violent revolution"[2].  Silo's contribution to psychology through his development of the scheme of the consciousness and the space of representation fascinated her.  As a psychiatrist she could see all the shortcomings of what western medicine was doing in the fields of psychology and psycho-analysis, but she was wise enough to see where it was doing things well, and also how Siloist Psychology could make a contribution.  She rushed to finish her monograph when she was diagnosed in December 2016 with what was a probably mistaken diagnosis of pancreatic cancer.  The doctors never did find out what was the root of the problem inside her body, but what is certain is that it led to the leukaemia that eventually dealt the final blow.
The last period since that diagnosis led Silvia to some of the most profound experiences of her life.  She dedicated herself to finally resolving all traces of contradiction in her life, reconciling with absolutely everything and everyone.  A team of friends all over the world supported her in that period: Ariane, Dani, Karen, Danny, Inma, Monica, Dario, and many, many more in visits to London and from a distance, were able to support her and help her to purify.
We were all held in a limbo with Silvia's situation. So many times we thought we were in the last days, and so many times she was stronger than the illnesses that I started to refer to her as my immortal friend!  There were dark days, but mostly there were fantastic days.  She took her last days of lucidity in hospital in that isolation room, to do a final personal retreat and clean up any loose ends.  She stayed absolutely lucid until about 4 days before she left us.  That's how she wanted to go.  Brilliant in mind until the end!  There's a document on her computer somewhere with a synthesis of the experience of the last three years which I'm looking forward to reading one day.
Silvia leaves us in possibly the most interesting time in human history since the Italian Renaissance.  The coronavirus pandemic is twisting the world into new paths that were never before imaginable.  She was here to witness the opening of a door to a new civilisation, but she wasn't able to walk through it with us.
She joins many of her most important guides in the constellation of the great who have come before us in the task of humanising the Earth and paving the way to the brilliant world that she painted in my head all those years ago.
All of us in Pressenza and everyone who ever knew her will be today giving thanks for the time she spent together with us and for the positive contribution that she was able to make in so many of our lives.
Silvia Swinden née Bercu (1949 – 2020) leaves behind her husband, Jon and her elder sister Luci.
Below, we copy the text of the Siloist ceremony of Death, from the book Silo's Message.  No more poignant or useful words are available at this moment.
Life has ceased in this body. We must now make an effort to separate in our minds the image of this body from the image of the person we remember…
This body does not hear us. This body is not the person we remember…
May those who do not feel the presence here of another life, separate from the body, consider that although death has paralysed this body, the actions they carried out will continue to act, and their influence will never end. This chain of actions that was set in motion in life cannot be stopped by death.  How profound it is to meditate on this truth, even though we may not completely comprehend the transformation of one action into another!
And, may those who feel the presence of another separate life, consider that death has only paralysed this body, that the mind has once again triumphantly freed itself, opening its way towards the Light…
Whatever our views, let us not weep for this body. Rather, let us meditate on the root of our beliefs, and a gentle and silent joy will reach us…
Peace in the heart, light in the understanding!
[1] Swinden, S (2006) From Monkey Sapiens to Homo Intentional: The Phenomenology of the Non-Violent Revolution London: Adonis & Abbey Publishers
[2] Swinden, S (2019) The Space of Representation as a Psychosocial Experience, A Psychology of the image, Intentionality, impulses and transcendence at the service of the non-violent revolution, France: La Belle Idée Park of Study and Reflection, accessible at: https://www.parclabelleidee.fr/monographies.php