BP Die In to bring attention to the white phosphorus used in West Papua
This post is also available in: Spanish, French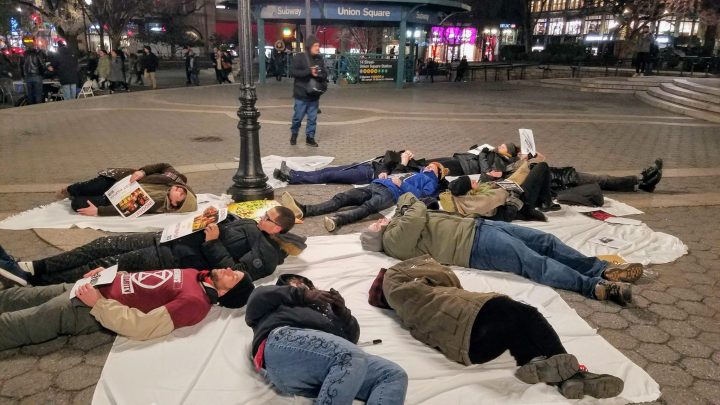 Climate activists gathered in New York's Union Square in solidarity with the Indigenous peoples of West Papua, to demand that petroleum multinational BP:
End support of the Indonesian military genocide in West Papua
Capture the carbon released from Tangguh, a massive liquefied natural gas plant in West Papua.
Tangguh, one of the world's largest gas extraction plants, has an estimated worth of US$128 billion and rests on 14 trillion cubic meters of gas. Each year over 4 million tons of CO2 are released from Tangguh. Expansions now underway will double production and greenhouse gas emissions to 8 millions tons a year.
The die in (actually a "snow in")  brought attention to the white phosphorus–a banned chemical weapon–used last month by the Indonesian military in West Papua. White phosphorus burns skin and flesh, down to the bone. In December, Indonesian helicopters dropped white phosphorus on four villages in West Papua's highlands.
BP's private security forces – run by retired Indonesian army and police personnel – openly collaborate with the Indonesian military: BP exchanges information with Indonesia's military, and Indonesian police and military officers provide training to BP's security. BP also provides direct payments to Indonesian military and police: since 2010, BP has paid $670,000 to the Indonesian police, and as of November 2018, BP's accounts show $266,000 in payments to the police for joint security operations in 2016.
Protesters demand that BP end these payments to Indonesian security forces and halt production at the Tangguh liquid natural gas plant until adequate carbon capture technologies are put in place.
Coming up next, Extinction Rebellion is coordinating a major direct action in New York City on January 26th (xrr.nyc).