(as reported by Chandra-Weavers Wheel) The Gaja cyclone, a deep depression over the Bay of Bengal, crossed the Tamil Nadu coast on 16th of November 2018, causing massive destruction in its wake and affecting the lives and livelihoods of fishermen, farmers and salt workers. The coastal blocks of the Nagapattinam district, namely Vedaranyam, Keelaiyur, and Thalaingayar bore the maximum brunt of the cyclone, with heavy rains also affecting interior Tamil Nadu districts. About a dozen districts of Tamil Nadu were severely affected by the cyclonic storm.

In Sanskrit, Gaja means elephant and like an angry elephant, the Gaja cyclone rampaged through 12 districts in Tamil Nadu affecting human lives and animals, destroying boats and huts of the poor, uprooting coconut trees, and extensively damaging agricultural and horticultural crops. No electricity, lack of potable drinking water, the difficulty for those living in the interior villages to gain access to relief goods from the state and central government were just some of the problems faced in the aftermath of Gaja.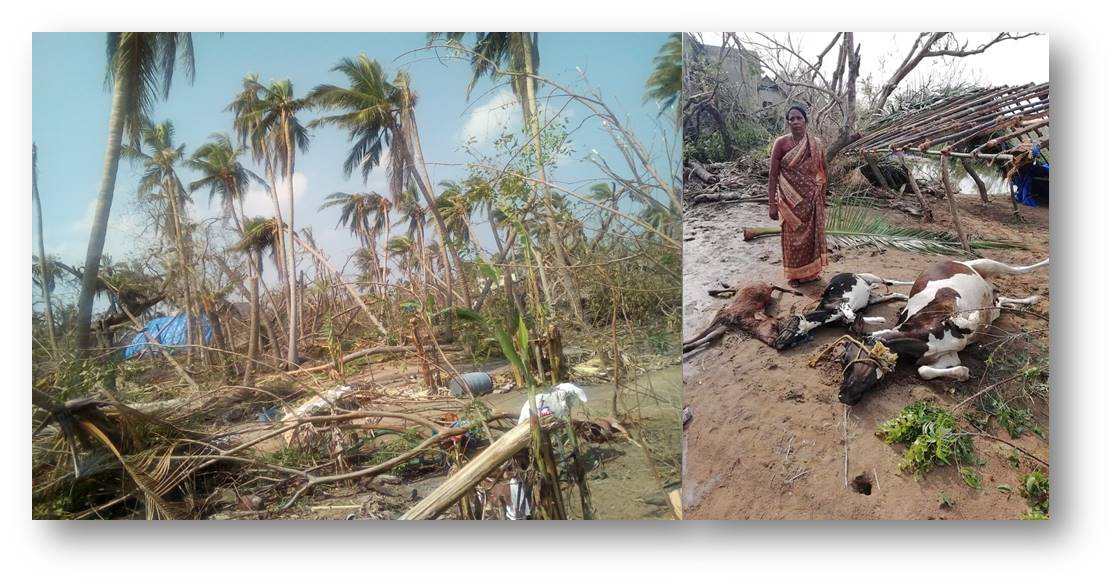 To date, the state and central government's relief and disaster operations as well as support from volunteers, social organizations and socially conscious individuals are going a long way in helping thousands of affected people. Immediately after the disaster, officials and professionals joined together and formed different committees to undertake relief and rehabilitation activities.
In particular, a non-partisan team made up of volunteers and NGOs not divided by caste, religion, region or language joined hands and set up a system of pooling resources and working together to help the distressed communities, via a website: https://gaja2018.home.blog/ which serves as a portal for communication and coordination and via t.me/gajaTN, preferring telegram than other social media apps so as to work smartly and transparently.
Here is some the work being done by the team, in the spirit that every volunteer is a leader by taking up full responsibilities.
28/11/2018
Distribution of relief materials at 12 affected villages in Nagapattinam and Tiruvarur Districts by the team of Siva Kumar, Mayaraj, Nithyanand, Anadhan, Parthasarathy, Gunaseelan, Ramaswamy and group.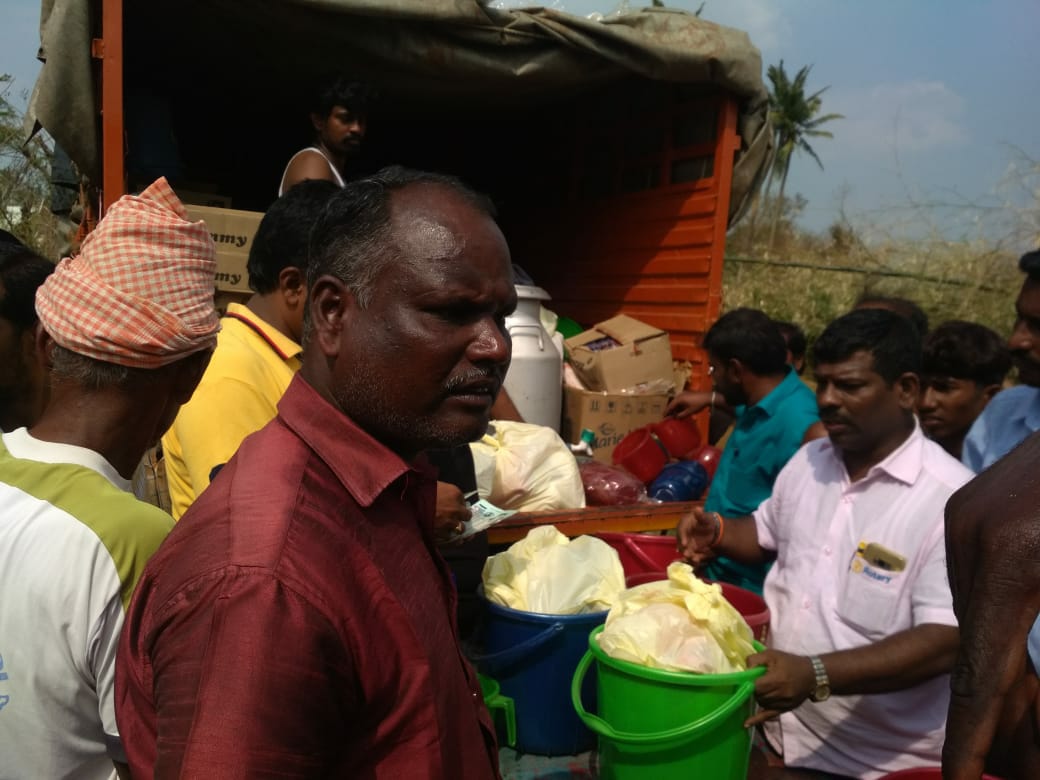 30/11/2018
Distribution of relief goods– rice and groceries– to 200 families, salt workers in the Vedarnayam Coastal areas, with Vallalar Darumasalai in charge.
Volunteers from "Khudai Khidmatgar-Servants of God" also joined the relief work undertaken by CRDR (Centre for Rural Development and Research). The team is working in 68 villages in 2 districts–Nagapattinam and Tiruvarur. Aside from being involved in relief good distribution, the volunteers are also providing assistance to widows, the disabled, and elderly people such as conducting free medical camps and providing water purifiers to the needy people living in the interior villages.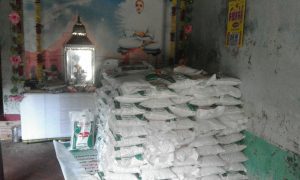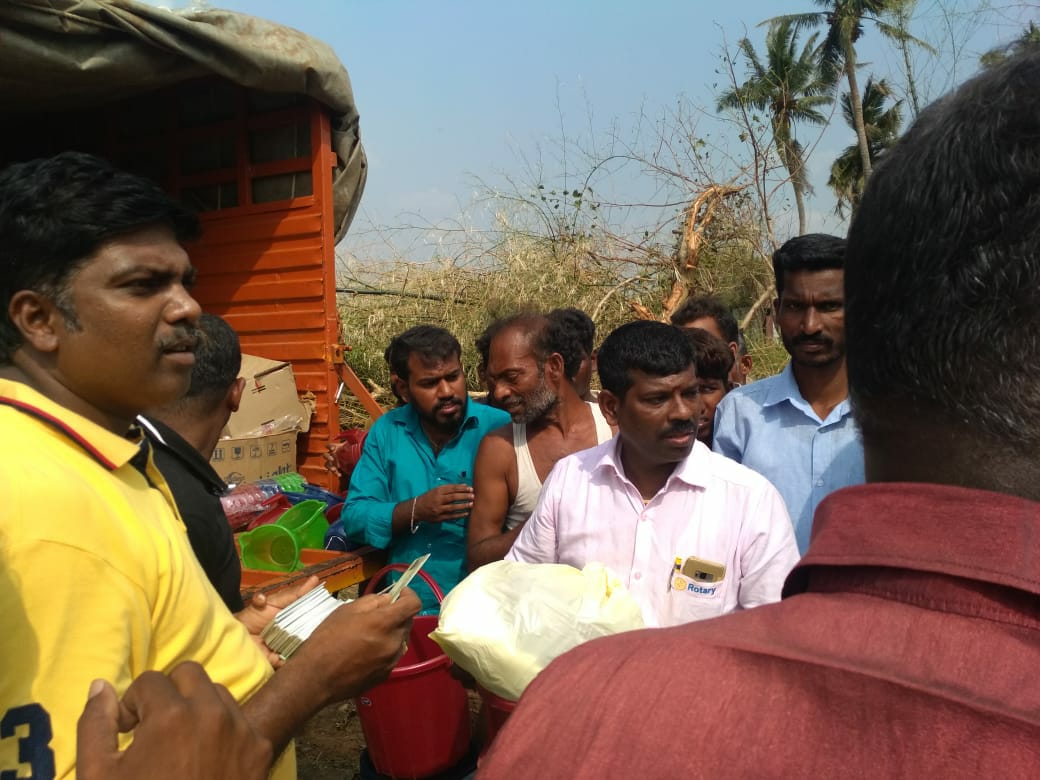 First Week of December.
40 students from RGNIYD-Sri Perumbuthur Volunteering in Gaja Cyclone affected areas on rehabilitation work at Avarikkadu, Palliya Moolai, Thiruvidai Marudhur, and Neer Mulai villages.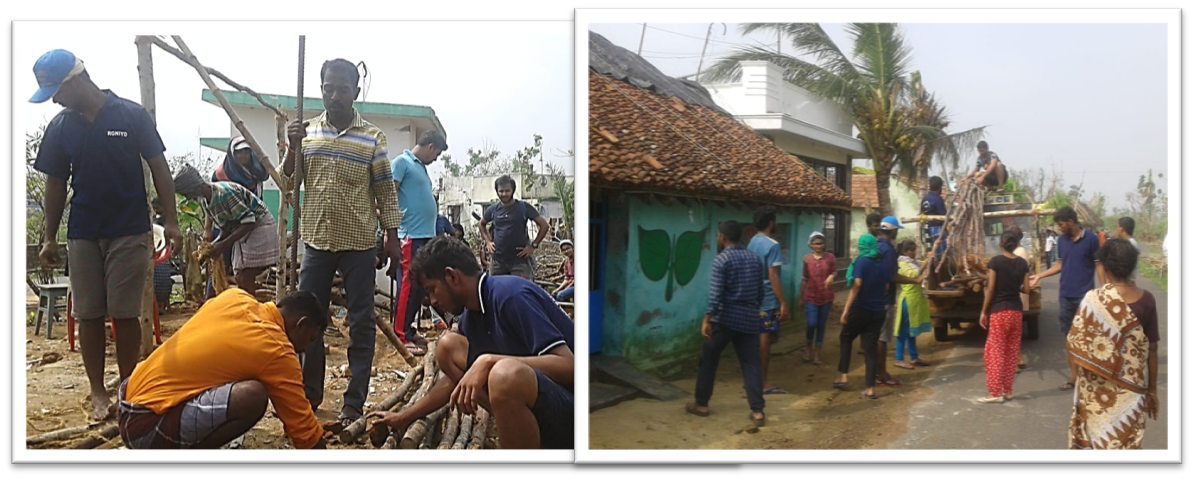 December 12, 2018
Kannaiyan, a laborer aged 78, was living in a tarpaulin tent with his wife for 26 days after the cyclone destroyed his hut. With the help of Sirpi Prabhu, the team constructed a hut for Kannaiyan in Palliyamulai village, near Talainayiru, Nagapattinam. Thanks to Prabhu Sirpi, Mayaraj Maya Vedhan Siva Anand, Ganesh, and all the teammates. The team hopes to construct 50 huts in the coming days, preferably for old people, widows and the disabled.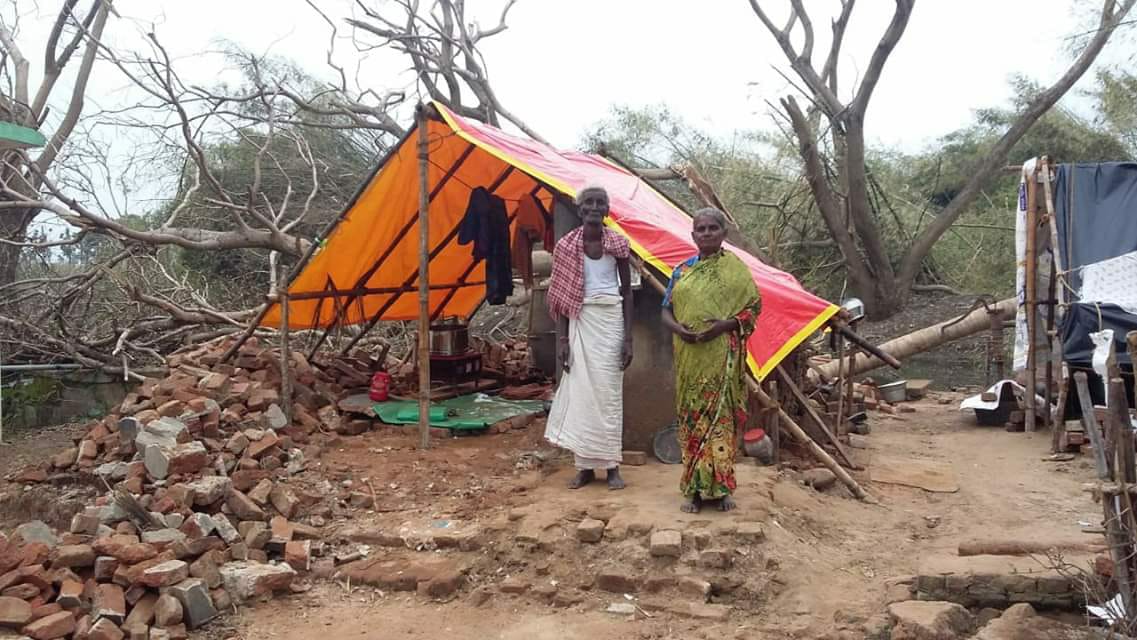 08.12.2018.
Volunteers Tasks – Gaja Cyclone Relief & Rehab. To date, the 5 critical needs are:
1. Help in getting government compensation
2. Clearing and selling off fallen trees
3. More tarpaulin as individual houses needs more than what is supplied by the Government and NGOs.
4. Mosquito nets to avoid infections
5. Light sources
To calm the distress threat:
1. Help villagers file compensation related papers, fill up fallen trees for sale info at the TN Govt App – Uzhavan & gaja2018.home.blog
2. Carry helpline poster materials and "What Next" pamphlets to all 4 districts (Trichy Ramesh and Team) and distribute helpline posters and "What Next" pamphlets to as many villages(care of All NGO, Volunteers in NTTP-Nagai Tiruvarur Thanjavur Pudukottai Districts, Fm.Bala)
3. Add more active helplines handling volunteers as calls will increase after posters are pasted. We need retired people to listen to calls from their home via landline/mobile anywhere in India. Note that the caller will not know the volunteer number and if the call is missed, other volunteers will take care. At any time, one can opt of the helpline team. Join t.me/gajatn (care of Vol.Mahalakshmi, Vol.Kavya, Vol.Vasu, Le Banyan, MSSRF, Fm.Revathi)
4. Help Chennai Psychological Counseling Team-2 to select needy villages in Nagapattinam and Pudukottai (care of Vol.Vasu and Vol.Inamul)
5. Give ideas and contribute to enriching Gaja relief content for All India Radio. (care of Vol.Kavya, Dr.Dhanalakshmi, Vol.Vasu, Vol.Inamul)
6. Get a list of all villages in NTTP (care of Nagai, Thiruvarur, Thanjavur, Pudukottai), allocate volunteers, get needs, contact list and fill online forms. (care of Vol. Inamul)
For Medical Help:
7. Help JIPMER, Stanley & Homeopathy Doctor teams for their future camps.
Relief:
8. Lead Karaikal Aid, APJ Team Aid, CRDR "Keethu" aid to reach the needy in the weekend ( care of Er.Pravin, Vol.Inamul)
9. Mass manufacturing of bike adapter for mobile charging(BAM) and LED (Vol.Dilip – TNFS, Vol.Bharathi – PIPMATE, Puducherry)
Rehabilitation:
10. Design of low-cost housing and circulate a Tamil pamphlet on it (care of Architect Dilip, The New Face of the Society and Vol. Inamul CRDR)
11. Tie up with Chennai TTK Hospital to help the helpline requests for de-addiction and firm up plans for TTK camps
For Next Disaster:
12. Take forward volunteers portal project (Er.Venkat, Le Banyan, Er.Balu, Er.Muthu, Er.Satheesh and others of Core IT Team and many more…
In spite of these efforts, more volunteers are needed, and more needs to be done in the days and months ahead. Those who wish to volunteer their efforts can get in touch with Inamul: contact number (WhatsApp): +919092137718.
Or visit https://gaja2018.home.blog/, the website to coordinate Gaja Cyclone Relief efforts where you or your NGO can volunteer your services. Also visit the website of the Centre for Rural Development and Research, a society which is helping in the relief efforts http://www.crdr.org.in/