New reports reveal how pro-Trump firm Cambridge Analytica 'exploited' Facebook to harvest data of 50 million users
"This story is a devastating tale of how personal data and massive, unaccountable technology platforms combined with malevolent political interests to subvert the public sphere. Facebook owes us the truth."
by Jake Johnson, staff writer for Common Dreams
Those wondering why Facebook suddenly announced late Friday night that it has banned the Trump-affiliated data firm Cambridge Analytica received a decisive answer Saturday morning, when the New York Times and the London Observer published detailed reports on how the Robert Mercer-funded company exploited Facebook to harvest the personal information of around 50 million Americans without permission—the social media giant's "largest-ever data breach."
According to the Observer—which cites company documents and former employees—Cambridge Analytica "used personal information taken without authorization in early 2014 to build a system that could profile individual U.S. voters, in order to target them with personalized political advertisements."
These targeting techniques would later form the foundation of Cambridge Analytica's "work on President Trump's campaign in 2016," the TImes notes.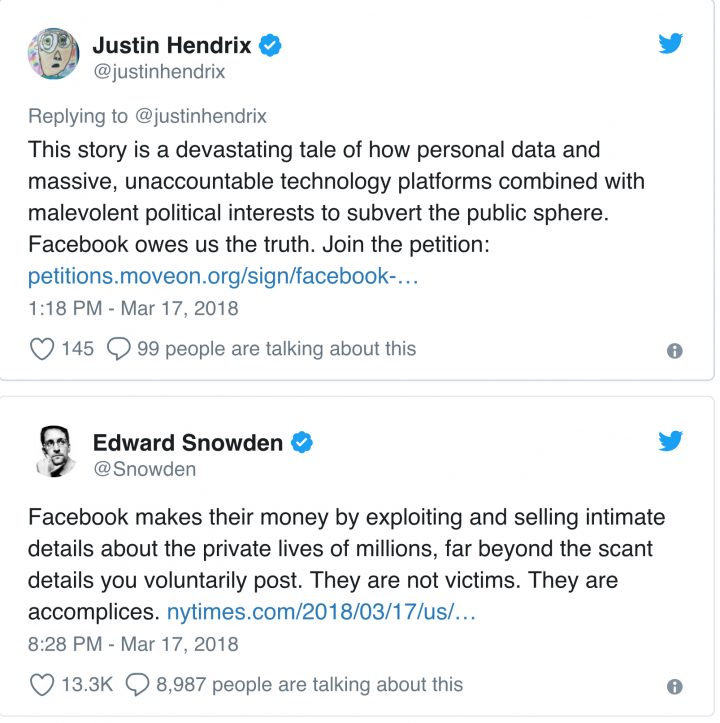 Documenta viewed by the Times and the Observer paint a damning picture of Facebook's failure to act when it learned in late 2015 that the personal data of tens of millions of users had been harvested on an "unprecedented scale."
In a statement Friday night, Facebook confirmed that it uncovered Cambridge Analytica's "violation" in 2015, but the Observer notes that "at the time it failed to alert users and took only limited steps to recover and secure the private information of more than 50 million individuals."
The Observer summarizes how the data was collected and utilized:
The data was collected through an app called thisisyourdigitallife, built by academic Aleksandr Kogan, separately from his work at Cambridge University. Through his company Global Science Research (GSR), in collaboration with Cambridge Analytica, hundreds of thousands of users were paid to take a personality test and agreed to have their data collected for academic use.
However, the app also collected the information of the test-takers' Facebook friends, leading to the accumulation of a data pool tens of millions strong. Facebook's "platform policy" allowed only collection of friends data to improve user experience in the app and barred it being sold on or used for advertising.
Cambridge Analytica spent nearly $1 million on data collection, which yielded more than 50 million individual profiles that could be matched to electoral rolls. It then used the test results and Facebook data to build an algorithm that could analyse individual Facebook profiles and determine personality traits linked to voting behaviour.
"We exploited Facebook to harvest millions of people's profiles. And built models to exploit what we knew about them and target their inner demons," Christopher Wylie, who worked with an academic at Cambridge University to collect the data, told the Observer. "That was the basis that the entire company was built on."
Privacy advocates and other commentators reacted with alarm to the explosive new revelations, arguing that they show the dangers inherent in giving massive for-profit tech companies like Facebook access to users' personal information.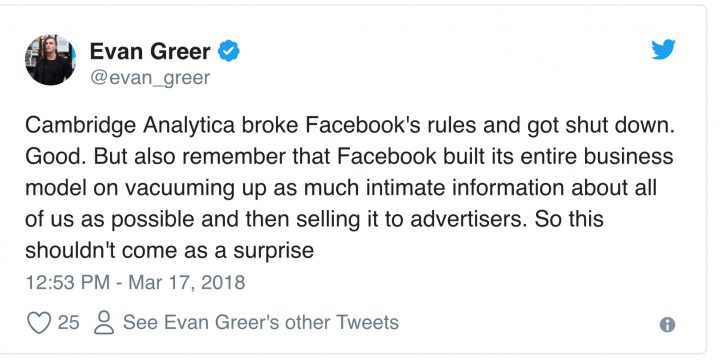 "Facebook clearly can't handle the monster it created, nor does it seem particularly interested in trying," concluded the Huffington Post's Ashley Feinberg.
A Pressenza footnote abour Brexit
According to The Guardian "Cambridge Analytica and Facebook are one focus of an inquiry into data and politics by the British Information Commissioner's Office. Separately, the Electoral Commission is also investigating what role Cambridge Analytica played in the EU referendum.
"We are investigating the circumstances in which Facebook data may have been illegally acquired and used," said the information commissioner Elizabeth Denham. "It's part of our ongoing investigation into the use of data analytics for political purposes which was launched to consider how political parties and campaigns, data analytics companies and social media platforms in the UK are using and analysing people's personal information to micro-target voters."