This post is also available in: Spanish, Italian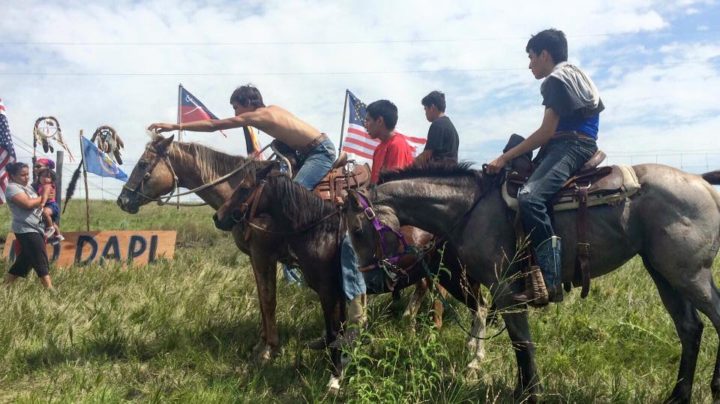 In North Dakota, water protectors resisting the $3.8 billion Dakota Access pipeline have scored an historic victory. On Sunday, the U.S. Army Corps of Engineers denied Energy Transfer Partners, the company behind the pipeline, a permit to drill underneath Lake Oahe on the Missouri River—officially halting construction. The pipeline is slated to carry crude oil from the Bakken oilfields of North Dakota through South Dakota, Iowa and into Illinois, where it's slated to link up to another pipeline to carry the oil down to refineries in the Gulf. The project has faced months of resistance from the Standing Rock Sioux in North Dakota, members of more than 200 indigenous nations from across the Americas and thousands of their non-Native allies—all concerned the pipeline's construction will destroy sacred Sioux sites and that a pipeline leak could contaminate the Missouri River, which serves as a water supply for millions.
Standing Rock protester Maurine Archambault celebrated the news. "We're slowly getting there, like winning this thing, but there's going to be a few battles that we're going to have to go through, whenever we're going to win this thing, too."
The announcement from the U.S. Army Corps of Engineers came as thousands of Native and non-Native military veterans descended on Standing Rock, vowing to form a human shield around the water protectors, who have faced an increasingly violent police crackdown.
"It's not over" the Standing with Standing Rock Facebook page says. "They've denied the permits pending an environmental impact review, which should have been done in the first place. If that review is done honestly, the pipeline could not possibly be approved, but they haven't exactly proceeded honestly so far. Rerouting is not an acceptable outcome. We will not stop until the project is cancelled. Nonetheless, it's a big victory".
Sources:
Democracy Now!
Standing with Standing Rock