Day of Actions against CETA in London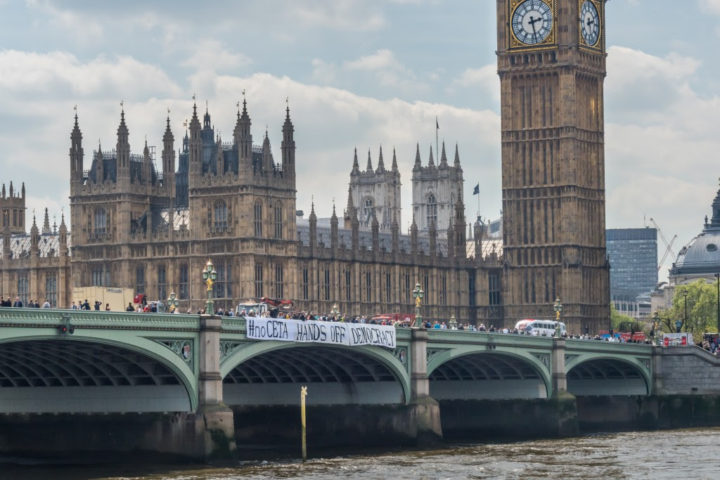 By Inka, NoTTIP
TEXT AND IMAGES PROVIDED BY TIM FLITCROFT
Monday May 16th saw Day of Actions Against CETA by anti TTIP activists who joined allies from across Atlantic to kickstart the campaign in the centre of London.
Our message: stop the toxic EU-Canada deal CETA!
The activist groups included noTTIP, Lewisham People Before Profit and Stop TTIP and the NGOs War on Want and Global Justice Now
CETA is the Comprehensive Economic Trade agreement between Europe and Canada that is similar to TTIP in its scope to undermine statutory protections and standards created by governments over years. It allows corporations to sue governments if their profits are threatened by government policy.
In the morning Jean Lambert and StopTTIP spoke outside BIS about the total secrecy surrounding the CETA and TTIP negotiations. In the UK there are no Reading Rooms which is the responsibility of the Department of Business Innovation and Skills to provide for MPs and MEPs.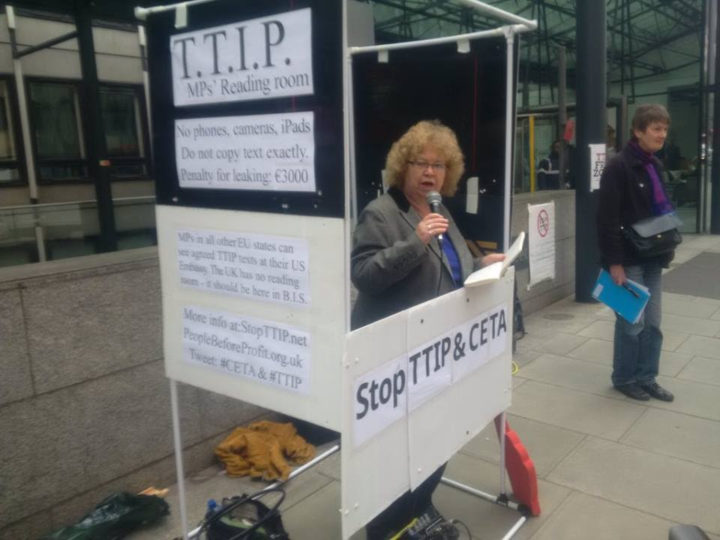 At lunchtime a giant #noCETA HANDS OFF DEMOCRACY banner was dropped off Westminster Bridge to spread the message far and wide. CETA is as dangerous as TTIP.
In the afternoon there was a protest outside Canada House. with speeches by Maude Barlow the leader of the Council of Canadians, Jean Lambert MEP, Mark Dearn Trade campaigner at War on Want and Polly Jones Head of campaigns at Global Justice Now.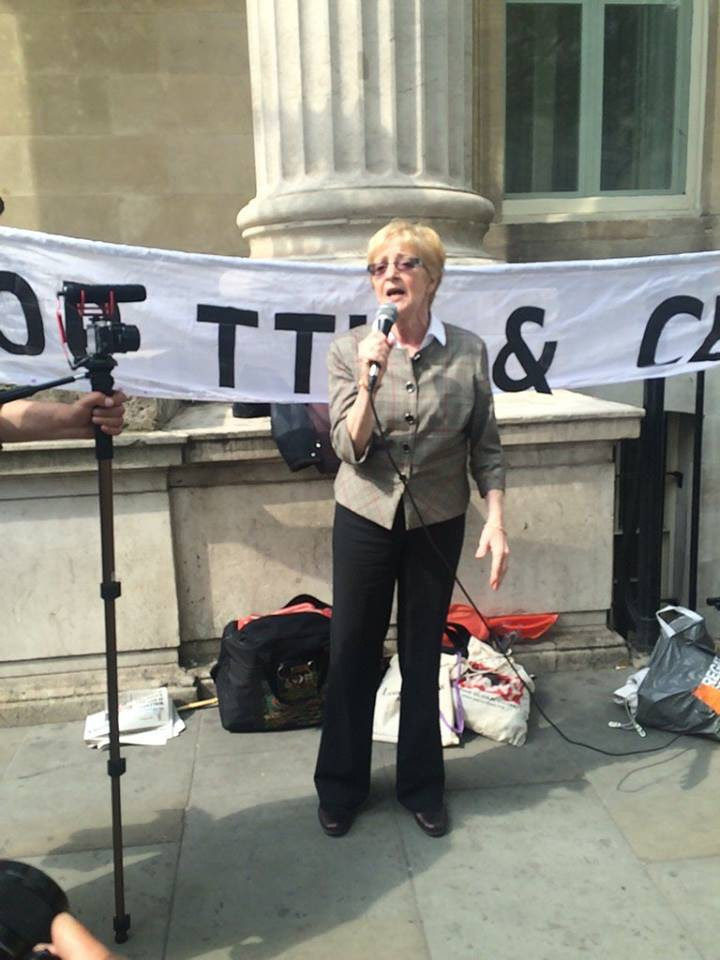 In the evening there was a meeting organised by War on Want at Kings College with Nick Crook from Unison, Natalie Bennett from the Green Party, Maude Barlow leader of the Council of Canadians, John Hilary executive director of War on Want. It was chaired by Mark Dearn TTIP campaigner at War on Want
Maude Barlow leader of the Council of Canadians gave four stark warnings about CETA
1 Canada is not what it used to be. It has moved its food system to massive factory farms orientated to export. Canada is the third largest GMO producer in the world. It has no food labelling.
2 CETA is TTIP by the back door. The Canadian and US economies are integrated because of NAFTA. 42,000 US companies are fully registered and operating in Canada. They will be able to challenge the higher standards of Europe via ISDS (Investor State Dispute Settlement). Monsanto is registered in Canada. Because of lax laws 75% of mining companies are registered in Canada.
3 Investor State dispute Settlement (ISDS) Canada currently faces 1.75 billion Euros worth of challenges by the USA. It even extends to making claims to ownership of land water and forests. The EU will face the same kind of challenges.
4 CETA will make it easier to export Tar Sands oil which is much a more heavily polluting fuel. Attempts to impose tariffs to discourage their use were challenged as obstacles to free trade.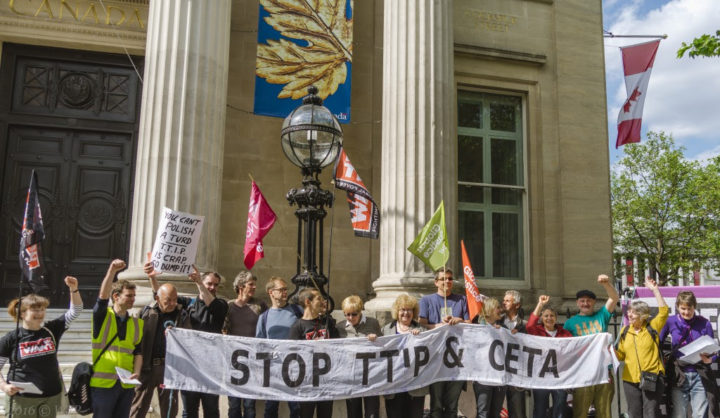 In addition
CETA has negative listing of services ie all are included unless they have been specifically excluded
It has the Investment Court System (ICS) which is essentially no better than ISDS
The predicted economic gains are miniscule. The need to have an agreement that facilitates the export/import of beef, pork and cheese in both directions across the Atlantic is questionable
The UK government has not sought protection for any UK Protected Geographical indicator foods ( ie foods associated with an area name such as Cheddar Cheese). So Canadian firms can copy and market them.
There is no analysis of the 1600 page CETA text to inform and guide MPs and MEPs, in their voting
The economic analysis by of CETA by TUFTS will not be completed till autumn 2016