Refugee Crisis 2016: mass deportations and resettlement efforts by social organizations
This post is also available in: Italian, German, Greek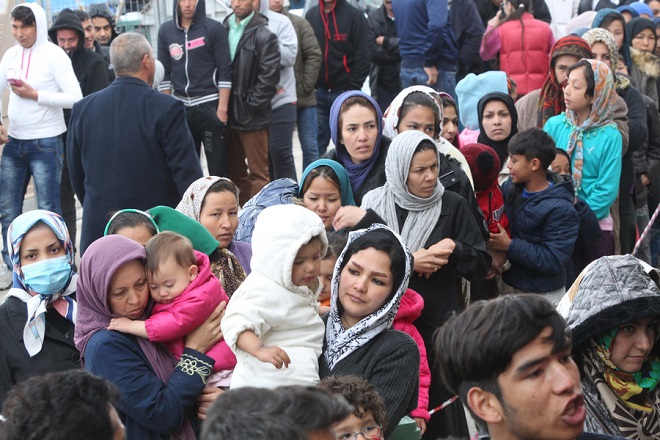 On their own initiative, social organisations both inside and outside Greece are attempting to overcome the confusion and the violations of international treaties caused by the joint statement of 28 EU leaders with Turkey on the 18th of March 2016.
This complicated joint statement emerged in a moment when more than 50,000 refugees and immigrants were trapped in Greece as a result of the closing of the so-called Balkan route. Furthermore, Natasha Burton, the European Commission representative brutally declared that "Greece must recognize Turkey as a safe third country so that asylum petitions could be declared inadmissible in Greece, and thus they [asylum seekers] shall be returned to Turkey" in response to a reporter's question, provocatively adding that "collective European public opinion considers that it is possible for Greece."
All this has happened as the human casualties of refugees in the Mediterranean Sea have risen to 711 since the beginning of the year, meaning 7 people per day on average, according to data from the UNHCR. Deaths and losses have not stopped despite the presence of NATO forces in the Aegean Sea. Consequently ethical dilemmas arise regarding how Europe deals with these daily casualties, what measures are taken to prevent them and how effective, if at all, they seem to be.
Mass deportations have started
The Greek authorities in cooperation with Frontex and Turkey's Coast Guard have chartered the first vessels for mass deportations of refugees and immigrants three days after the enactment of the new Greek law.
Observers from civil society in Lesbos and Chios have expressed serious doubts regarding whether those deported to Turkey had fair access to their asylum privilege; the ability of the asylum service to thoroughly consider and appropriately reject requests (even at this first level) is questionable. Therefore, serious doubts have arisen as to whether the implementation of the EU-Turkey statement is violating, even from the first day, international and EU treaties which Greece is committed to compling with.
The relocation policy in Greece is in progress
Both the political deficit (after the closing of the northern borders) and the EU's funding gaps to address this humanitarian crisis are being partially resolved by the UNHCR on European territory.
In Greece, the UNHCR has implemented a refugees' relocation project in recent months in cooperation with non-governmental organizations (e.g. Praksis, Arsis, Sunbeam, Nostos, Solidarity Now) while other bodies are preparing to join in this effort. In this context, the UNHCR also announced cooperation with the Municipality of Athens.
The program includes four housing methods (hotels, voucher, self-catering apartments and host families), while giving economic incentives to the local community that offer hospitality or accommodation and contributing to an accelerated solidarity wave which has been expressed in various ways in Greece for about a year now.
Ongoing solidarity activities
Lawyers specialising in human rights in Greece are networking in order to jointly defend the rights of refugees and migrants as these rights are seemingly violated by the application of the new law 4375/2016. Indicative are the announcements coming from lawyers in social media, such as the NGO Pleiades' communication via Electra-Leda Koutra, an activist lawyer.
Simultaneously, citizen's solidarity continues both on the islands and on the mainland while local authorities are still struggling.
Last week's typical example was the Mayor of Kyllini who decided to repair a residential complex in his area for the settlement of refugees. He himself is a Syrian immigrant, doctor by profession, town councillor in recent years, and a man whom his fellow citizens, in the last election, entrusted with the position of Mayor. Moreover, 51 inhabitants of Chios Island signed a declaration against the implementation of the EU-Turkey statement, calling it "immoral and illegal" while Crete's "Caravan of Solidarity" delivered five tons of food and twenty tons of basic necessities for refugees and immigrants to Rena Dourou, the regional governor of Attica.
Outside Greece, citizens in Dover, England lit up the famous white cliffs with the slogan #Refugees Welcome while demonstrators in favour of opening borders in Austria eventually came into conflict with the police.
Myths and Facts about people who emigrate
The European platform of organizations engaged in development (Concorde Europe) has published a useful tool concerning 10 myths about immigration.
In the 10th myth that says that "Europe cannot accept more immigrants" it explains that "Over one million people that have escaped from their countries arrived in Europe in 2015. Even though the population is mixed, i.e. includes refugees, asylum seekers, and economic migrants, more than 84% of them are coming from countries whose refugee populations are a result of their regimes or wars."
Concorde Europe emphasizes that "The EU is obliged by international law to protect them. The refugees, under Article 14 of the Universal Declaration of Human Rights 1948, have the right to seek asylum and European Union countries have to protect them. Refugees and asylum seekers should not be returned to areas where their life is endangered."