No chance for TTIP and CETA to get the support of German civil society
This post is also available in: Spanish, French, Italian, German, Greek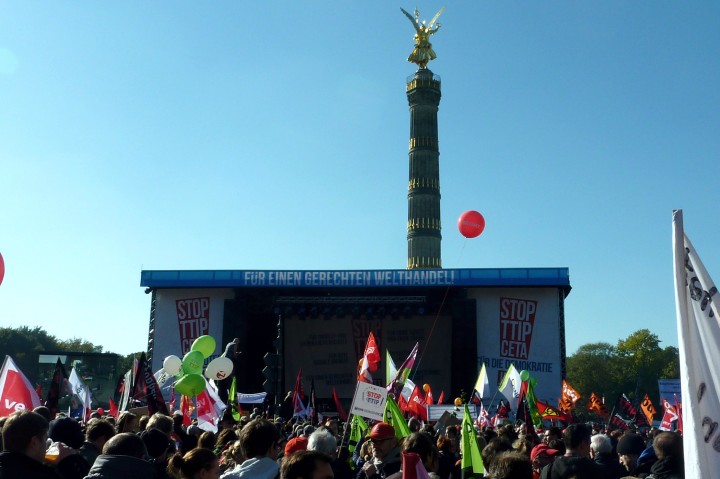 With the slogan "Stop TTIP & CETA! For a fair world trade" about 250,000 people demonstrated today against the free trade agreement between the EU and the US (TTIP) and Canada (CETA). Never before have so many people gone to the streets in Europe on this matter. The organizers expected 50,000 participants; a quarter of a million therefore exceeded expectations greatly.
A uniquely broad alliance of over 170 organizations from almost all sectors of society called for the demonstration: environment, development and social policy, democracy, cultural, civil and consumer rights and trade unions. This shows that civil society has understood that these free trade agreements, should they be signed, would strongly affect every ambit of society. Almost one would have to thank TTIP and Co. for bringing so many different groups, organizations and initiatives together at the same table and peacefully to the street.
Five special trains and 600 buses brought in the morning protesters from all over Germany to Berlin. At noon a colourful demonstration started with imaginative slogans, banners and flags from the main station, accompanied by 25 floats and vans with loudspeakers and it reached the victory column culminating in a mega-event with speeches and concerts until 6pm.
On Wednesday three million signatures against TTIP and CETA were presented to the European Commission which have been collected over the last year throughout Europe. The signature collection was carried out in the framework of the European Citizens' Initiative "Stop TTIP". It was organized independently, after the European Commission rejected an official European Citizens' Initiative. With three million signatures "Stop TTIP" has more signatories than any other European Citizens' Initiative before.
Even now, policy at European level is largely determined by others and it's hardly possible to influence it by democratic means. With TTIP and CETA, democracy would finally be kicked out of the Union, at least in all those issues with an economic relevance.
Accordingly big words were chosen by the organizers, "Today is a great day for democracy". The demonstration sends a clear message. "We stand up against TTIP and CETA. Together we defend our democracy and take to the streets for a fair deal. The TTIP negotiations on the basis of the present mandate must be stopped. The present CETA agreement can't be ratified", continued the speaker.
Germany has developed, throughout its history, a keen sense of when a dictatorship is trying to enter through the back door and overturn democracy. This weekend has shown that these free trade agreements have no chance among the civilian population of Germany and they will not accept it under any circumstances. It's time for the German government to take note and act for a change as the people's representatives.