Hungarians protest against plans for a wall of shame on their Serbian border
This post is also available in: German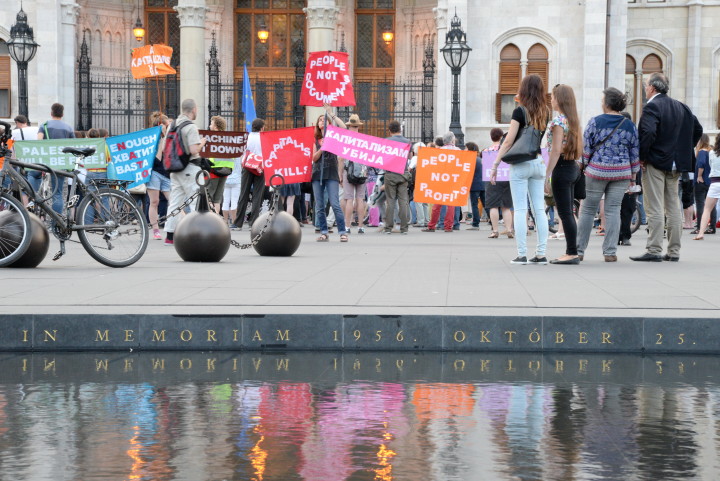 The right-wing Fidesz government, led by Prime Minister, Viktor Orbán, last week passed legislation approving the construction of a 4 m high and 155km long fence along the border with their southern neighbour, Serbia, despite objections raised by opposition MPs, civil society and the Serbian government.
Orbán believes that a wall will stem the tide of migrants flooding the country which has been steadily rising all year and has now reached 1000 people a day: refugees coming from Afghanistan, Syria, Iraq and Eritrea.
The €32 million cost approved for the budget amounts to 11 times what the country currently spends annually on services to process refugee applications.
Today's protest which was attended by around 1500 people was organised by Migszol (Migrant Solidarity Group of Hungary) in partnership with such organisations as Amnesty International, the European Network Against Racism and the Hungarian Helsinki Committee among many others, including a Serbian association assisting refugees.
Speakers denounced the wall, called for solidarity with migrants, and for the government to spend their money instead on public services.
"The Hungarian government has a talent for building walls, it's raising newer and newer walls between layers of society, fighting and blindly firing away from its trench. It is burning the bridges between society and politics, education and progression. After the countless symbolic walls, now, at the peak of its cynicism (or at least we hope that it is the peak), the government is building a real wall. Viktor Orbán and his whole brigade, paid and voluntary advisors – we won't let them commit such a disgrace, not with this country! We've had enough walls, let's build schools and hospitals, homes for Hungarians and migrants alike!"
The protest started in Budapest's Basilica Square and then headed to Parliament Square where a temporary fence was waiting to be symbolically cut down, and where people could listen to the speeches and music.
This Hungarian government seems to be out of touch with its own history. Not only has the country historically provided a shelter for refugees escaping persecution and looking for a better life – one only has to go back to 1989 and the flood of East Germans which triggered the fall of the Berlin Wall – but before that tens of thousands of Hungarians themselves fled the clutches of communism in 1957 and sought refuge in the United States and elsewhere.
Photos by Anita Szeicz