Anti nuclear camp lose out in Tokyo elections
This post is also available in: French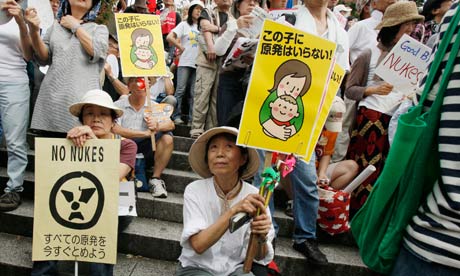 Prime Minister Shinzo Abe's man won February 9 2014 election for governor of Tokyo, denying the post to the anti-nuclear camp, which should have teamed up for this important election battle.
According to media exit polls, the 65-year-old Masuzoe, backed by Abe's Liberal Democratic Party, was the winner by a wide margin.
Rival former prime minister Morihiro Hosokawa, 76, came out of retirement to run – with backing from popular and charismatic ex-premier Junichiro Koizumi. Opposition to atomic energy was central to his platform.
Hosokawa came in third after lawyer Kenji Utsunomiya, who also opposes nuclear power, losing only by a small margin.
The winners main brief stated: "I will make Tokyo the world's No. 1 city. I want to work on social welfare, disaster preparedness, the economy and especially to make the Tokyo 2020 Olympics a success."
Masuzoe steered well clear of energy policy issues, merely and cleverly saying Japan should reduce its dependence on nuclear power in the medium to long term. After his victory he added that he intended to raise the share of renewable energy sources in Tokyo's electricity supply.
While surveys did show that most Japanese voters favoured abandoning nuclear power, either immediately or in the longer term, they also showed energy was not as important as jobs and the economy, the ageing population and social welfare.
Hosokawa opposed Abe's plans to make nuclear power a core source of energy and to restart the reactors. Anti-nuclear activists had beseeched Hosokawa and Utsunomiya, the latter backed by the Japanese Communist Party, to join up to avoid splitting the anti-nuclear vote. However, that did not happen.
The election was held to replace Naoki Inose, who resigned in December over a financial scandal. Turnout was just 34 percent, a long way short of recent polls.