Japan's anti nuclear forces gathering strength
This post is also available in: French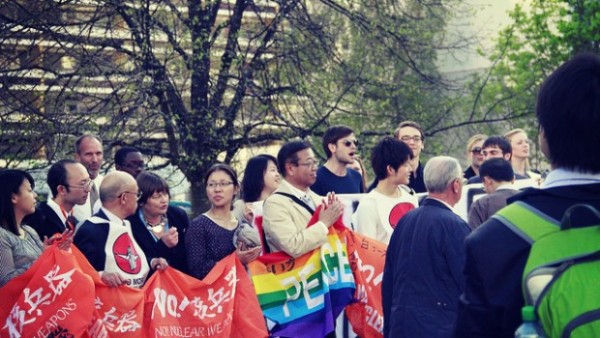 Japan's Foreign Minister Fumio Kishida has publicly stated his government will sign the UN anti-nuclear statement calling for a ban on the use of nuclear weapons. This is a formal decision that has been publicly announced.
New Zealand, Switzerland and 14 other countries are pushing efforts at a meeting of the First Committee of the UN General Assembly in New York to release the statement, likely on October 17, 2013.
Kishida told reporters last Friday about the Japanese government's decision to sign the statement.
He said that as the only country to have suffered atomic bombings, Japan knows the misery caused by nuclear weapons – he himself is a resident of Hiroshima.
Kishida added that it is Japan's moral responsibility to strive continuously to realize a world without such weapons.
In April this year, Japan refused to sign such statement submitted at a preparatory meeting in Geneva for the 2015 Nuclear Non-Proliferation Treaty review conference. The government gave reason that the statement contained an expression that went against Japan's security policy.
Questioned about the change in the government stance, Kishida said he asked New Zealand's foreign minister to adjust the wording in the latest statement. He said changing the document allowed Japan to support it. However, the document will not be legally binding, sources said.
This statement calls on countries not to use nuclear weapons under any circumstances. Similar U.N. statements have been drafted three times before, but Japan refused to endorse them on grounds that it would contradict its policy of relying on the U.S.A. nuclear umbrella, the same sources added.
Residents of both Hiroshima and Nagasaki, the only two cities to be devastated by atomic bombs, have criticized the Japan government for its refusal to sign U.N. documents against the use of nuclear weapons.
On the nuclear energy front it is notable that former Prime Minister Junichiro Koizumi is saying Japan should abandon nuclear power. "I'm calling for zero nuclear power," he said in a speech in Nagoya, October 1, 2013.
We may recall that thousands of protesters marched in Tokyo on March 11, 2013, calling on the government to move away from nuclear power. And, more than 30,000 people marched on June 2, 2013, near the Diet building in Tokyo against the government intention to restart nuclear power plants. Nobel laureate Kenzaburo Oe participated. Marchers gathered over 8 million signatures in a petition against any restart, citing the 2011 Fukushima nuclear disaster.
Also, former Japanese prime minister Naoto Kan has teamed up with several members of the Japanese Parliament to form a "Zero Nuclear Parliamentary Alliance", aimed at turning Japan into a nuclear-free country by 2025.
On September 14, Mr Kan told a crowd in Taipei that his experience dealing with the Fukushima nuclear crisis, which began in March 2011, changed his views on nuclear power. On his visit to the island Mr Kan urged the country to close all nuclear power plants there, this as the island's legislature prepares to tackle the issue next time it reconvenes.