Philippines – The Community hails MILF-Gov't agreement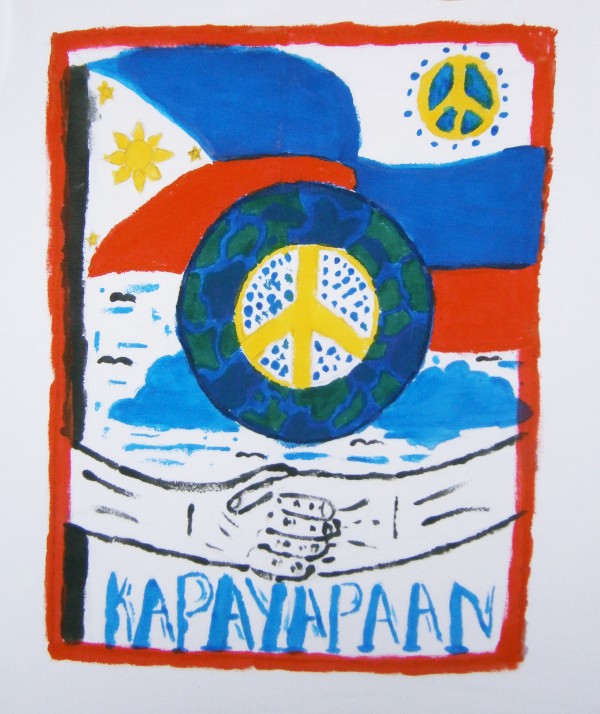 The  historic signing of the Framework Agreement between the Government of the Philippines and the Moro Islamic Liberation Front (MILF) in Malacañang   October 15, 2012, is cause for celebration not only for the people in southern Mindanao but for all Filipinos.  With the signing, the hopes and dreams to end decades of war in Mindanao becomes a concrete possibility.
In support Ang Komunidad para sa Ikauunlad ng Tao mounted its T-SHIRT ART FOR PEACE exposition.
The challenge of art has always been to reach the community so that more people could engage and participate in its creation. The challenge of any advocacy is to reach into the consciousness of people so that its message changes the lives that are touched by it.  These two challenges were undertaken by a simple project of Ang Komunidad para sa Ikauunlad ng Tao, a socio-cultural organization in the Philippines whose main advocacy is to promote peace and nonviolence.
The T-shirt Art Painting Competition for Peace and Nonviolence was launched last September 14 in Pasig City through the participation and support of the National Commission for Culture and the Arts and the teachers of RizalHigh School.  More than 70 students of Rizal High School painted their art using the popular white t-shirts that Filipinos love to wear. The theme was  "Kapayapaan para sa Makulay na Mundo" (Peace for a Colorful World).
Prior to the competition, teachers of the MAPEH department attended a two part workshop, a  Nonviolence Communication Workshop, to share and expand their understanding of peace and how this could be achieved by a commitment to nonviolence. Nonviolence recognizes equality, freedom, diversity the central importance of the human being and non-discrimination. The workshop included a hands-on session on fabric painting.
All 76 t-shirt entries were exhibited for 16 days at the Pasig City Museum from October 1 to October 16, coinciding with the historic signing of the peace pact.