"We unknowingly expose our children to plastic toys contaminated with toxic chemicals, which have been prohibited worldwide since 2017. Soft plastic toys like inflatable hopping horses, squeaky toy animals, shrilling chickens, rubber duckies, and dolls containing harmful chemicals called short-chain chlorinated paraffins (SCCPs) remain unregulated in our local markets, posing a significant risk to our children's health," said Thony Dizon, Campaigner for Safe Toys for Kids of BAN Toxics.
BAN Toxics expresses serious concerns as recent evidence suggests the continued proliferation of plastic toys and consumer products tainted with chlorinated paraffin. A study by the International Pollutants Elimination Network (IPEN) reveals alarming levels of these toxins in toys from ten countries, including the Philippines. The toys were analyzed at an accredited laboratory in Prague, Czechia, highlighting the global nature of this issue.
The study found both SCCPs and medium-chain chlorinated paraffins (MCCPs) in toys from the country, known for their toxicity, persistence, and bioaccumulative nature. Despite the ban on SCCPs and the ongoing evaluation of MCCPs under the Stockholm Convention, these hazardous chemicals persist in various consumer products, endangering children and adults who come in daily contact with them.
Despite the global ban on SCCPs and the ongoing evaluation of MCCPs under the Stockholm Convention, these highly toxic chemicals persist in consumer products, including children's toys, PVC curtains, kitchen hand blenders, electronic devices, clothing, and paintings. This is both shocking and alarming because when children play with such contaminated plastics, they are exposed daily to elevated concentrations of chlorinated paraffins. These toxic chemicals leach into dust and are inhaled, come into contact with the skin, and can be orally transferred when children mouth or chew on them.
SCCPs were prohibited in 2017 without exemptions for toys under the Stockholm Convention on Persistent Organic Pollutants (POPs), a legally binding global treaty to which the Philippines has been a party since 2004. Governments that ratified the Convention are required to act on the elimination, restriction, and reduction of the production, use, and trade of the listed POP chemicals, which include SCCPs while ensuring environmentally sound management of POP stockpiles and wastes. Some toys even surpass proposed health-protective levels, still under negotiation within the Convention. Chlorinated paraffins, widely used in industrial processes, demand immediate attention from policymakers and regulators.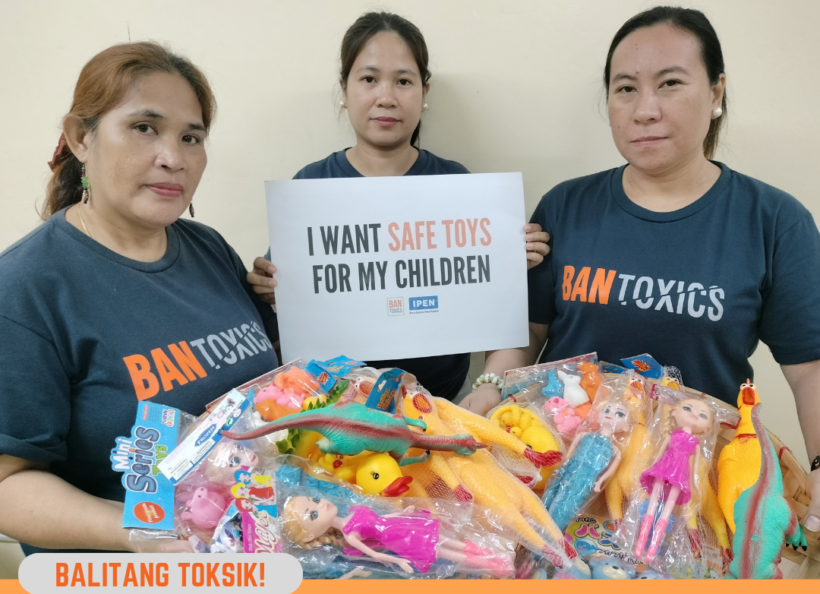 BAN Toxics urges swift action, as SCCPs and various forms of chlorinated paraffin are listed under the Philippine Inventory of Chemicals and Chemicals Substances (PICCS), indicating their current use, manufacture, and importation into the country.
"We urge the government to address these issues, eliminate or reduce SCCPs and MCCPs, and prioritize risk assessments on the entire class of chlorinated paraffins following the Stockholm Convention. Regulation, limitation, gradual phase-out, or banning of these toxic substances are necessary to safeguard human health and the environment," Dizon added.
The lack of adequate and proper labeling compounds the problem, according to BAN Toxics, considering chlorinated paraffin's widespread global production. It emphasizes the importance of transparency and traceability in plastic product materials to enable informed decision-making throughout the product value chain.
"Transparency and traceability for the chemical composition of materials in plastic products and sharing of disclosed information throughout the value chains is of paramount importance. Regulators, manufacturers, importers, retailers, consumers, and recyclers can make informed decisions if these challenges are properly addressed," said BAN Toxics.
"As these issues are of global significance, it is timely that our recommendations are incorporated into the ongoing negotiations for a global plastics treaty in Nairobi, where the intergovernmental negotiating committee of the United Nations Environment Assembly (INC-3) meets until the 16th of November. Civil society, including BAN Toxics, actively advocate for these measures by participating in person during the treaty negotiation," the group added.
The group said it will engage with the Department of Environment and Natural Resources and the Food and Drugs Administration, sharing IPEN's study and urging them to prioritize plastic toys potentially containing toxic chlorinated paraffins for prompt consideration. #
---
References:
Link to IPEN's Study:
https://ipen.org/sites/default/files/documents/chlorinated_paraffins_report-102023.pdf
https://chemical.emb.gov.ph/wp-content/uploads/2020/07/PICCS.2017.pdf
https://www.unep.org/inc-plastic-pollution/session-3
https://emb.gov.ph/wp-content/uploads/2022/09/Stockholm-Convention-on-Persistent-Organic-Pollutants.pdf