To hear the kulintang, gongs, and drums play is enough to connect you and me to our Muslim brothers and sisters living in Mindanao.
To see and hear their heartfelt stories of what happened during the Mindanao war, in song and dance, tells us that by knowing and not forgetting our history… 'Digmaan ay magwawakas din'. (War will come to an end.)
The award-winning play, Anak Datu, returns on stage to open Tanghalang Pilipino's 38th theater season. A multi-verse play, it brings on stage three interwoven stories about the roots of conflict in strife-torn Muslim Mindanao. Written by veteran playwright Rody Vera, it was inspired by a folktale written by National Artist Abdulmari Imao.
Abdulmari Imao's son, a renowned artist himself, Abdulmari de Leon Imao Jr. fondly nicknamed Toym, approached the playwright with a folktale written by his father in 1968, hoping to make a play adaptation of it. The Tausug tale told a fictional story about a village raided by pirates during pre-colonial times. Karim's mother was taken and she gives birth in captivity. He grows up thinking his father was a pirate only to discover later on that he was "an anak of a datu" (a son of a village chieftain).
The folktale was written in 1968, the year that the infamous Jabidah massacre happened, the event that sparked the formation of the Mindanao National Liberation Front, and the long war in Mindanao.
The playwright felt that the play could no longer just be about the folktale but could be expanded to be about three intertwining threads, what the director, Chris Millado, called "the interweaving of myth, memory, and history".
The play, a multi-verse production, tells three intertwining stories from three different periods: the pre-colonial Philippines, the time of datus and sultans where Imao's short story is set, the late 60s and 70s during the time of Martial Law when the massacres of Jabidah and Malisbong took the lives of thousands of Muslims and the 70s, with the story of the Imao family, when the Voltes V show was banned.
These three interwoven tales come alive on stage in a musical drama, in song and dance. The myth of the Anak Datu story mingles with history, the socio-historical realities of the sixties and seventies, and with memory, what life was like for the Imao family living during the 1970s.
The play opens with myth-making and memory. Abdulmari Imao with his Christian wife Grace shares with their son, Toym, the Anak Datu short story. The love between the datu and his wife Putli Loling is cut when they are ambushed by Jikiran and his pirates. Putli Loling brings up her son Karim with Jikiran as his purported father.
The birth of Karim and the birth of the Moro National Liberation Front coincide. Documentary material flashes on-screen images of two events that sparked the armed resistance movement in Muslim Mindanao.– the Jabidah Massacre in 1968 and the Palimbang/Malisbong Massacre in Sultan Kudarat.
The only survivor of the Jabidah massacre, an old Jibin Arula tells us his experience as a Tausug trainee recruit by the Marcos government who finds out that they were to incite civil unrest in hotly-disputed Saba Island.
While the names of the victims interchange with images of Imao's drawings are projected onscreen to tell the story of the Malisbong Massacre, the community expresses their anguish and pain in the passionately choreographed flow of dance.
The play ends with a gripping closing song sung by children that expresses deep, heartfelt hopes and dreams:
Kami'y mga anak ng digmaang hindi matapos tapos
Taos pusong nanunumpa…
Kasaysaya'y tatandaan
Hindi na malilimutan
Ito ang aming sandigan:
Hanggang makamit ang kapayapaan
Nasa puso ang mithiin
Digmaa'y magwawakas din.
Digmaa'y magwawakas din.
We are the children of a never-ending war
We sincerely swear…
History will be remembered
It will not be forgotten
This is our mainstay, what we lean on:
Until peace is achieved
This aspiration is in the heart
War will also come to an end.
War will also come to an end.
The full cast for the 2023 rerun:
New cast members: Paul Jake Paule (Abdulmari Imao), Gie Onida (Jibin Arula), and Ramli Abdurahim (Jikiran/ Ensemble).
Returning cast members: Carlos Dala (Toym Imao/ Binatang Karim), Antonette Go-Yadao (Grace De Leon), Hassanain Magarang (Datu Karim), Tex Ordeñez-De Leon (Putli Loling), Lhorvie Nuevo-Tadioan (Putli Loling), Mark Lorenz (Batang Jibin Arula/ Ensemble), Vince Macapobre (Bernie Bandilla/ Ensemble), Edrick Alcontado (Abu Bayao/ Ensemble), Sarah Monay (Dalagang Walang Ngalan/ Ensemble), Heart Puyong (Lasinah Abdullah/ Ensemble), Mitzi Comia (Abdulsukor Tacbil, Ensemble), and Arjhay Babon (Nur Misuari/ Ensemble).
The artistic team:
Script by Rody Vera. Direction by Chris Millado. Chino Toledo (music), Toym Imao (production design), Katsch Catoy (lighting design), TJ Tamos (sound design and engineering), John Carlo Pagunaling (costume design), GA Fallarme (projection designer), Paw Castillo (photographer and graphic designer), and young Maranao artist Hash Magarang (choreography). Source: https://theaterfansmanila.com/anak-datu-full-2023-cast-announced/
Here are some images of the play that opened September 29, 2023, photos courtesy of Orlando Rubi Aloba. The show runs from September 29 to October 15 at the CCP Black Box Theater. Tickets are available at Ticket2Me.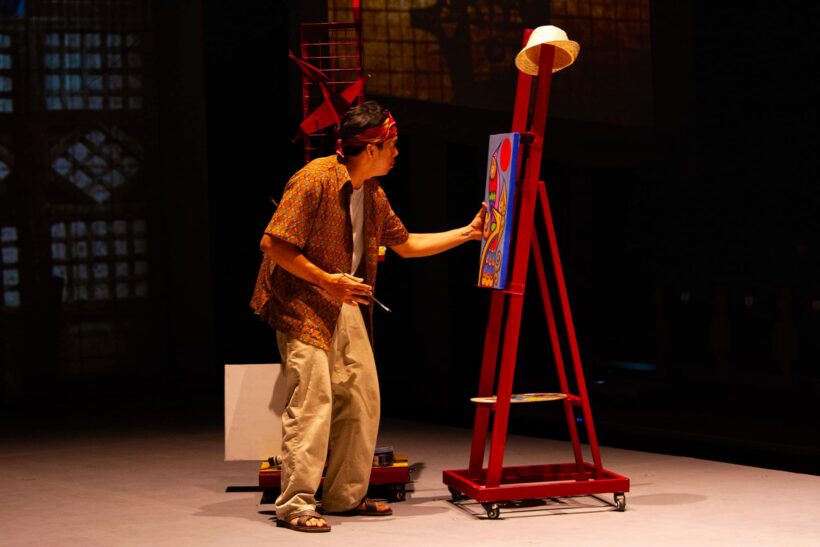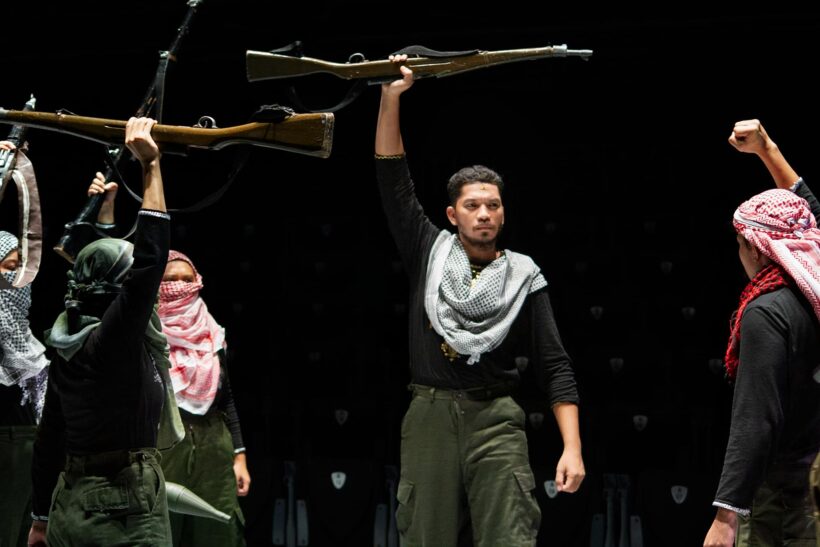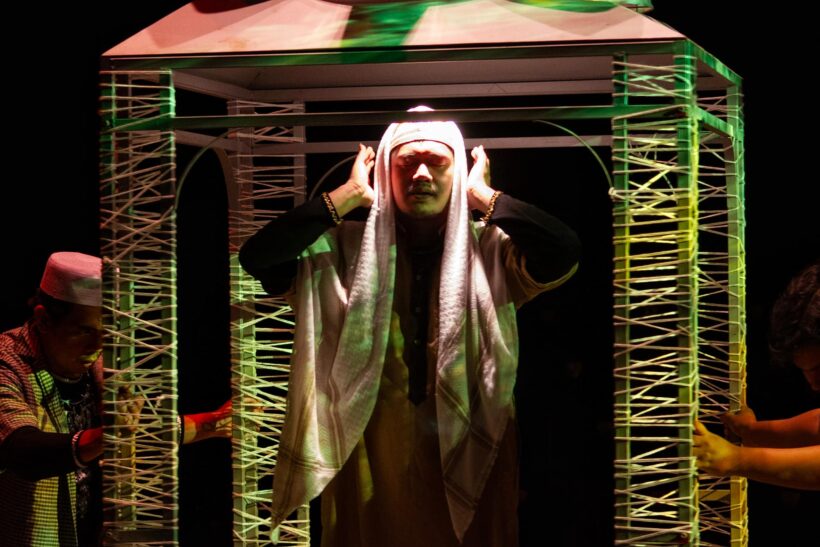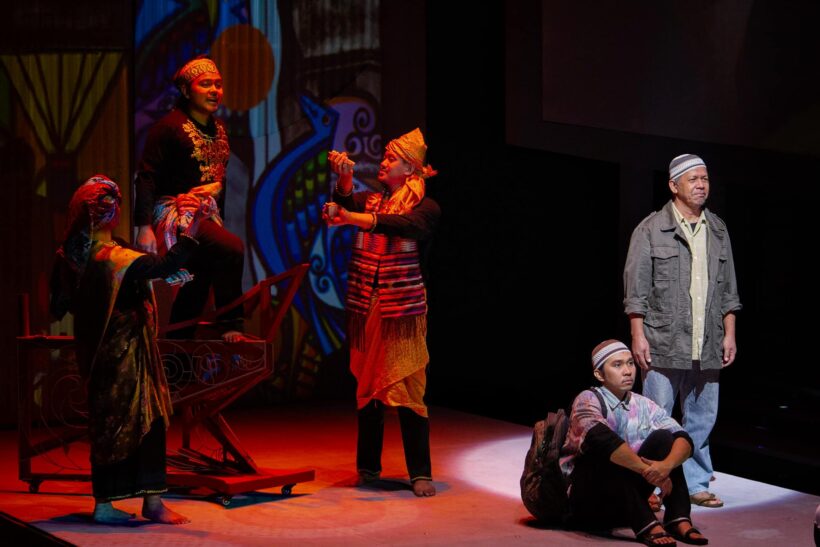 ---
References:
1. About the Theater Company:
https://culturalcenter.gov.ph/resident-companies/tanghalang-pilipino/
2.Tanghalang Pilipino Facebook: https://www.facebook.com/tanghalangpilipino
3.Tanghalang Pilipino Youtube Channel:
https://www.youtube.com/@TanghalangPilipino
4. Abdulmari Imao:
https://verafiles.org/articles/revisiting-the-artistry-of-abdulmari-asia-imao
5. Jabidah Massacre:
https://bangsamoro.gov.ph/news/latest-news/remembering-jabidah-and-the-seeds-of-the-struggle/
6.Malisbong/Palimbong Massaccre:
https://bangsamoro.gov.ph/news/latest-news/49-years-of-malisbong-massacre-remembered-a-step-towards-a-just-peaceful-society/