Salute and Congratulate this Year's Remarkable Awardees
by Genevieve Balance Kupang
In a world where conflict often overshadows harmony, the pursuit of peace stands as a sacred mission. On September 13, 2023, Pathways to Peace, a UN Peace Messenger Organization, celebrated the achievements and contributions of the Exceptional Woman of Peace (EWoP) and Exceptional Young Women of Peace (EYWoP) Awardees. The award serves as a beacon of hope and recognition for those who have committed their lives to fostering peace in our world.
This year's ceremony was a testament to the unwavering dedication of exceptional women who have made it their life's mission to champion peace, justice, and compassion. The event featured messages from the winners highlighting the significant work of these outstanding women, which can be viewed here: https://www.youtube.com/watch?v=pDWFbDW7aLw.
Exceptional finalists who are women of distinction: Dr. Batoul Al-Muhaissen and Dr. Anjum Malik.You are invited to watch their videos at this link: https://pathwaystopeace.org/programs/exceptional-women-of-peace/
We had 31 notable nominees from different parts of the world. Three finalists emerged for the EWOP: Dr. Batoul Al-Muhaissen, Esther Omam, and Dr. Anjum Malik. For the Young Exceptional Women of Peace category, Haifa Shawkat and Kasha Slavner. This year's winners were Esther Espe Njomo Omam for EWOP and a tie between Haifa Shawkat and Kasha Slavner for YEWOP.
Our 2023 Exceptional Women of Peace nominees were: Adamou Aissatou, Haifa Shawkat, Dorothy Akende, Entesar Alhadali, Somaia Alhosam, Dr. Batoul Al-Muhaissen; Bushra Al-Saadi, Teri Angel, Kate Marie Bryan, Dr. Virginia Cawagas, Georgiann Chapman, Amelita Estimo, Pari Foroutan Mahinpey, Tezikiah Gabriel, Rozina Islam, Ashima Kaul, Georgia Kelly, Anjum Malik, Laurie Marshall, Lisa Murch, Esther Omam, Dr. Mina Ramirez, Shenali Rajaratnam, Veronica Sabbag, Aminda E. Saño, Kasha Sequoia Slavner, Lauren C. Serota, Katherine Soltis, Sarah Syed, Ramatu Tijjani, and Angela Zhong. 
The nominees read like a testament to the incredible diversity and dedication of women peacebuilders globally. It includes individuals who worked tirelessly to empower marginalized communities, and whose commitment to healing communities affected by conflict knows no bounds. These women, along with their fellow nominees, are the embodiment of what it means to be an exceptional peacebuilder.
Our Keynote Speaker Ambassador Anwarul Chowdhury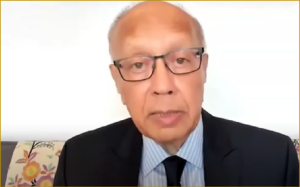 Distinguished as a keynote speaker, Ambassador Dr. Anwarul Chowdhury, renowned for his impeccable contributions to the UN and unwavering commitment to the culture of peace, graced the occasion. 
PTP's Executive Director, Tezekiah Gabriel, emphasized his pioneering role in advancing the global culture of the peace movement, a testament that continues to inspire us and serves as the driving force behind the Exceptional Woman of Peace Awards. 
The ceremony was graced by the presence of Ambassador Anwarul Chowdhury, who delivered a heartfelt speech and extended his congratulations to the winners. His message underscored that these exceptional women of peace have not only demonstrated their unwavering dedication but have also illuminated the path toward conflict resolution and sustainable peace. Their leadership, resilience, and compassion have proven time and again that the inclusion of women in peace processes is not just a matter of equality but a strategic imperative for achieving lasting peace and harmony across the globe. You are invited to watch to his video at this link: https://youtu.be/pDWFbDW7aLw?t=2063.
Omam Espe Njomo Esther, the 2023 Exceptional Woman of Peace Awardee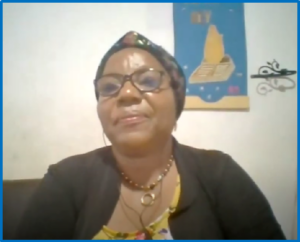 Omam Espe Njomo Esther, the 2023 Exceptional Woman of Peace Awardee from Cameroon, Africa gratefully accepting her prestigious EWOP award.
In our pursuit of honoring this year's Exceptional Woman of Peace, it is essential to acknowledge the profound courage and resilience displayed by our distinguished awardee. When asked about the barriers and challenges she has encountered, the response of winner Omam Esther from Cameroon speaks volumes about her unwavering commitment.
Throughout her remarkable journey, she has steadfastly carried out her work, even in the face of great personal risk to herself and her family. The march in Kumba, a pivotal moment in her quest for peace, took place with no guarantee of safety, as armed groups loomed ominously in the background. Yet, she remained resolute, firmly standing for what is right.
In April 2019, a deeply harrowing incident unfolded when her own children were kidnapped during a mission intended for her. This traumatic personal experience lasted three agonizing days, yet she bore it with selflessness and unyielding bravery.
Her journey has been marked by repeated attacks from armed groups, enduring threats of kidnapping, violence, and extortion since the crisis began in 2016. The very vehicle of her organization, Reach Out, fell victim to flames ignited by Non-State Armed Groups, and her colleagues have faced the terrifying ordeal of kidnapping on multiple occasions. Nevertheless, Omam Esther has emerged as a symbol of unwavering determination in her humanitarian and peacebuilding endeavors.
In the face of such peril, she remains dedicated to her work, employing a community-centered approach to peacebuilding and mediation. Fear, though ever-present, has never subdued her relentless pursuit of peace and social cohesion in the affected regions.
How has she managed these extraordinary risks? Omam Esther has cultivated networks and forged profound relationships with fellow women peacebuilders and mediators, who serve as her invaluable support system. By amplifying their voices and gaining recognition for their collective efforts, they have navigated the treacherous terrain of peacebuilding and mediation.
With a well-focused and impartially worded communication plan, she has maintained clarity and purpose in her mission. Above all, she has earned the trust and support of the communities she serves, standing firmly in the field to implement projects that directly benefit those she seeks to empower.
In celebrating this Exceptional Woman of Peace, we not only honor her indomitable spirit but also draw inspiration from her relentless pursuit of a more peaceful world, one where courage prevails over fear and resilience triumphs over adversity. Esther Omam has dedicated her life to fostering peace in her community through grassroots initiatives and conflict resolution efforts. She is known for her unwavering commitment to bringing diverse groups together to promote dialogue, understanding, and reconciliation, ultimately contributing to a more peaceful and harmonious society in Cameroon. Her tireless advocacy and leadership have inspired positive change and unity among her fellow Cameroonians, making her a true catalyst for peace in the region.
In the next write-up of this series, I will be featuring the two Young Exceptional Women of Peace Awardees, Kasha Slavner and Haifa Shawkat. 
The PTP Exceptional Women of Peace Leadership Team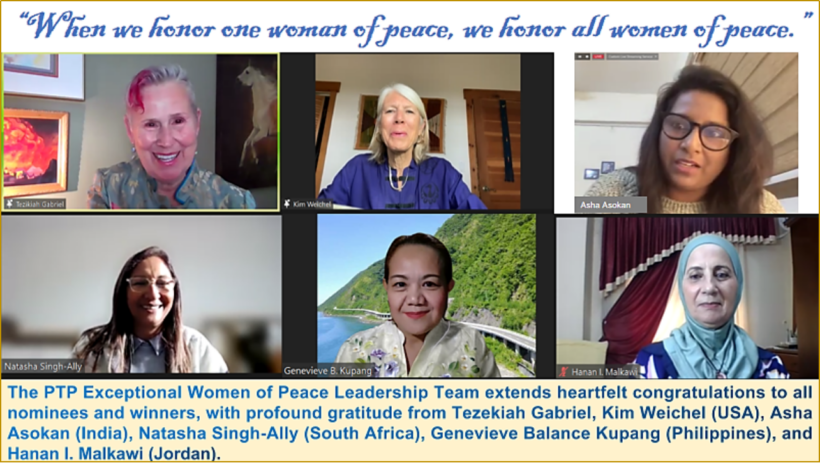 The event's leadership team, consisting of Tezikiah Gabriel (USA), Kimberly Weichel (USA), Atty. Natasha Singh-Ally (South Africa), Atty. Asha Asokan (India), Dr. Genevieve Balance Kupang (Philippines), and Dr. Hanan Malkawi (Jordan), played a pivotal role in selecting the deserving winners. 
We thank all those who joined us during the awards ceremony. We also celebrate all women peacebuilders in the world.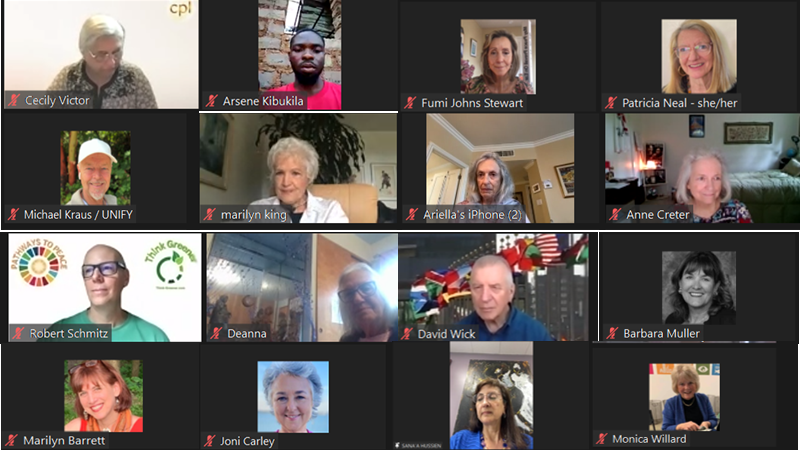 ---
About the Author: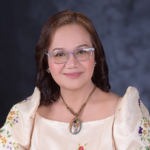 Genevieve Balance Kupang is a Leadership Team Member for the Exceptional Woman of Peace Award at Pathways to Peace, a UN Peace Messenger Organization. She serves as the Dean of the Graduate School at Baguio Central University. She plays a pivotal role as the Chair of the Special Interest Groups and Peace Education Coordinator of the World Council for Curriculum and Instruction. Long-standing peace advocate collaborating with various organizations including CBCP Episcopal Commission on Interreligious Dialogue, Silsilah Dialogue Movement, Mandala Peace Arts Initiative, Humanist Movement, May Peace Prevail on Earth International, Lingap Canada, Uniharmony Partners Philippines, Sandiwa, among others.