by Genevieve Balance Kupang
Personal conveniences must give way to the Master Plan of Life.
-Margarita J. Fernandez, Ed.D.
In the rich tapestry of Philippine education, exceptional names shine as brilliantly as that of Dr. Margarita Joven Fernandez. As an acclaimed, multi-awarded, and trailblazer Filipina educator, Dr. Fernandez, alongside her husband Godofredo Hortizuela Fernandez, embarked on an extraordinary journey during World War II. In 1945, just a year after the Philippines' liberation from Japanese control by Allied forces, Centro Academy, a modest vocational school, was established.  In 1950, the high school department was added to the existing vocational school, which was subsequently renamed Centro Industrial School. Then, in 1971, the tertiary department was established as Eastern Philippine Colleges, later renamed the Lyceum of Baguio. Finally, in 1977, this institution would later evolve into the esteemed Baguio Central University (BCU). This transformation has seen BCU assume an important part in the Cordilleras, offering a wide array of educational programs to aspiring minds.
Dr. Fernandez's life narrative stands as a powerful testament to her indomitable spirit and unwavering commitment to the advancement of Philippine education. Her enduring legacy continues to serve as a wellspring of inspiration for future generations, embodying the timeless values of "Libertad, Justitia, Veritas, and Equitas." Her influence extends beyond borders, resonating on a global scale, and is closely aligned with the principles of the United Nations' "No Child Left Behind" initiative, with liberty, justice, truth, and equity as her guiding beacons.
The Humble Beginnings
 Dr. Fernandez's journey toward educational excellence began during the tumultuous times of World War II. Alongside her husband, Godofredo H. Fernandez, she established the Centro Vocational School—a modest seed that eventually grew into the Baguio Central University. Their dream was to provide quality education even in the face of adversity, especially to those who have less in life.
Fulfilling a Dream: Presidency at BCU
On December 2, 1978, Dr. Margarita Joven Fernandez achieved a significant milestone in her career when she was inaugurated as the first president of Baguio Central University. This achievement was not only a personal triumph but also the realization of the dreams of a devoted husband and wife who had set out to make a difference.
A Legacy of Expansion
 Under Dr. Fernandez's leadership, BCU flourished and expanded its academic offerings. Today, it boasts an impressive array of colleges and programs, including the College of Nursing and School of Midwifery, College of Teacher Education and Liberal Arts, College of Criminal Justice Education, Expanded Tertiary Education Equivalency and Accreditation Program, College of Hospitality and Tourism Management, College of Engineering, College of Business Administration, and Graduate School.
A Trailblazer in Academia
 In 1993, Dr. Fernandez became one of the most distinguished women to assume the role of university president in the Philippines. Her significant contributions to the field of education and her visionary leadership at Baguio Central University have solidified her reputation as a highly respected figure within the academic community. Notably, at that time, she stood among a select group of only 17 women holding the position of university president in the Philippines, a remarkable achievement in a landscape predominantly occupied by male university presidents.
She has garnered numerous accolades throughout her illustrious career, including the Quirino Medal for Outstanding Civil Leaders in Ilocos Sur (1956), multiple awards for her tireless contributions to Red Cross activities, and the esteemed Leadership Award bestowed upon her by the Baguio Radio Press Club (1967-1969). Her global recognition extended to being listed in the Dictionary of International Biography, Cambridge, England (1978), and the International "Who is Who of Intellectuals," also in Cambridge, England (August 1979). In her homeland, she received the Education Award from Baguio City (1985) and from the Mariano Marcos Memorial State University (1986), as well as the prestigious Jade Award from the Girls Scouts of the Philippines (1986). Her influence reached academic circles, where she was honored as an Eminent Filipino Women Educator by the Philippine Pi Lambda Theta (1989) and received the Honor Award from the Baguio Federation of Women's Clubs (1990), the Golden Star Award by the Elder's Association, Baguio City (2006), among other distinctions.
Driven by her passion for education, she authored several insightful articles and books, and her expertise led her to serve as a panel speaker at prestigious international events, including the International Association of Educational and Vocational Guidance in Konigstein, Federal Republic of Germany (1979), the Pan Pacific and Southeast Asia Women's Association Convention in Hawaii (1968), and the Comparative and International Education Society gathering in New Orleans, USA (1977), among many others.
Expanding Educational Horizons
 Baguio Central University, under Dr. Fernandez's guidance, offers an extensive array of graduate courses, catering to the diverse educational needs of students. These include programs such as Doctor of Philosophy in Administration and Supervision (PHAS), Doctor of Education in Educational Management (EDMGT), Masters in Public Administration, Masters in Business Administration, Masters of Arts in English, Masters of Arts in Filipino, Masters of Arts in Elementary Education, Master of Arts in Administration and Supervision, Masters of Arts in Guidance and Counseling, Masters of Arts in Mathematics, Masters of Arts in Home Economics, and Masters of Arts in Pre-elementary Education.
On September 9, 2023, the university celebrated a significant milestone as it witnessed the Commencement Exercises of 520 graduates, including bachelor's, master's, and Ph.D. degree holders, at the Baguio Convention Center. The event was themed 'Soaring High Towards Global Excellence and Competitiveness.'
A Lasting Legacy
 Dr. Margarita Joven Fernandez's legacy extends far beyond the walls of Baguio Central University. Her story is one of vision, determination, and the transformative power of education. Her impact on Filipino education especially among the indigenous peoples of the Cordilleras and the neighboring provinces of Baguio City, is immeasurable, and her memory continues to inspire those who seek to make a difference in the lives of others through education.
In 2021, the City of Baguio paid tribute to Dr. Margarita J. Fernandez by dedicating a 100-meter section in her honor, extending from Lake Drive to Harrison Road. This gesture, spearheaded by Councilor Betty Lourdes Tabanda, commemorates the late founder of Centro Academy, a foundational institution within Baguio's educational community. Dr. Fernandez's prestigious international awards, which brought honor to the city, were duly acknowledged in this tribute. Mayor Benjamin Magalong, along with the City Councilors, lauded her noteworthy contributions to education, further solidifying Baguio's status as the 'Education Center of the North.' They also applauded her dedicated advocacy for women's welfare during her tenure as president of the Baguio Federation of Women's Clubs. This dedication places her in the company of other esteemed figures whose names grace the streets surrounding the Rizal Monument near Baguio City Hall. Dr. Fernandez's legacy as a crucial contributor to Baguio's post-World War II educational landscape is now an indelible part of the city's history, symbolized by her school's campuses along Magsaysay, Lower P. Burgos, and Bonifacio Street.
On this momentous occasion, the people of Baguio were privileged to witness her granddaughter, Margarita Cecilda B. Rillera, MBA, the university's second president, deliver the following message:
A blessed morning to all!
 Words cannot express the happiness I feel to be in front of you all,  representing a great woman in my life, Dr. Margarita J. Fernandez, my Lola, Itang. She was a strong-willed woman fueled to lead with a passion that showcased excellence above all. As I searched my mother's old files, I came across a letter that my Lola Itang wrote to my mother and her sister, my auntie, Helma. Here is what she wrote: Two things, my dear children, you both should hold onto first is "Legacy is a Duty." The second is "Will power," the philosophy of carrying on. These two philosophies will keep the family's torch up high despite all hardships in life. Do not forget my children, the strength and the desire to help others and yourself above all. Let this be your philosophy and my legacy to you Beth and Helma. Pass the torch when the time is right to the next generation so that they may feel these words I say to you. So that they may feel empowered to stand as the torch is passed and upheld on to others. Let them be the foundation, strong and firm as I was when I started.
 Lola Itang wrote this for my Mother and my Auntie, but now I am sharing it with you all because I now represent the third generation holding the torch of "Legacy is a duty" and "Will power." Soon my children will do the same. I want you all to feel the passion to always strive for excellence because excellent things are rare! But, men and women who are excellent are even more so. You now hold the torch inside your hearts. Let it burn and it let shine, be the path of truth and excellence just like Dr. Margarita Fernandez when she started a Vocational School here in Baguio. Throughout the years, Baguio Central University became one of the leading institutions for education and leadership. My Lola Itang may not be here physically, but I know in my heart she smiles upon us all. Thank you for all your sacrifices and heartaches; this is for you, Lola Itang. I am Margarita Cecilda B. Rillera, Lola Itang's granddaughter, and I would like to end this short speech with a quote from my Lola's letter, "Your lola is not only great among ourselves, but great among all the people she has helped, and this means to a lot of people." Thank you all for coming, and have a glorious day ahead.
In closing, as we celebrate the 77th existence of BCU and honor Dr. Fernandez's enduring legacy, let us remember the words of this visionary educator:
"Education is the key to unlocking the door to a brighter future for our nation. With determination and willpower, we can overcome any obstacle and achieve greatness."
Her contributions to the field of education will continue to shine as a beacon of hope and inspiration for generations to come.
References:
Aguirre, J. Balcanao, J. Donaal, E. Ganaden, R. Neyney, S. Rillera, O. Rillorta, E. Siloy, R. Trajano, L.,
Wallang, C. Margarita Joven Fernandez's Valuable Contributions and Leadership. Baguio Central
University. Personal communications.
Baguio Central University. History, Institutional Profile: Seeds of a Philippine University. https://www.
bcu.edu.ph/history/.
Drummond, W. (ed.) (1993). Celebrating Philippine Womanhood: Margarita Joven Fernandez, Educator. New Zealand: Nagare Press.
Lobien, P. (2021). BCU founder gets own street after Salvosa, Bautista. https://www.rngph.com/bcu-
founder-gets-own-street-after-salvosa-bautista/.
Rillera, M. C. (2021). Message on behalf of the Fernandez Family during the Dedication Ceremony of the
Dr. Margarita J. Fernandez Drive. Burnham Park, Baguio City.
---
About the Author: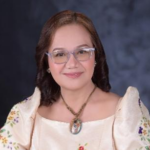 Genevieve Balance Kupang is a Leadership Team Member for the Exceptional Woman of Peace Award at Pathways to Peace, a UN Peace Messenger Organization. She serves as the Dean of the Graduate School at Baguio Central University. She plays a pivotal role as the Chair of the Special Interest Groups and Peace Education Coordinator of the World Council for Curriculum and Instruction. Long-standing peace advocate collaborating with various organizations including CBCP Episcopal Commission on Interreligious Dialogue, Silsilah Dialogue Movement, Mandala Peace Arts Initiative, Humanist Movement, May Peace Prevail on Earth International, Lingap Canada, Uniharmony Partners Philippines, Sandiwa, among others.