As the back-to-school season goes full blast, the EcoWaste Coalition took the opportunity to remind shoppers to insist, not only on their right to affordable school supplies but also on their rights to product information and to product safety.
Upholding the right of every learner to adequately labeled and non-toxic school supplies sold at the right prices during the back-to-school shopping frenzy will help prevent exposures to hazardous chemicals that can impede a child's healthy growth and development, the group said.
To ensure that such a right is not disregarded and is upheld during the shopping spree, the EcoWaste Coalition conducted test buys to raise awareness about hazardous substances lurking in some school supplies.  The group collected 62 assorted products consisting of crayons, watercolors, pens, pencil cases, paper clips, lunch bags, backpacks, rain gear,  and school accessories obtained from retail stores in Caloocan, Makati, Manila, Mandaluyong, Pasig and Quezon Cities.
The labels of the products purchased were examined, and the products were subsequently screened for heavy metals using a portable X-Ray Fluorescence (XRF) device, which is used for quick and non-destructive elemental analysis.
"Our investigation shows that most school supplies sold in the market have no labels or are poorly labeled and some are even laced with hazardous chemicals that can contaminate children's environment and bodies and pose long-term health issues such as problems with brain development and behavior," said Aileen Lucero, National Coordinator, EcoWaste Coalition.
"Children are most susceptible to toxic substances in the environment because they breathe more air, drink more water and eat more food per kilogram of body weight and have fewer and less developed natural defenses compared to adults, resulting in greater exposures to toxicants, which can increase the risk of neurodevelopmental effects, immune system disorders, respiratory ailments, and other diseases," said Dr. Geminn Louis Apostol, environmental health specialist, Ateneo School of Medicine and Public Health.
Of the 62 products, 26 were unlabeled, providing zero information on essential matters of interest to consumers such as the product's name, manufacturer and country of origin, local distributor, usage instructions, ingredients, and hazard warnings.  Some 34 products were incompletely labeled and only two can be considered as almost completely labeled.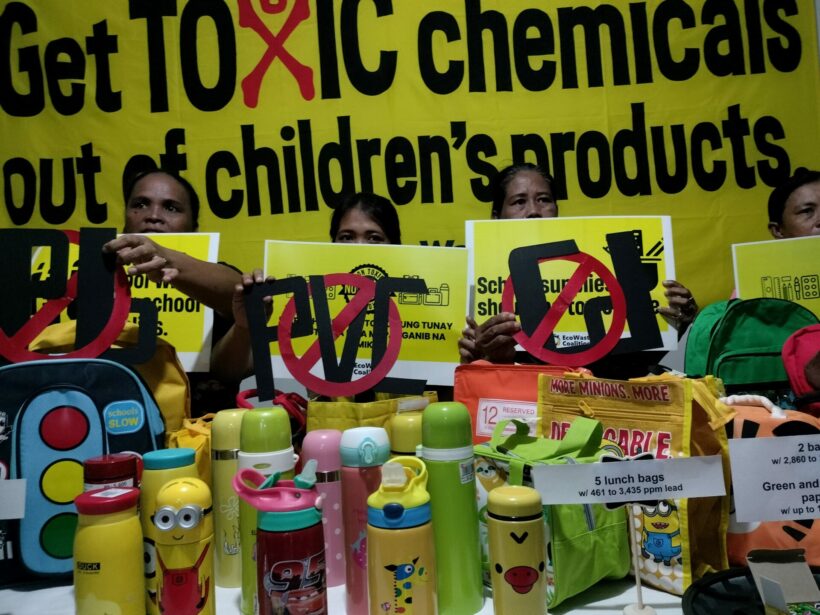 Of the 62 products, not even a single product gave information about their chemical composition, keeping consumers in the dark regarding the presence or non-presence of chemicals of concern to children's health, as well as the environment.
Of the 62 products, 18 were determined to be made of polyvinyl chloride (PVC) plastic, a problematic material as it may contain toxic plasticizers called phthalates, which can leach from plastic into food, indoor air, or into the mouths of children when they suck or chew PVC-based school supplies.
While chemicals of concern were not detected on 42 of the 62 products, 20 of the analyzed school supplies were found to contain high levels of cadmium, lead, and bromine, including:
1.  Five lunch bags with 461 to 3,435 ppm of lead
2.  Three backpacks with 228 to 1,801 ppm of lead
3.  Two bag tags with 2,860 to 3,160 ppm of lead
4.  Green and yellow-coated paper clips with up to 12,400 ppm of lead
5.  Four rain gears with 208 to 477 ppm of cadmium
6.  Three pencil cases with 139 to 160 ppm of cadmium
7.  Two watercolors (black case) with 3,633 to 4,519 ppm of bromine
The detection of lead, a cumulative poison affecting the neurologic, cardiovascular, gastrointestinal, hematologic, and renal systems, may indicate the use of lead on paints or surface coatings, as well as its use as plastic colorants and stabilizers.  The detection of cadmium, a cancer-causing agent, in PVC plastic may indicate its use as a stabilizer. The detection of bromine in black plastic may indicate the use of recycled plastics containing brominated flame retardants (BFRs), which are often used in TV and electronic casings.  BFRs have been linked to endocrine disruption and thyroid dysfunction.
The non-detection of these hazardous substances in 42 products indicates that factories can produce children's products like school supplies that do not pose chemical risks, the EcoWaste Coalition pointed out.
Aside from checking the product label, including the age grading, hazard warnings, and precautions, the EcoWaste Coalition offered the following suggestions to those planning to shop for school supplies:
Avoid plastic products made of PVC plastic, which often have a strong chemical smell and are marked with the number "3" or letters "PVC" or "V" (for vinyl).
 Pick erasers that are labeled "phthalate-free" or "PVC-free," and refrain from choosing food-shaped and scented ones, which may entice kids to put erasers in their mouths.
 If you have already bought plastic products like raincoats, rain boots, envelopes, and backpacks with strong chemical smell, set them outside in the sunshine to get rid of the odor.  
 Steer clear of art materials like crayons and watercolors that have been banned or warned by the health authorities for containing heavy metals, particularly lead. Pick trusted products marked "non-toxic" and with manufacturer's markings. 
Pick plain or unpainted reusable stainless steel water bottles, and avoid painted ones unless the paint used is certified "lead-safe." 
Given the poor labeling information of most school supplies, the EcoWaste Coalition urged the authorities to ensure that products are sufficiently labeled and are marked "non-toxic" to signify that they have passed toxicity tests and are safe for children to use.  The chemical ingredients of a product should be clearly listed on the label in line with the consumers' right to know, the group added.
Manufacturers, distributors, and sellers of school supplies have the responsibility to properly test and label such products before placing them in the market, and to ensure that only non-toxic products are offered for sale and use by all children.