a book launch review by Agnes Prieto
All weddings are full of smiles, looking for the fulfillment of dreams. Expectations beckon. Too swiftly, life crashes; there is nothing to look at, only a yawning emptiness that nothing reckons with. Weddings are just a cardboard facade, then, most brides suddenly become bereft wives.
It took 7 years for Imelda Argel, a lawyer, to know that there was nothing – just dismay, distraught, and disappointment. From the first wedding night, pain and cutting blade slash throughout life. Even before their wedding, he already had a mistress.
But with the thought of her son, Victorio Enrico – she realized that she owed much more to him. Only a decision would make a change, but first, she had to leave, to let go of the multinational job that already gave her a cushy success. She had to let go of the past to start a new life.
Moving from the Philippines with only her son, she began again from scratch: an Australian law university course from zero, with only the painful memories — an abusive relationship that could devastate a lesser soul.
Pebbles from the bottom of the sea, still concretely embedded in the ancient streets of her town Vigan, on streets until today- the pebbles, like women holding roads together.
Argel buckled under the psychosocial difficulty of 7 years. In the recent past, teary abused wives could only just sob quietly, praying the rosary. Fortunately, the self-image of Filipinas has shifted, now realizing that a partnership consists of balance, fairness, and justice. Her eyes have opened, to how much she carries. Change is happening.
The children observe this. They know where the strength draws from; in a supportive environment, they can expand and reach out to stars, standing on pebbles.  Even as a young boy he already knew the difficulties he faced in his new environment, such as housework. Today, Victorio Enrico is now a finance officer in the Australian Army.
A family therapist describes some of the fragility of Filipino husbands that encumber relationships. "Mother protects sons, which could have taught courage in a crisis; girls are taught to do housework, carrying responsibility. Boys however seek a lap that would coddle them through."
The quote from a Western Business expert says "The best Filipino is the Filipina ". She runs the business and props the guy up as the corporate head, as she humbly does the dirty work — a facade of a relationship. This explains why certain males have mistresses; then accuse wives in a relationship, who mostly accept this in silence.
The book launch of A Pebble that Floats on April 1 was a well-attended event that articulated many women from within — unspoken pain from abuse. A morning gathering of gentlewomen from depths of fierce revenge.
Imelda Argel carried all the so-called partnership but, unlike many other suffering wives and mothers, she spoke out against the terrible injustice, after 7 years of being taken for granted in the past. A woman takes all these.
This book, A Pebble that Floats, speaks for too many, from the past to the present. Argel, as a lawyer, speaks from a pained heart but with the seething silence that breaks through now– anger now into transformation to respect and protection in both relationships of women and men. A sanctuary for physical and emotional life for family life.
"Moving forward, my long-term goal is to initiate the establishment of a safe shelter home for domestic violence" Argel strongly states, "Towards this end, my short-term goal is to have it turned into a movie, to reach a wider audience and for the financiers to donate the net proceeds from ticket sales. I am confident that with your support, financial or otherwise, with the assistance of the Angat Buhay connection of Atty Leni Robredo and the tax-deductible donations of Atty. Estelito Mendoza and his clients, we will be able to meet the financial requirements of Vince Tanada to produce the movie in no time.
"I pray that the seeming goal of a landmark safe shelter home for victims of domestic violence in the Philippines will be a dream come true in my lifetime".
Footnote:
VP Leni Robredo interviews Atty Imelda Argel about her memoir, "A Pebble That Floats".  https://www.youtube.com/watch?v=_Spzb6D6ZYM
—————————————————————————————————————————
About the writer: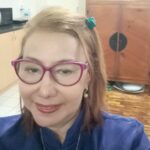 Ma. Agnes Prieto, author of fiction and essays. Lives in Palawan, Philippines