MAGESWARI SANGARALINGAM: A Journey of Persistence, Dedication, and Grit
by Sherma E. Benosa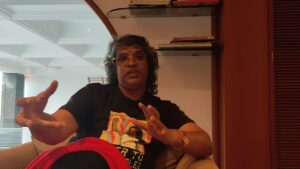 Mageswari Sangaralingam, or simply Mages to her colleagues and friends, has always been close to nature. Growing up in the Malaysian countryside, she would always insist on taking the long and winding road with trees and a view instead of the short, uninteresting main road every time she and her brother would walk to school. She was a literal treehugger; she loved the feel of her arms wrapped around a tree. A very shy girl, she did not like making conversations and preferred the company of her pets to humans. 
"I wanted to become a vet," she shared. 
Unfortunately, Mages did not make the cut for veterinary medicine when she went to university. But instead of shifting to her dream course when she could, she opted to complete her Bachelor of Science in Human Development course. "I did not want to spend a few more years in the university," she said. 
That decision proved to be pivotal. It took Mages away from her childhood dream, but then it led her to become what she is now — an environmentalist at the frontline defending communities and protecting the environment, both on local grounds and in national and global policy spaces. 
THE ARDUOUS JOURNEY 
Mages wears many hats. If she is not supporting her colleagues at the Consumers' Association of Penang (CAP) in their local programs, she is either writing or translating press releases, speaking to the media about their campaigns or other relevant issues, doing research, coordinating local or national campaigns or programs, or joining fellow environmentalists in other countries pushing for policy reforms, or doing strategic planning. 
Mages' official title at CAP is Research Officer, but she is also a campaigner, a project manager, and liaison of some of the international organizations and networks CAP is affiliated with, such as the International Pollutants Elimination Network (IPEN) and Global Alliance for Incinerator Alternatives (GAIA). She is also a board member of Friends of the Earth Malaysia. 
Since joining CAP in 1992 as a fresh university graduate, Mages has been involved in key campaigns and programs of the organization. As a researcher, she carried out investigations and developed resource materials on various issues, including resource and waste management, agriculture, water, toxics, and poverty. As a campaigner, she has facilitated community mobilization and participation on environmental issues and in defending their environmental rights. She has also campaigned for the phaseout or ban of single-use plastic and hazardous substances (e.g., asbestos, mercury, pesticides, and fluoride in water) and problematic technology and systems (e.g., industrial aquaculture, incineration, nuclear energy, and genetic engineering). 
Mages' varied roles have brought her to different parts of the country for her research or community engagement, and to international policy spaces to bring to the world stage the grassroots realities in her country of which she has intimate knowledge. 
Her roles have also put her in a special position to "co-birth" a network and a movement — both global. In 2000, she joined scores of fellow environmental activists from various countries who gathered together in Bangkok, Thailand to organize themselves to become a network of non-government organizations (NGOs) campaigning against incineration and other thermal waste management technologies. The network, then called Waste Not Asia, is what is now GAIA. In 2015, she was again among over 60 individuals — many of which are representatives of GAIA member organizations — who gathered in Tagaytay, Philippines to give life to the Break Free From Plastic (BFFP) movement. 
One of the more recent global campaigns Mages has been involved in is the waste trade campaign. Together with fellow BFFP and GAIA members, she has spoken against the practice of richer countries of sending their plastic waste to poorer countries like Malaysia, Thailand, and the Philippines, in the guise of recycling. Hers has been among the many Asian voices telling Global North countries: "Asia is not your dumping ground." 
SUCCESSES AND DISAPPOINTMENTS 
In her 30 years as an environmentalist, Mages has been part of notable campaigns that had seen successes as well as disappointments. She thought the past three decades have been good, but she also admitted that there had been times when she would feel tired and disappointed. 
"When we are fighting and fighting, for example against incineration, and then something else comes up, sometimes I feel like I want to give up," she shared. "But then there will be a call from the community, and I'm like, 'No, I can't just neglect their request.' … There is always that voice telling me, 'You haven't accomplished your goal [yet], you can't quit.' And then there are also lives and livelihoods involved; I cannot just neglect those," she said. 
"Setbacks are common in campaigns," she added. "You have to understand that some of the work takes years. Sometimes, [with] just one letter to the editor or one letter to the authority, the [problematic] project gets shelved. That has happened. But often, it takes years of constant push [to even just delay a project]."
Despite the disappointments, Mages acknowledged that they have also gone a long way. When she was starting at CAP, there were a lot of destructive development projects that were being planned and proposed by their government. At the same time, at the regional level, there were many incinerators being planned and proposed in Asia — one of the reasons GAIA was born. 
"Through GAIA, we managed to have those plans scrapped. For instance in Malaysia, a proposed large-scale incinerator in Kampung Bohol, Puchong was shelved in 2002. Then they came out with another proposal in Kampung Broga, Semenyih; it was again shelved. Just 10 years ago, there was another proposal in Kepong, which has not materialized," she said. 
Through time, they shifted their campaign strategy, from simply opposing incinerations to proposing solutions — Zero Waste. 
"Long before the concept of Zero Waste became mainstream, we already started talking about it to our local government, learning from GAIA. But they laughed at us, saying it could not be done, that it's impossible," Mages said. Undeterred, CAP started community Zero Waste initiatives and launched programs that underscored sustainable consumption and mindful living. "Now, I'm happy that some of our language in the 2000s have been incorporated in the government plan — with some local governments now implementing Zero Waste principles," she said. 
But successes like this that involve narrative shifts do not happen overnight. The concept of Zero Waste, for example, took over a decade to become mainstream, and even now, a lot of work still needs to be done — this time to ensure that the concept does not get co-opted. 
"That's why we have to be persistent," Mages said, adding that when it comes to persistence, you can count on women. "One thing that we always say is that you have to work with women because they are persistent. They want to take care of their children, their family's health. Whatever gains we have had in our campaigns, it was because the women were behind those campaigns." 
Mages also highlighted the importance of being part of a global network when campaigning at the global level. "Some of us are working at the grassroots level, and probably some of the other groups are not aware of what is happening in developing countries," she said. 
She added that even among NGOs, there is a difference in appreciation of issues between those coming from the Global North and those from the Global South. "Although there are communities affected in their countries, [the Global North NGOs] may not be aware of these. So we need to highlight [the realities in developing countries]. It is very important," Mages said. "For example, at COP, at the Basel Convention, we brought the stories from our countries and we actually caught the attention of other countries. They want to listen as they are not aware of what is happening. So we bring these issues to light." 
SLOWING DOWN… A LITTLE 
Having dedicated much of her life to environmentalism and community engagement, Mages confided she would love to be able to slow down the pace of her work. She is happy to note that young people are claiming their spaces in the Break Free From Plastic movement. "It's nice to see them speaking up. I'm happy they will carry on with the work. We also learn from them," she said. 
Mages clarified slowing down means just that — lessening the workload, not going away to do other stuff. She intends to continue fighting for the communities she has dutifully represented. 
And so for Mages, the journey goes on, and it may become even more remarkable. Thus far, her journey has been hard as it required nothing less than passion and dedication and grit, but it has also been fruitful, made even more amazing by the fact that it did not only begin with her giving up her childhood dream but also moving out of her comfort zone, overcoming her shyness, and conquering her fear of speaking. The once shy girl disliking getting in conversations has actually added her voice to the chorus of voices of impacted communities to amplify their call for environmental justice, systemic change, and respect for the environment and human rights, among others. 
Fortunately, the journey also gives Mages a full circle of sorts. Although we may never see her inside an animal health clinic wearing scrubs and administering medication to furry patients, she does get to look after her furry friends' well-being. "Through my work, I'm trying to protect their habitat," she said, smiling.