Water Justice Movements and Civil Society Organizations and Networks around the world have come together on the eve of the UN 2023 Water Conference to launch a manifesto calling on UN Member States to put people and nature before profit. This historical appeal to world leaders to put people over profit and respect water as a common good will be delivered.
According to the UN and WHO, 2 billion people lack access to safe drinking water and 3.6 billion, close to 46% of the world's population, lack access to safely managed sanitation. Water ecosystems continue to be degraded by climate change, extractive industries and other environmentally damaging commercial activity.
The Africa Water Justice Network, Blue Communities, Butterfly Effect, Coalition Eau, Ecumenical Water Network, End Water Poverty, European Water Movement, Freshwater Action Network Mexico, Plataforma de Acuerdos Públicos y Comunitarios de Las Américas, Public Services International, Redes del Agua Latinoamérica, RED VIDA, and Simavi are among the networks launching a Water Justice Manifesto which aims to put human rights at the centre of the international water agenda.
The Manifesto demands that the global water agenda centre the needs of those who are most marginalized. Upwards of 600 000 people and more than 400 grassroots organizations have signed the Manifesto and an Avaaz global call to world leaders to protect freshwater ecosystems and guarantee water as a human right.
The authoring networks will formally present the Manifesto to the public and deliver it to UN Special Rapporteurs* and the director of the UN Conference from the Netherlands, at a Civil Society Gathering and Launch, March 21, 2023, 6-9 PM, at All Souls Church, Reidy Friendship Hall, 1157 Lexington Ave, New York.
To see an abridged version of the Manifesto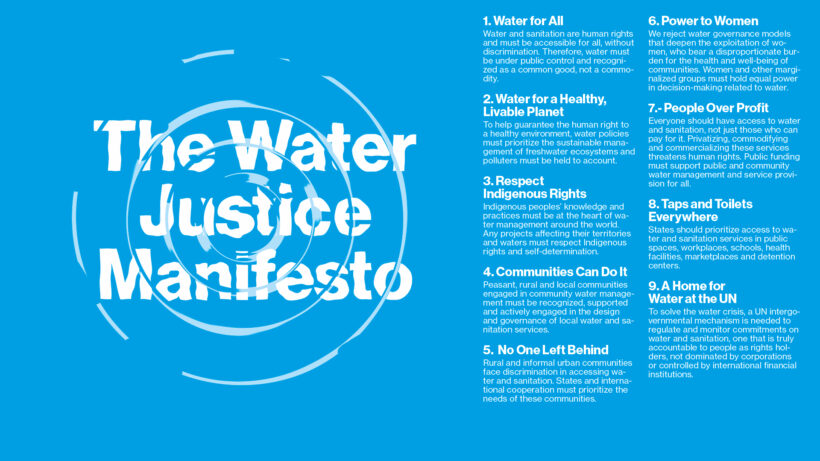 To see the full version of the Manifesto, click here.
To see the full list of movements and organizations click here.