by Miriam A. Cortes
"The empowered woman is powerful beyond measure and beautiful beyond description."
– Steve Maraboli
In celebration of International Women's Day, the Polytechnic University of the Philippines (PUP) San Juan (SJ) branch held a series of webinars, not only for women but for men, LGBTQ, and those who consider themselves women, on March 1, 2023, at PUPSJ Multi-Purpose Hall. This was organized by the Guidance and Counseling Office, Young Educators Society (YES), PUP Rotaract Club, and the PUP Psychology Students' Society, in partnership with the Rotary Club of San Juan Neopolitan.
The discussion revolved around the ways in which technology can be used to empower women and promote gender equality, thus the theme "DigitALL: Innovation and Technology for Gender Equality." This brought together leaders from various fields to share their experiences, triumphs, and insights on how technology can address the challenges faced by women which signals a significant step forward for women's rights, and empowerment.
The program started with the singing of the National Anthem and the PUP Hymn and welcoming the Guest Speakers. Inst. Angeline L. Pabilona, the adviser of the Psychology Student's Society, introduced the First Lady of San Juan, Hon. Keri Zamora, who shared her inspirational message about women's empowerment in recent years. She shared that women remain underrepresented in the technology fields, and also in gender diversity– referring to the representation of both men and women in the workplace, the equal treatment and opportunities for all genders, and protection from online harassment in different social media platforms.
After Keri Zamora's inspirational message, Director, Associate Prof. Edgardo S. Delmo gave his welcome remarks and expressed his gratitude for making the event possible to celebrate women's month.
Then Assist. Jane Mendoza welcomed another speaker, Councilor Bea De Guzman, a Rotarian, and a licensed psychometrician. The speaker shared her experiences and insights on how technology can be harnessed to address the challenges faced by women, particularly in the context of the COVID-19 pandemic. She discussed how she used technology to empower women in rural communities by providing them with access to e-learning and e-commerce platforms.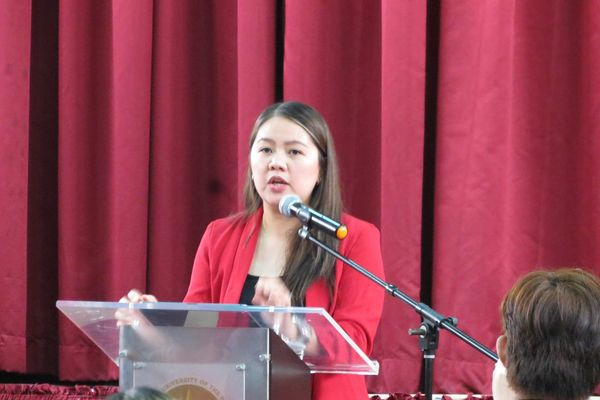 Councilor De Guzman summed up the different struggles that women experienced in society, coined "DEMOS," which means discrimination, exploitation, marginalization, oppression, and subordination. Many women are still struggling in many parts of the world, including developed and developing countries. She also shared her experience of discrimination during the pandemic political campaign where she couldn't do a house-to-house campaign because of her big bump since she was 9 months pregnant. According to her, she knew that she could still do more even though she was not able to visit all the people around her community during that time.
Councilor De Guzman gives women triple roles according to a feminist researcher, Cynthia Moser. First is the Productive Role: Women engage in economic activities to contribute to the household and the community's well-being. This includes activities such as agriculture, small-scale trade, and informal sector work. Second is the Reproductive Role: Women are responsible for reproductive and caregiving activities, such as child-rearing, cooking, cleaning, and other household chores. And lastly, the Community Managing Role. Women also play a critical role in managing the community's social and cultural affairs. This includes tasks such as organizing community events, managing water and sanitation, and mobilizing for collective action.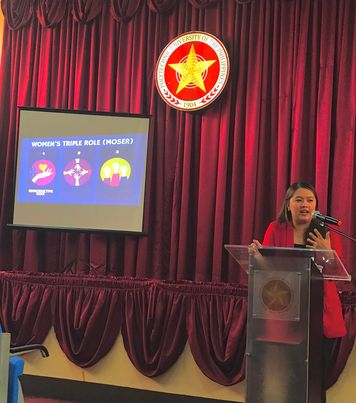 This work emphasizes the importance of recognizing and valuing women's multiple roles and contributions to society, particularly in developing countries where women's labor and contributions are often invisible and undervalued. By acknowledging and supporting women's triple roles, societies can better promote gender equality, reduce poverty, and achieve sustainable development.
Feminism has been instrumental in advancing women's rights and promoting gender equality in various spheres of society. Feminist activism and advocacy have contributed to significant gains in areas such as women's suffrage, reproductive rights, workplace equity, and domestic violence prevention, among others.
The event emphasized the importance of continuing to explore innovative ways to harness the power of technology for women's empowerment and to promote gender equality. They encouraged participants to work towards creating a more inclusive and equitable world, where women have equal access to education, employment, and opportunities for growth and development.
For the awarding of certificates of appreciation, Assist. Prof. Anna Madonna Arellano did the honor and had a photo opportunity together with the First Lady of San Juan Keri Zamora and Councilor Bea De Guzman.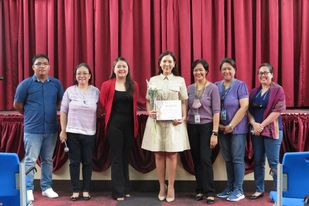 The attendees had an opportunity to ask Councilor Bea for some clarifications and comments on the topic discussed. For the closing remarks, and on behalf of IATP, Allan Floresca, the new generation chairman Rica Rivera, shared his message of gratitude.
---
About the Author:
Miriam A. Cortes is a third-year BSED English student at the Polytechnic University of the Philippines, San Juan Branch. A working student, she is motivated to pursue her educational goals while also working to support her family financially. She keeps her dedication and perseverance in the face of adversity.