The Unión de Trabajadores y Trabajadoras de la Tierra (UTT) launched the "Corredor Patagónico Soberano", a 4500-kilometre route in which a truck distributes healthy food in Buenos Aires, La Pampa, Negro, Río Negro and Chubut. They manage to reduce transport costs for producers and bring food at affordable prices to consumers.
By Mariángeles Guerrero/El Tierra Viva Agency
The Unión de Trabajadores y Trabajadoras de la Tierra (UTT) launched the "Sovereign Patagonian Corridor": with a truck they travel a circuit of 4,500 kilometres through Buenos Aires, La Pampa, Neuquén, Negro, Río Negro and Chubut to market cooperative food at fair prices in dozens of localities. This is the second corridor of its kind – a similar experience was inaugurated in the Northeast in 2021. The aim is to minimise transport and intermediary costs in order to bring foodstuffs closer to popular sectors at fair and accessible prices.
Agustín Mavar is a small livestock farmer from Las Golondrinas, Lago Puelo, and is one of the passengers in the food truck. "The idea of the Corridor arose from the need to break with the monopoly of the concentrated and speculative commercialisation sector that sets prices and conditions for the commercialisation of food in general", he explains.
Promoted by the UTT, the experience of improving transport conditions and reducing logistics costs has been in operation in Patagonia for several years, but with private freight, which is used to partialise the cargoes," says Mavar. It was then that they evaluated how to improve this circuit. "We lacked a leg to stand on, which was our own freight," says the producer.
Through collective work and struggle, the organisation bought a refrigerated truck with a capacity of 14,000 kilos. The vehicle left Buenos Aires with dry food and made stops in different localities where it unloaded goods, but also charged local food to distribute in the following Patagonian stops. "Producing healthy food at fair prices and covering the process from end to end is food sovereignty, it is reaching the territories in a unique way. Because, otherwise, there are places that cannot be reached", Mavar says.
Mariana Chaves, delegate from Neuquén and member of the National Coordination of the UTT, explains that "the production and logistics of our organisation is at the service of the people and the territories, from a federal perspective. The aim is to continue expanding the distribution of healthy food, at fair prices, reducing the carbon footprint". In different Patagonian localities, not only production takes place, but also collective purchases are organised within the framework of the Corridor.
In 2021, the UTT inaugurated the Mesopotamian Corridor, which connects Entre Rios, Corrientes and Misiones. Another corridor will soon be launched in the Cordillera region, between La Rioja and Chubut.
Truck on the move
The Corridor makes it possible for cooperative foodstuffs to arrive at fair prices, reducing logistics costs and thus the final price of food. For Juan Pablo Acosta, UTT representative in Chubut, this is "a fundamental step that strengthens regional economies and consolidates short marketing channels".
His colleague Mavar adds: "In an Argentina with hunger, it is essential to deepen these actions where food is considered a right and not a commodity".
The Sovereign Patagonian Corridor circuit reaches eleven cities: Santa Rosa (La Pampa); Junín de Los Andes, Centenario (Neuquén); Maquinchao, Bariloche, El Bolsón, Ñorquinco (Negro); El Hoyo, Esquel, Comodoro Rivadavia and Puerto Madryn (Chubut).
The truck left Avellaneda, in the province of Buenos Aires, from the UTT cooperative wholesale market. The next stop was the Buenos Aires town of Domselaar (San Vicente), where balanced feed was charged. There, the itinerary to Santa Rosa (La Pampa) began. In the provincial capital, the bulk of the animal feed and cooperative feed was unloaded.
In Junín de los Andes (Neuquén), garlic and honey were collected from local producers and products from a community purchase by local people were unloaded. In the city of Neuquén, agro-ecological pears and apples from small producers were loaded.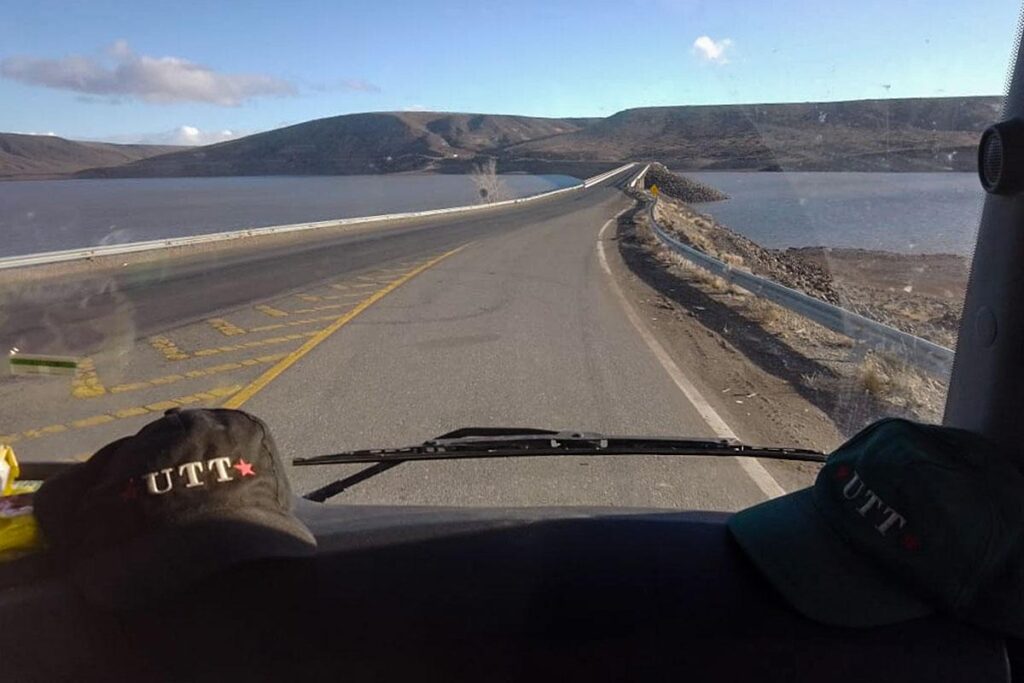 In the towns of Río Negro and Chubut, yerba mate, flour, oil, noodles, rice and polenta were unloaded to supply community purchases of organised neighbours. On collective purchases, Mavar points out: "When you do the maths and start to think about who sets the prices and why things are worth what they are worth, it is when consumers also start to play a leading role in the process and understand what is happening. This is what we mean by buying consciously".
On the return route, the onions produced at the UTT Node in Pedro Luro, in the south of the province of Buenos Aires, are charged to the freight to take them to the point of origin: Avellaneda.
"It benefits us because the inputs arrive at a lower cost".
Érika Benavente is a producer of agroecological sweets in El Hoyo. To make them, she uses local fruits that she grows herself, such as strawberries, raspberries and currants. She works in Puerto Patriada, an area she defines as "tourist and timber", together with her husband and two of her children. She says that she has always lived in the area and that the jobs there are "temporary". In summer they work with tourism and in winter with wood.
Benavente is a buyer and seller of the food that the truck transports. "The corridor benefits us because the inputs arrive at a lower cost, it is an important help for rural areas," she says. And she adds: "What we produce is sent to other places and that moves the local economy, which is always very quiet in winter". The producer is one of the 220 farming families that participate in the UTT in the Patagonian area.
She affirms that the corridor "improves the supply of rural areas and reduces costs". And she adds: "Here the distances are very long, we don't go out every day to shop. If you go out, you have to make your shopping pay off. In the lorry you can buy a packet of yerba at a much better price than what you get per kilo".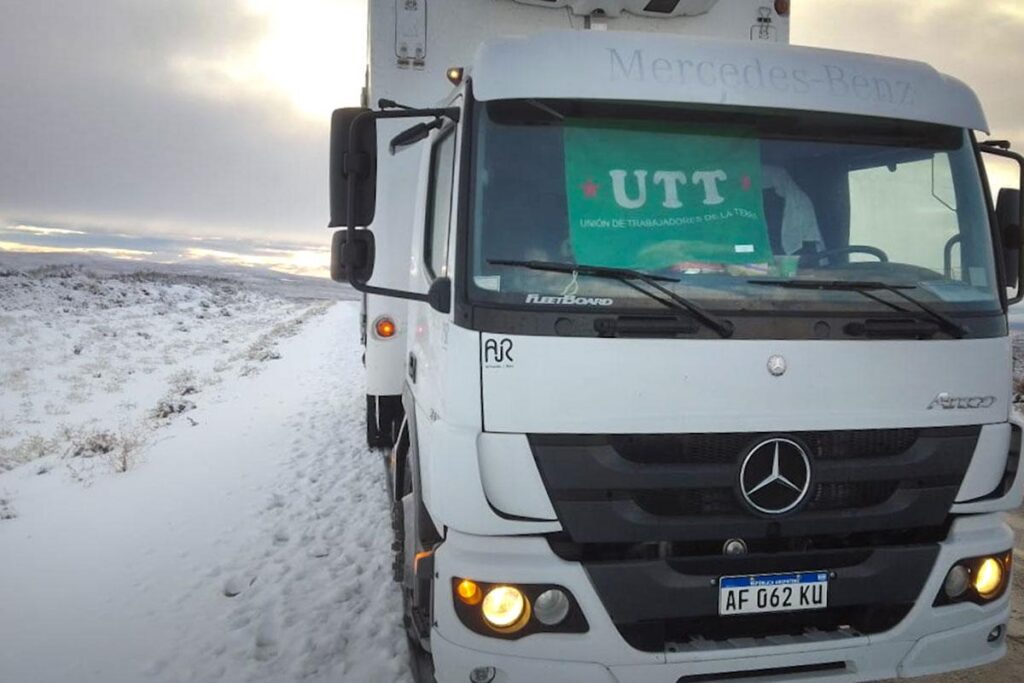 Photo: UTT Press
Sovereign Patagonian Corridor: a collective strategy to make food affordable
Mavar is clear: "We don't speculate with freight; we are not a logistics and marketing company. We are an organisation of producers who need to market in a fair way. In this way we show that reducing prices is possible and that is why we are asking for public policies for the sector".
During the stop in Junín de los Andes, he says: "In front of me I have a crate of courgettes coming from Salta and a crate of tomatoes from Jujuy. The tomatoes we bring in are cheaper than those sold here in the traditional market. This is because, despite the distances, by shortening the commercialisation chain we are showing that this fair circuit is possible".
Mavar proposes "discussing and putting on the table who sets the prices and how they are constructed". And he adds: "We need to be part of the process because we are the ones who produce more than 60 per cent of what Argentinians consume".