On the opening day of the Social Forum of Resistance (FSR) and Social Forum of Justice and Democracy (FSMJD) we had the pleasure of meeting Dr. Teivo Teivainen, Professor of World Politics at University of Helsinki. Dr. Teivainen has been involved in World Social Forum (WSF) processes since the beginning of the movement in 2001, and has written and shared extensively on the topic, both in academic spheres and with the wider public.
By Katalizo Team
On this day, Dr. Teivainen shared his insights about the history and future of the World Social Forum, while enjoying drinks and food in Porto Alegre's Historic Center!
The story goes that the founders Chico Whitaker and Oded Grajew got the idea while watching TV coverage of the World Economic Forum (WEF) while on a visit to Paris in 1999. Their idea was to create an alternative to Davos based around social movements, rather than mainstream economics. Bernard Cassen, general director of Le Monde Diplomatique at the time encouraged them to turn the idea into a reality and to organize the event in the Global South. They returned to their home of Brazil, and mobilized the first WSF in Porto Alegre at the same time as the Davos summit. While 3,000 people attended the WEF that year, 20, 000 people attended the WSF. A couple years later the WSF was a key mobilizer of one of the largest international protest movements in history against the Iraq War, known as the Global Day of Action.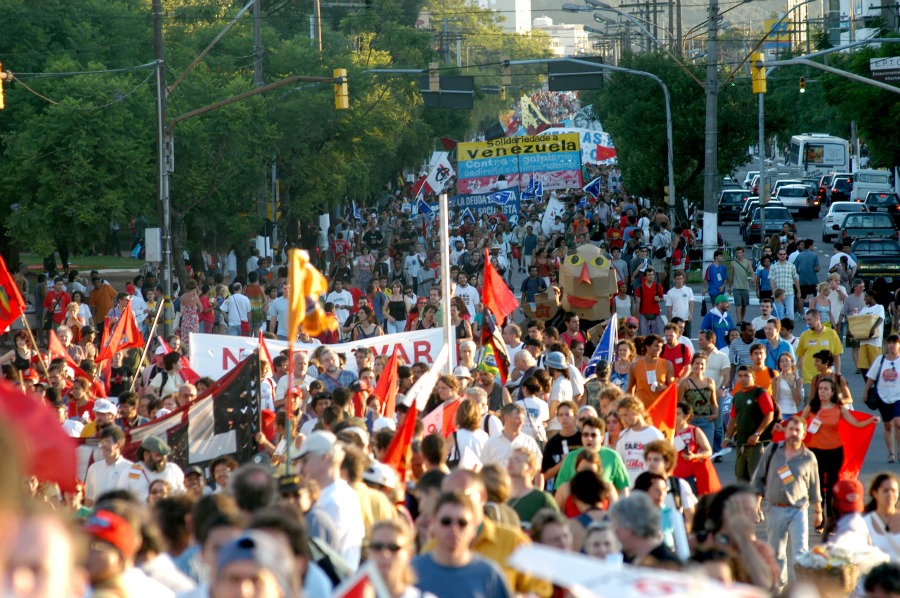 Image of the World Social Forum in Porto Alegre, 2003. Photo by the WSF International SecretariatAfter being held in Porto Alegre for three consecutive years (2001-2003) the WSF was held for the first time internationally 2004, in Mumbai, India. Since then it has also been held in Pakistan, Venezuela, Mali, Kenya, Senegal, Tunisia, and Canada (Montreal). Dr. Teivainen explained that the people of Brazil and Porto Alegre, while ecstatic that the Forum was expanding all around the world, wanted to bring back an annual space for such discussions and mobilizations at home, and to address more local issues. That is how the FSR was born in 2017.
Now, in the era of Bolsonaro, the FSR provides an extremely important space for expressing a common resistance and solidarity between trade unions, Indigenous peoples, agriculturalists, LGBTQ+, feminists, and others. Indeed, the sea of diverse flags that we observed at the Opening March only a few hours after our conversation with Dr. Teivainen made it very clear why the World Social Forum (and its related processes) are often described as a "movement of movements". We are so thankful for this fruitful conversation with Dr. Teivainen, that will help us put the rest of the FSR and FSMJD into context. We look forward to further discussing these topics with him while we are here, as well as reading his new book about the World Social Forum which he informed us is soon to be published!