Koreans are organizing various events in support of Ukraine's peace and showing solidarity with the Ukrainian people who live here. It's said that about 3,800 Ukrainians citizens are residing in Korea for different reasons. I have attended two similar events on the same day, Friday 18 March 2022, organized by local initiatives and civil society organizations.
The Street Concert for Peace in Ukraine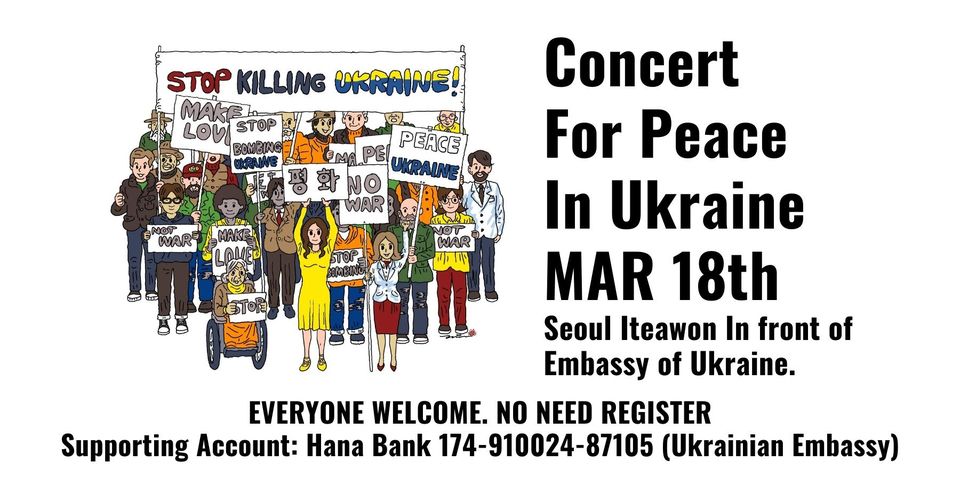 The Street Concert for Peace in Ukraine was held in front of the Ukrainian Embassy in Seoul by Friends and Volunteers of Advart Music and Vadim Neselowskyi, attended by the EU ambassadors and peace supporters. Greetings, a thank you for your support message delivery by the Ukrainian Ambassador in Korea and a solidarity speech from the Belgian ambassador were in place as well.
The concert opening was Variations on the National Anthem by Lee Soo-young, Ukrainian National Anthem by Jaehoon Kang, Imagine Variations by Bae Young, Ukrainian National Variations by Kang Jae-Hoon,  Ukrainian folk song 'To My Mother' by Jaehoon Kang, Impromptu for Ukraine by Jung Eun-hye,  Rhapsody for Ukraine by Jinyoung Park. Eunhye Jeong performed "Together We March On" specifically composed for this occasion to express our solidarity with Ukrainians. Among the performer artists were four pianists who, except for Soo-young, are students of Vadim Neselovskyi, a Ukrainian pianist and composer based in New York City. He currently serves as Professor of Jazz Piano at Berklee College of Music in Boston.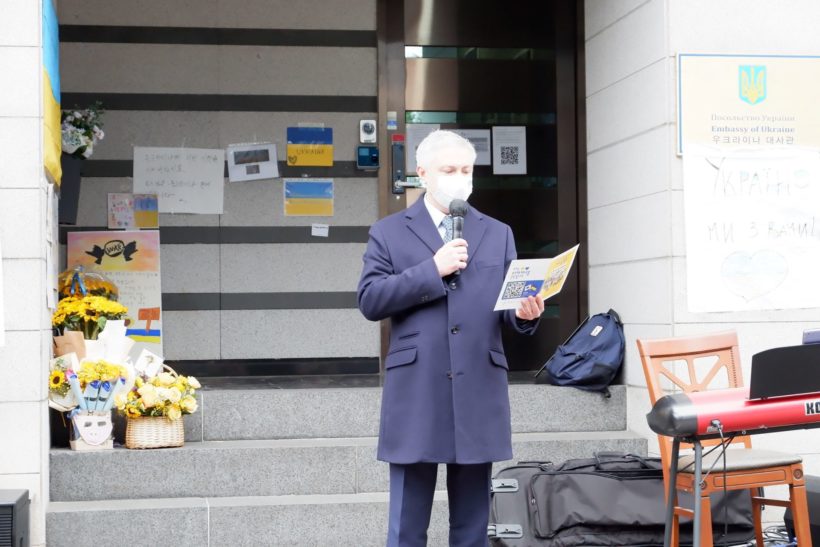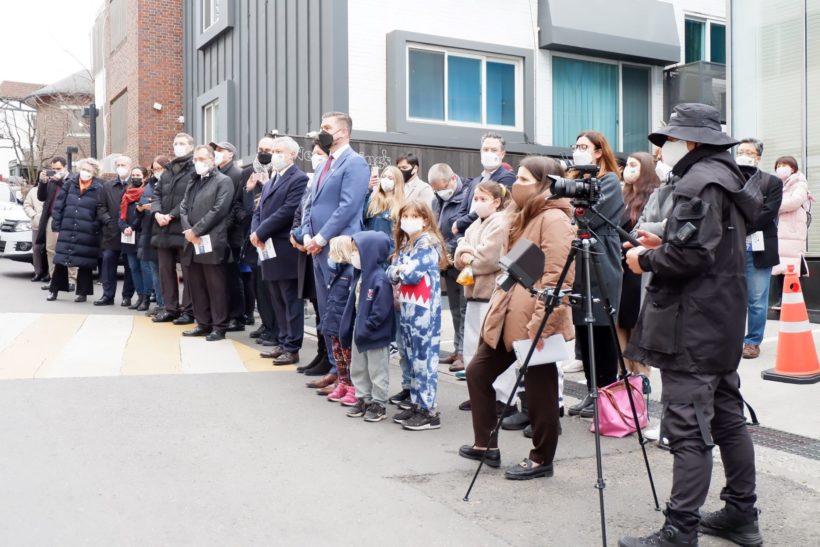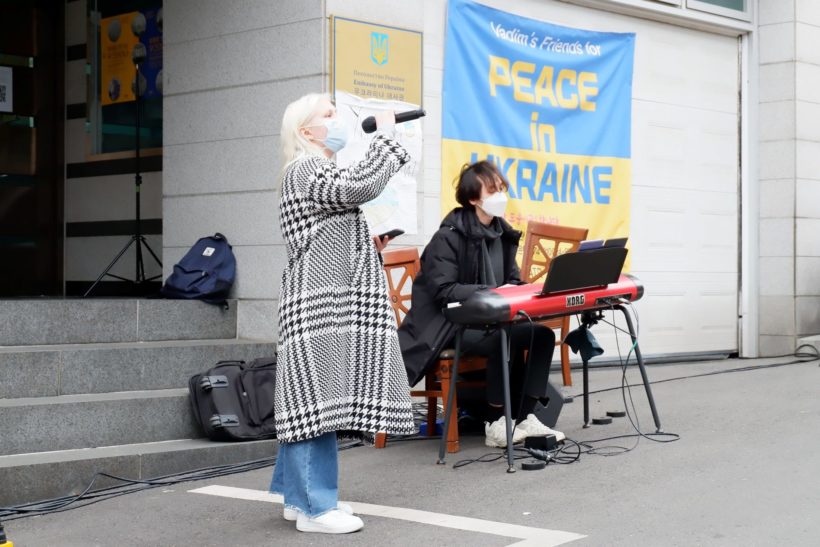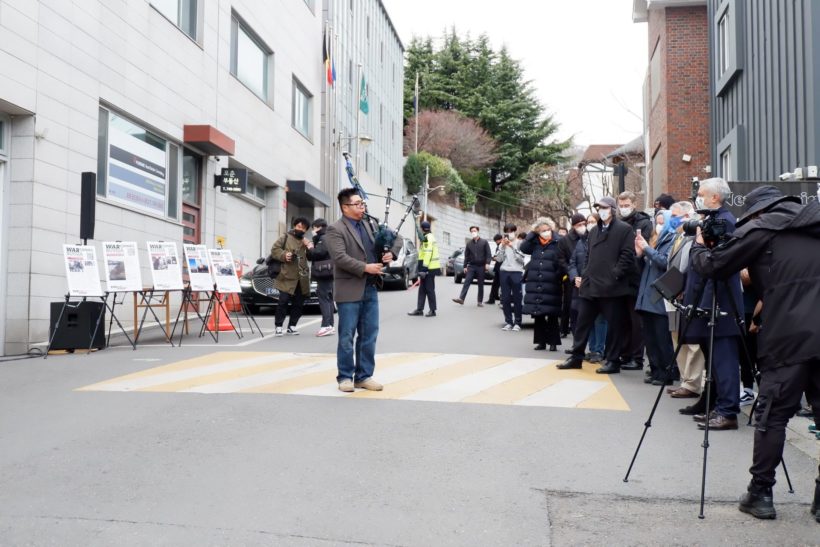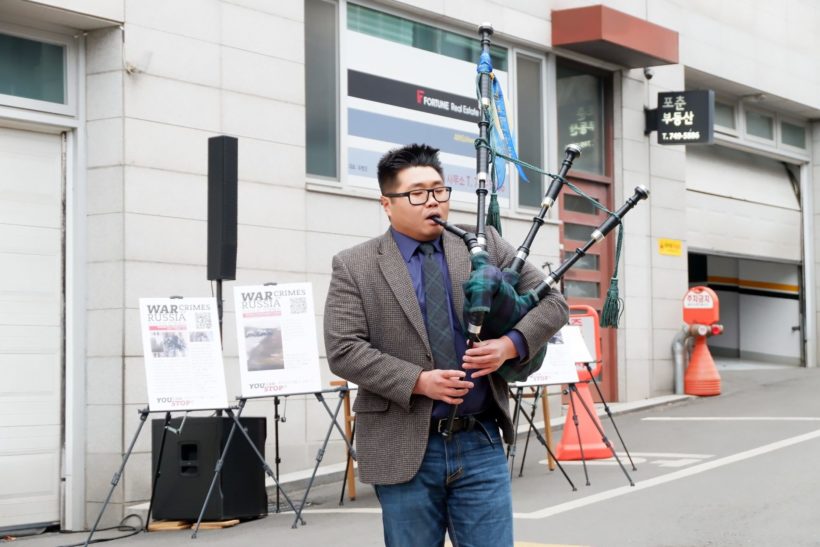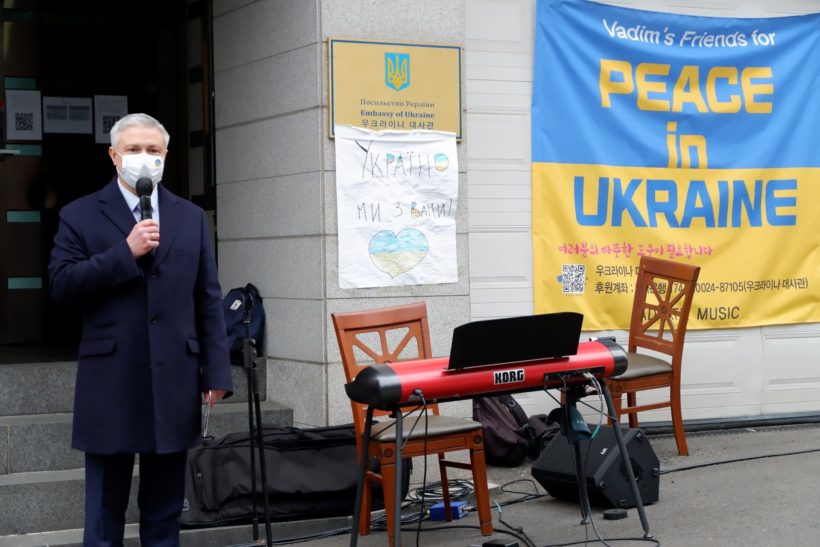 Friday Candlelight Rally to Stop the War in Ukraine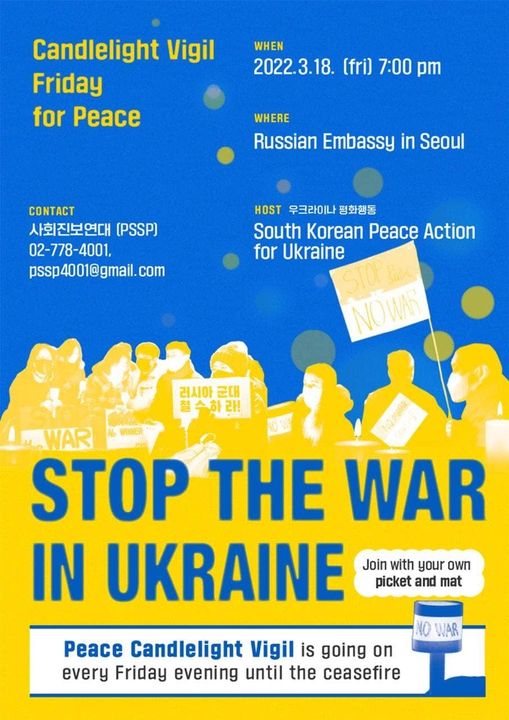 Similarly, another event was held in front of the Embassy of Russia in Seoul, A FRIDAY CANDLELIGHT VIGIL calling for Russia to STOP THE WAR IN UKRAINE co-organized by multiple Korean CSOs, urged for a diplomatic and peaceful conflict resolution. The organizers facilitated a peace stage and invited other countries' refugees in Korea who wanted to speak in solidarity with Ukrainian refugees and Russian peace activists.
The invitation note, sent out by organizers, was asking important questions to the participants: What do we need to do to address the issues that the States facing war after war will face and which leads to a crisis for all on the globe? How can the Korean government contribute to ending the war and protecting refugees?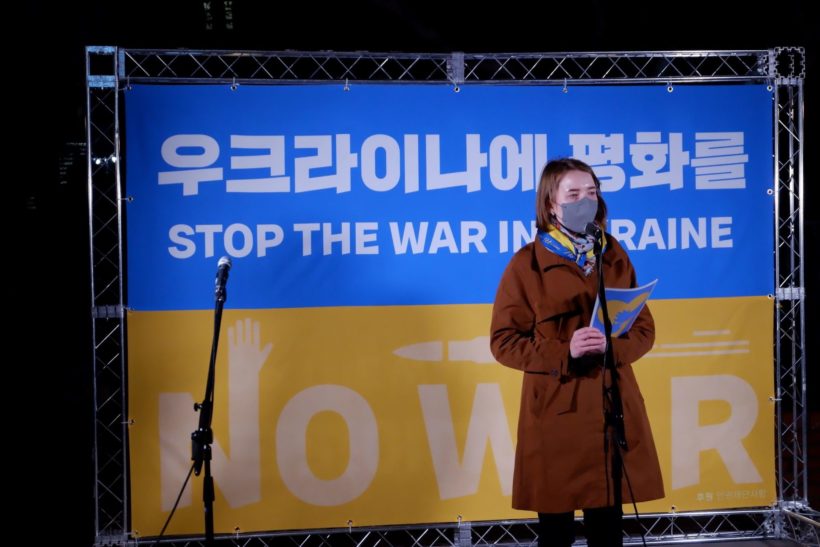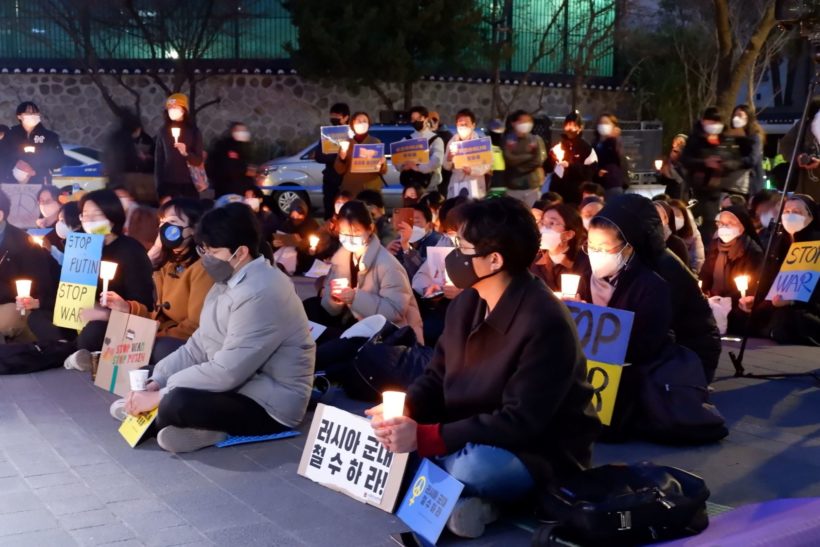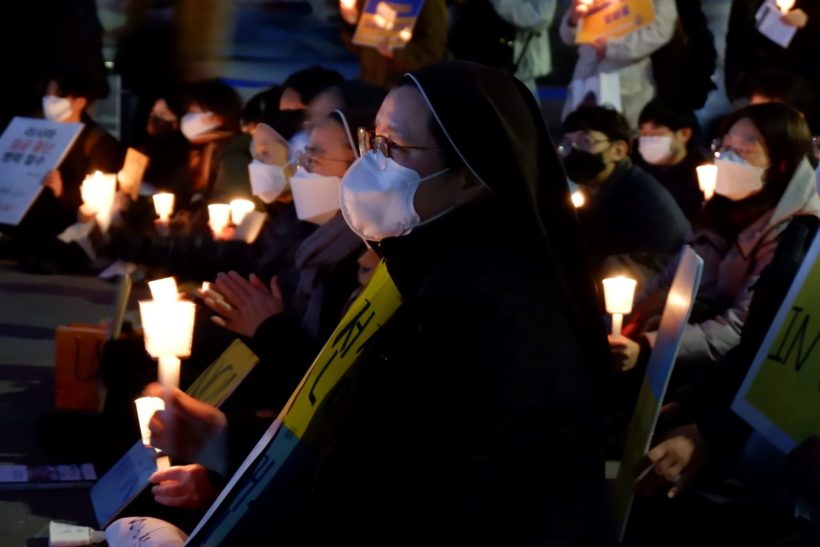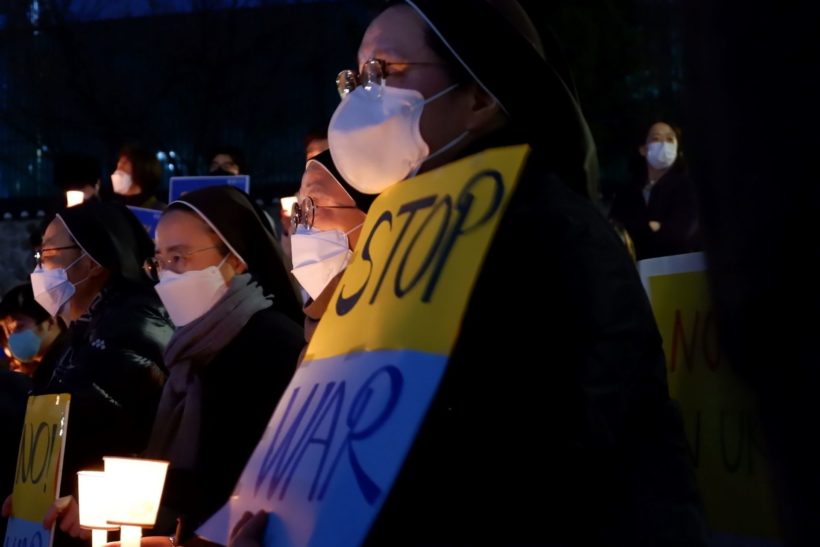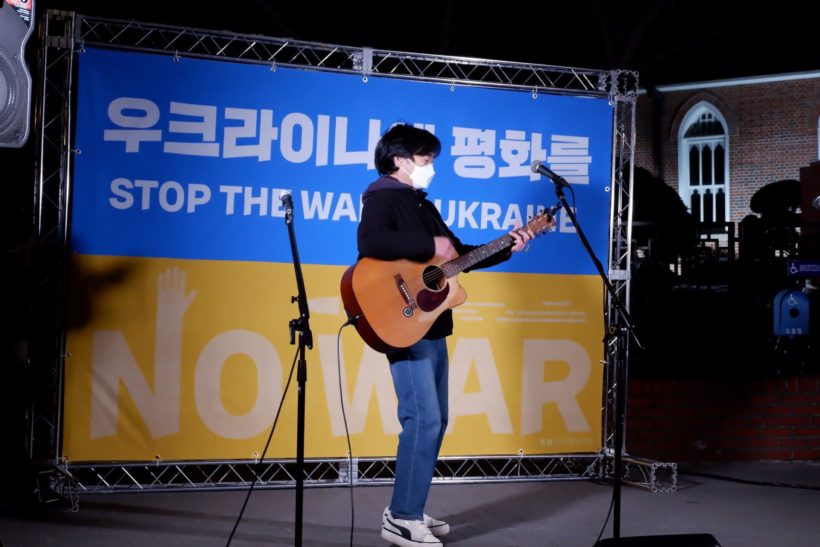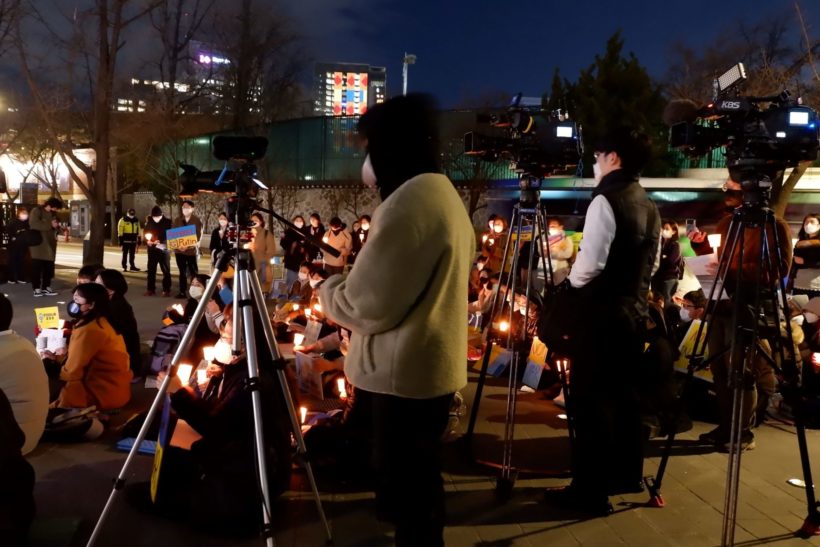 In the span of just two weeks, more than 2.5 million Ukrainians have fled their country following Russia's invasion on February 24. The 3,800 Ukrainians who are residing in Korea are asking for our solidarity for a peaceful resolution of the conflict. Meanwhile, thousands of peaceful protesters have been arrested across Russia for protesting against Russia's military action in Ukraine.  The Kremlin brought a law into force on March 4 criminalizing independent war reporting and protests against the war, with penalties of up to 15 years in prison.
Fighting continues into its third week. The Friday Candlelight Rally to stop the war in Ukraine is co-organized by multiple Korean CSOs calling for diplomatic and peaceful conflict resolution. The Friday Candlelight Rally will continue until Russia stops shelling and withdraws its soldiers from Ukraine.
Additional information obtained from Advart Music & Migration to Asia Peace (MAP)