The ex-Farians are betting on a nonviolent, democratic and equitable society with their project La Trocha.
By Zenaida Espinosa Cabrera and Stephania Aldana Cabas
La Trocha beer is a productive project that was born in 2019, after the signing of the Peace Agreement and the reincorporation of former FARC members into civil society in 2016. Thus, the participants in this project gave birth to the artisanal liquor that is a proposal that today sells about 3,000 litres per month.
Moreover, this drink was produced as a result of a collective effort in favour of peace. For this reason, the ten ex-combatants who returned to civil society, and since 2020 have been seeking to market their product through social networks and at the Casa de la Paz, located in the Chapinero district of Bogotá.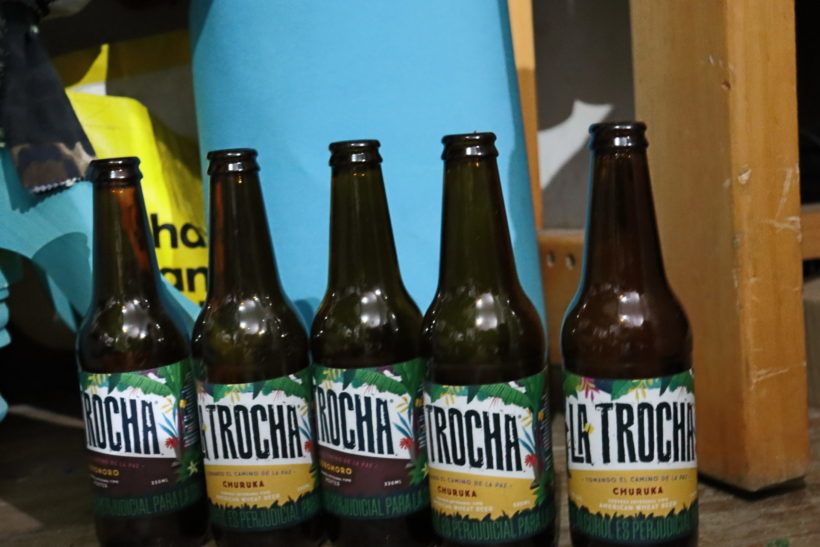 Here Doris Suárez, an ex-combatant who is in charge of the project and represents her nine comrades, remembers her time in the FARC as the place where "I was born and grew up and I believe that I will die here, because we have always thought collectively, I am what I am because of the others. We believe in collective efforts and in joining forces".
This project, which is part of the 3,660 approved initiatives that have benefited 7,768 ex-combatants, according to data from the Agency for Reincorporation and Normalisation (ARN), was a key element in the commemoration, on 24 November 2021, of the five years since the signing of the Peace Agreement between the Colombian government and the former FARC guerrillas.
During the commemoration event, former Colombian President Juan Manuel Santos and former FARC leader Rodrigo Londoño toasted with a "La Trocha" beer as a way of ratifying the implementation of the Peace Accords.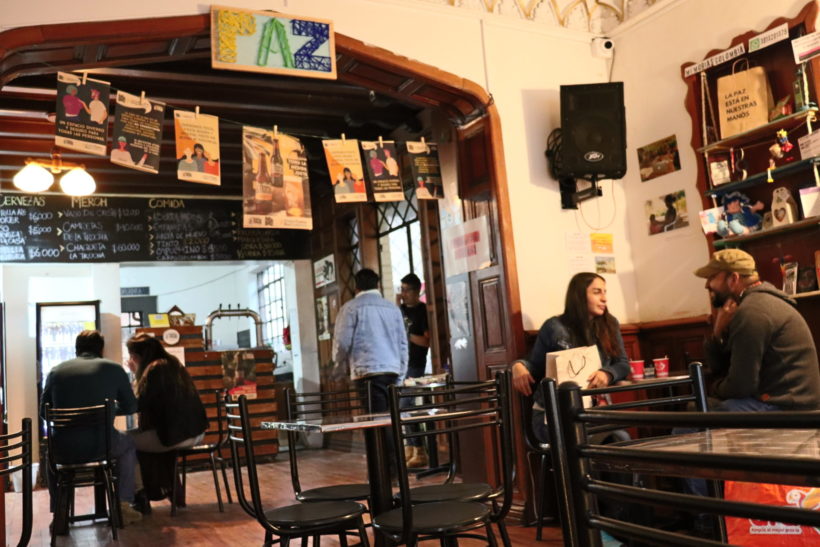 Casa de la Paz, Bogotá | House of Peace, Bogotá.
Before this symbolic image, Raúl Rosende, member of the UN (United Nations) Mission in Colombia, indicated that "in no other Peace Agreement in the world has so much progress been made in harmonising peace and justice, based on reparation for the victims. This is Colombia's contribution to the world in terms of conflict resolution".
For this reason, Pressenza contacted Doris Suárez, one of the members of the project "La Trocha" to talk about it and its importance as a commitment to peace and the return to civilian life for her and her companions.
Pressenza: Who is Doris Suárez and what role did she play in the now defunct FARC?
Doris Suárez (D.S.) I am a woman signatory of peace, who was freed thanks to the Peace Accord. Like many people, I was forced to join the guerrillas because of the systematic assassination of members of the Patriotic Union (UP). The Colombian state has been condemned for this political genocide.
I also spent 15 years in the ranks, and 14 years in prison for political reasons, out of the 40 years I was sentenced to.
Pressenza: After the signing of the Peace Accord, what expectations do you have of the Colombian people and the government?
D.S.: With the current government I have no expectations, it has already had time to demonstrate that its commitment to the implementation of the Agreement is only verbal, because the facts contradict it.
However, with the Colombian people we hope that they will get to know the Peace Accord better, that they will take a liking to it and defend it, because it benefits the great majority, who have been excluded and affected by the armed conflict.
Pressenza: How was the La Trocha beer project born?
D.S: La Trocha craft beer was born thanks to the generosity and social commitment of the Helo Brothers, who offered to teach us how to brew craft beer and provide us with their plant for our apprenticeship.
Afterwards, the National University joined us, which has been fundamental in this project, as they gave us training in the extraction of oils and essences. Then they gave us a diploma course in craft brewing. Also, the National Apprenticeship Service (SENA) has given us some workshops.
Pressenza: How many ex-combatants are part of the project and how many families derive their livelihood from it?
D.S.: We are a non-profit corporation, made up of 10 peace signatories, of which I am the only woman on the team.
More than 15 families depend on La Trocha Beer, including direct and indirect jobs.
Pressenza: Did the ex-combatants who are part of this project belong to the same front?
D.S: Most of the ex-Farians in this project are ex-political prisoners, and we met each other in prison and three of my colleagues we met during the signing of the Peace Accord.
Pressenza: This is a craft beer, what is its main characteristic, do you have different flavours and/or sizes?
D.S: We have two styles, a porter ale (high fermentation, dry and its alcohol content ranges between 4.5 and 5.5%), and a wheat beer with passion fruit.
Both beers are available in 330 cc non-returnable bottles, with Invima registration.
Pressenza: In which cities can we find both beers?
D.S: For now, we are in Bogotá, Medellín, Cali and Neiva.
Pressenza: According to the agreement between the government and the ex-combatants, what is your perception of the support that the Cerveza la Trocha project has received and the protection for ex-Farians who have returned to civilian life?
D.S.: The agreement is comprehensive and has the Integral Reform as its backbone, of which not even 20% has been fulfilled.
It is therefore important to remember that the majority of the ex-Fariano community is in the countryside, and this non-compliance affects the right to life, the non-intervention of tertiary roads, land tenure has not been defined, among other commitments that have not been carried out. This makes it more expensive and difficult to market the products that we ex-combatants sell.
Pressenza: What repercussions or impact do you think this project could have in the future for the ex-combatants?
D.S: We hope that it will become a reference of persistence, tenacity and support from civil society for the implementation of the Peace Agreement. For this reason, we are registered with the District Institute of Tourism and we hope that the inhabitants of Bogotá and tourists will visit the House of Peace located in Bogotá, and the House of Memory, built in Medellín, Antioquia.
Pressenza: What future projects do you have for "La Trocha" once Covid-19 is over?
D.S: Our goal is to consolidate ourselves nationally and enter the international market, as some people abroad are already interested in our product, and in the history behind this project.
Pressenza: Does your project currently receive any support from the national government?
D.S: None. Except for some invitations from the Agency for Reincorporation and Normalisation (ARN) to some events to market our products.
Pressenza: From your perspective as an ex-Farmer and now an entrepreneur, do you believe that these types of initiatives that were born as a result of the Peace Accord help to create paths of reconciliation and opportunity and make Colombian society more equitable and democratic?
D.S.: Of course, they do. Paths of peace and reconciliation are created because they are evidence of our commitment to implementation. In addition, it has allowed us to interact with various sectors of civil society, with whom we are very grateful for buying our products and especially for visiting us in the Casa de la Paz.
And we will only achieve a more equitable society when radical transformations are made in economic policy, which will allow us to close the enormous inequality gap that exists in our country.
Pressenza: Where can people who want to buy this product contact you or can they buy it in a specific store?
You can come and visit us at our headquarters at Carrera 13 # 36-37 in Bogotá, and you can search for us on Google and through Facebook, Instagram or Twitter as @LaTrochaCerveza. Welcome!