HUMAN FRATERNITY AND INTERRELIGIOUS DIALOGUE:
SEEING GOD IN THE 'OTHER' #4/4
by Genevieve Balance-Kupang
On Interreligious Dialogue
Thank you for reading this series' 1st, 2nd, & 3rd articles: https://www.pressenza.com/2021 /12/human-fraternity-and-interreligious-dialogue-seeing-god-in-the-other-1-4/. https://www. pressenza.com/2021/12/human-fraternity-and-interreligious-dialogue-seeing-god-in-the-other-contd-2-4/. https://www.pressenza.com/2021/12/religion-at-the-service-of-fraternity-fratelli-tutti-human-fraternity-and-interreligious-dialogue-seeing-god-in-the-other-contd-3-4/.
For the past days, the bases for dialogue with the religious "others," the joys and challenges of engaging in IRD were shared. We learned that as brotherly and sisterly relations were forged, the spiritual, moral, ethical, and cultural goods are nurtured and circulated.
The essence of the encyclicals like Nostra Aetate (NA), etc. to Fratelli Tutti came alive through the lived experiences of the resource speakers from among the CICM missionaries, the Catholic Bishops Conference of the Philippines-Episcopal Commission on Interreligious Dialogue, other congregations and lay IRD movements (Mission Society of the Philippines (MSP), Pontifical Institute for Foreign Missions (PIME), a diocesan priest from the Prelature of Isabela, Basilan, Order of Friars Minor (OFM), the Focolare Movement, Religions for Peace, the Peacemakers' Circle Foundation, Inc. and the Silsilah Dialogue Movement/Xavier University, CDO).
Undeniably, the presence of the religious leaders from other faiths who led the prayers and speakers who expounded on Religion at the Service of Fraternity made the event wide-ranging and inclusive. The participants appreciated the comprehensive line-up of topics. His Excellency, the Most Reverend Edwin De La Peña, Bishop of Marawi commented "Wow, it was a great conference; very well organized where you tried to cover all the bases. As we say it here, Padayon, or go onwards!" Ma'am Mercedita Tabuclin of Davao City expressed "…That was a very enriching and liberating experience for me." Bro. Romeo Sani from the Asian International Formation Community shared "… I am so happy to read this very insightful work you have done. What touched me the most is this beautiful hymn on universal brotherhood which you put in the beginning. This article teaches a lot because within it, is the frame of IRD. Catholics, Hindus, Buddhists, Bahais, Indigenous Peoples, and Muslims have their experiences shared there. And thank you for choosing the most fitting words for this article. Sentences and pictures fit better with the reality we lived during our session. Thank you, Ma'am, and Congrats for this work."
ENGAGING MORAL IMAGINATION FOR CO-CREATIVE INTERFAITH ACTIONS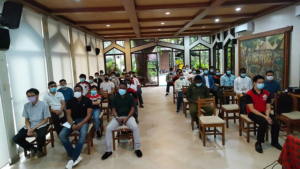 The CICM IRD participants relishing what transpired for the past three days; then they were led to apply the disciplines of Moral Imagination in designing doable IRD initiatives in their mission area.
In using the principles of Moral Imagination, it was good to recall what Fr. John Mallare, CICM shared as the obstacles to IRD. They are insufficient grounding in one's faith, insufficient knowledge, and understanding of the belief and practices of other religions, leading to a lack of appreciation for their significance and even at times, to misinterpretation, socio-political factors, or burdens of the past (such as the crusades, terrorist attacks, among others). Self-sufficiency, lack of openness leading to defensive or aggressive attitudes, a lack of conviction concerning the value of IRD, a polemical spirit when expressing convictions, intolerance, and features of the present religious climate such as materialism, indifference, and the multiplication of religious sects which creates confusion and raises new problems (Redemptoris Missio and Evangelii Gaudium).
Dr. Marites Guingona-Africa, Dr. Genevieve Balance-Kupang, and Fr. John Mallare, CICM, workshop facilitators urged the participants to apply the disciplines of Moral Imagination in planning for Interreligious Dialogue Initiatives in their respective mission area. This session provided the participants with the tools and guidelines on how to engage effectively in interfaith dialogue as they imagine serving their respective mission community.
Moral Imagination, according to Dr. Africa, "is the capacity to imagine something rooted in the challenges of the real world yet capable of giving birth to that which does not yet exist." This is the reason why the CICM seminarians, though some do not have a mission yet, were encouraged to imagine an experience.
The acronym PACT was also shared as an additional guide for their planning: Presence inspires possibilities for PEACEBUILDING; Awareness develops Acceptance of DIFFERENCES and uniqueness of the "other;" Connection builds COMMUNION; and Truth builds TRUST. PACT comes as a real implication of our moral imagination. This is so because Presence, Awareness/Acceptance, Connection, and Truth are vital elements when we work or live in an IRD setting. All the elements of PACT express Love. When we love, we will be Present, Aware, Connected, and will promote Truth among our brothers and sisters. In this sense, they become concrete implications of the Moral Imagination since Moral Imagination challenges us to be Christ-like. And to be Christ-like implies Love (let's remember that Jesus died for us out of love, even for those who were his enemies). Therefore, we cannot separate Moral Imagination from PACT.
The CICM Seminarians gathered for this workshop because their charism and missionary options are aligned with IRD. Working with Non-Christians stands among the first two and main missionary involvement: mission for and with the poor, and mission for and with Non-Christians. Therefore, all those CICM in initial formation have been invited to reflect on the implications of IRD in their lives and future missions.
The Spirit of Fratelli Tutti is also well expressed like the advancement of interfaith dialogue and affirmation of all that is authentic in other world religions. As Pope Francis said, what matters is not what religion we belong to, but primarily, what matters is the capacity to see and recognize our brother and sister who are in front of us.
Below are the snippets of each group's imaginative articulations integrated with the prayer expressed at the beginning of the webinar. The process and outputs were captured via these images which were creatively synthesized via the following prayer as Dialogue begins from God and brings people back to God.
We dedicate our gratitude to You, O Lord, Creator of our human family. Pour forth into our hearts a fraternal spirit.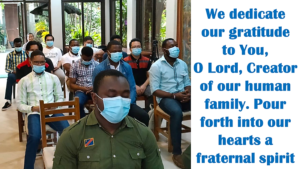 May we see the Divine in each other. Ever unite us, as one community of joy, hope, love, and peace.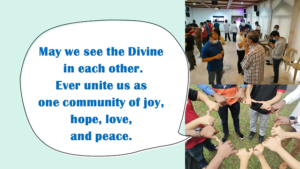 Caring for creation as wise stewards, bringing glory to God.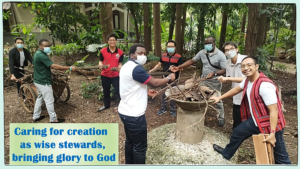 Ever inspire us to live more genuinely and authentically…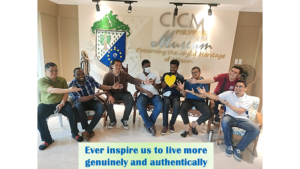 Celebrating diversity…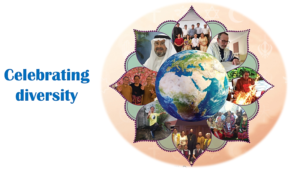 Affirming unity…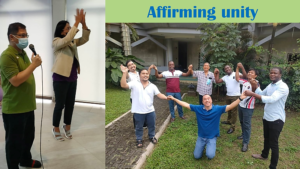 Pursuing peace…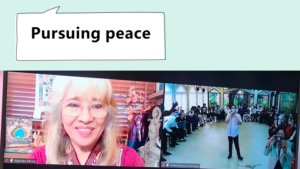 Not just for better relations among religions and philosophies…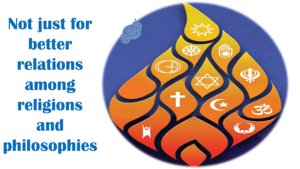 But for a harmonious co-existence, a more just and peaceful world, Amen.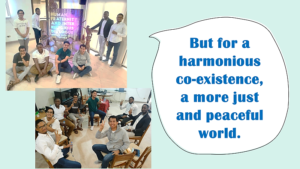 Sample snippets of their creative articulations using Moral Imagination.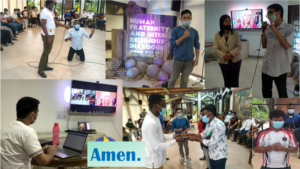 To conclude, it is good to highlight the importance of being Human. Every so often, our different religions are the source of our division. Therefore, let us all be more human and humane. Because despite our faith traditions, we all belong to our common home as brothers and sisters, of the same community, hence the title of our IRD Webinar "Human Fraternity…" (and not religious fraternity)!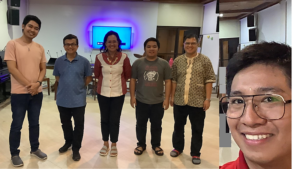 Coordinators Fr. Adorable Castillo, CICM (2nd fr. L) & Fr. John Mallare, CICM (5th fr. L) pose with the technical team John Ervin Felix, Elson Magan, Rei Florentino Conde, and main facilitator Genevieve Balance-Kupang.
——————————————————————————————–
About the author: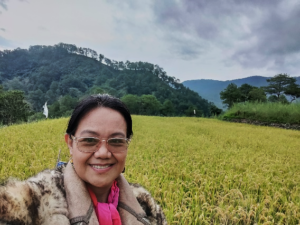 Genevieve Balance Kupang is a lay associate of the Episcopal Commission on Interreligious Dialogue of the CBCP; the chair of the Special Interest Groups of the World Council for Curriculum and Instruction; an incorporator of the Asian Social Institute; a researcher, resource person, consultant, author, and has a career in the academe and NGOs.