"The fight for our planet,physical and spiritual, a fight of cosmic proportions, is not a vague matter of the future;it has already started. The forces of evil have begun their offensive…" Aleksandr Solzhenitsyn, 1978
The Save Our Right Group, Unite for Freedom, GB Resistance , and the common people of England went to the streets of Central London last Saturday October 3oth to protest against an apartheid society being created by Vaccine Passports in other Anglo-Saxon countries, the likes of Canada, Australia, and New Zealand in order to prevent this from happening in The United Kingdom. "We call for freedom from draconian measures,medical tyranny,and for an end to vaccine passports", said a spokesman from Save Our Rights UK. The group also stated that " a global problem needs a global solution" calling on thousands of individuals and families from all over the country to unite and raise awareness against domestic vaccine passports and the latest approved jabs for 5 to 11 year olds.
Many thousands gathered in London's Hyde Park Corner at 1pm on Saturday afternoon and soon afterwards began marching to Parliament Square, Trafalgar Square and Oxford Street holding banners that read: "No Vaccine Passports", "Medical Freedom", Freedom Versus Tyranny". Hundreds of demonstrators were holding St George's Flag (a symbol of England). Many marchers then went on to rally outside the Australian and Canadian Embassies in Trafalgar Square calling an end to dictatorial powers being imposed in those countries and uniting with the people of those nations in rejecting medical mandates.
Alex Belfield, an independent ex-BBC journalist summed up the March in just a few words: " Imagine being in a world where we have to take to the streets for Freedom".
Since writing this article another march took place outside Parliament Square on the night of the 5th of November to commemorate Gido Fawkes Day (see pic below)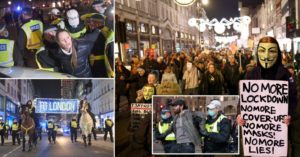 where demonstrators gathered wearing masks and setting alight hundreds of fireworks and bonfires, one of them with Boris Jonhson's effigy. Activists were chanting "Stand up for Freedom" and holding a banner that said "UK Gov't Suicidal Maniacs"