An Interview with Sr. Anne-Marie Brittain, NDS about her book: A No-Word
by Genevieve Balance-Kupang
The trees, flowers, and plants grow in silence.
The stars, sun, and moon move in silence.
Silence gives us a new perspective…
We need silence to be able to touch souls.
-Mother Teresa
Amid the challenges of the pandemic, climate change, and recently the Afghan crisis, what has helped was the observance of protective health measures and the spiritual practice of transforming our shared seclusion to communal solitude. Our collective suffering has been the seedbed for deepening what is sacred, embracing humility and seeking help from others, and nurturing resilience.
Regular strolls along the streams and verdant forests (walking meditation) have aided psychological wellness. Cultivating inner peace is paramount while advocating for the cessation of ecological destruction and flawed development paradigms.
Since we have faced enormous difficulties, everybody yearns for healing and the flattening of the covid 19 cases. To build back better, greener, and fairer (Zhenmin, 2020) is part of the reasons for hope and action.
The blessing of solitude helps me to value more the gifts received and continue to enjoy receiving from family and friends. One of those gifts received during this contagion is the book titled "A No-Word: The Silence of Zen" penned by Sr. Anne.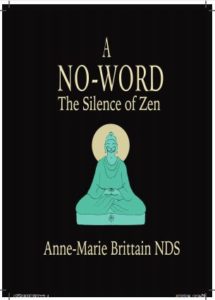 The book is an exposition of silence in Zen Buddhist practice in the Philippines as experienced through the lens of a Catholic nun, Sister Anne. She is a UK national who belongs to an international congregation, the Notre Dame de Sion (NDS). She authored A Creative Word, Bibliodrama-A Transformative Word, and a third book, A No-Word, which is the focus of this interview.
 Genevieve Balance Kupang (GBK): Blessings and peace! May I express my great thanks to you, Sr. Anne for the gift, the written words of "A No-Word: The Silence of Zen." Reading your book brings to mind activists and gurus like the Dalai Lama and Thich Nhat Hanh. What has drawn you to Zen?
Sister Anne Brittain (SAB): The names you mentioned are inspirational human beings, world-famous, amazing people. My story is quite ordinary.  When I moved to Manila, I missed the silence of nature. I yearned for a place where I could hear nothing; where traffic had stopped and where I could share silence with others. We happened to have a woman living with us who needed a safe space. She was a long-time Zen practitioner, attending the Marikina Zendo.  I obtained the address from her and attended a Taste of Zen as it is called; six weeks of short Zazen (sitting in silence). This was the beginning and one of the many surprises of God in my life.  I participated also in Christian Meditation retreats; silence IS silence but the traditions out of which practices have emerged are distinct and different.  It is fascinating to encounter Zen.  I am constantly learning. My companions are from all over the world sitting in different time zones. The attraction is existential, and I have no words to describe it!
GBK: You mentioned God as a God of Surprises. What did you find out in your journey? Tell us the highlights of the possibilities of integrating wisdom from Jewish-Christian traditions with adult faith development.
SAB: That God is surprising has long been my lived experience.  I only need to look at nature to see this reality.  Nothing remains the same, change is constant and cannot be controlled. The God of Surprises caption is the title of a beautiful book written by Gerry Hughes SJ, whom I knew personally.  He was a wise man and his writings emerged from deeply reflected life.
I find that each day opens new opportunities, and these cannot be predicted; my role is to be alert, open and active.
My research and writing came from a fascination with the Word of Scripture and the No-Word in the ancient tradition of Zen. I found that both give life and have their part to play in spiritual transformation. Zen has the words of the Koans, which cannot be analyzed or understood intellectually. Zen keeps my mind humble and searching. Judaism is the mentor in textual work; Hebrew is an earthy language, expressing from the body to the mind.  More normally languages work the other way.  Maybe indigenous languages are also body-based. So, wisdom from Jewish sources can expand and deepen Christian Spirituality.  Jesus was Jewish. The Catholic Church, since Vatican II (60 years ago), onwards has urged us to learn from the sources, to deepen our knowledge and appreciation of our roots.  This is my passion and I know that such work is life-changing because it has changed me.  In the process of my research, I encountered three wonderful human beings who traveled this road ahead of me: Jules Isaac (Jewish), Charlotte Klein (NDS Sister) and James Parkes (Anglican Priest).  This topic is what I wrote in the first book–A Creative Word.
GBK: Zen is enabling wisdom, born and alive in Asia.  As a Catholic from the West, what could be the reason that some Westerners are attracted to it?
SAB: There are reasons as there are people who begin to practice Zen. Why I do what I do, can be mostly hidden from me.  Yet Zen does represent the other side of a coin. As such, it can be attractive and an alternative to Western thinking. One side of the coin is analytical mind, dualistic thinking, separation.  Zen sees the futilities here.  Wisdom experiences (Kensho, Enlightenment) reveal a different world, which cannot be spoken about but only experienced.
Zen reveals all is all, I am all, you are all and yet all is void; all I think is illusionary.
Maybe some Westerners are hoping for a "quick fix" and that is why they start Zen practice. They want to experience something which will heal them, give them ultimate peace, and satisfy deeply buried desires. My experience is that Zen practice is a hard disciplined road. Westerners who are attracted to it and persevere may find that surprises await them.  Zen has buried treasures which cannot be predicted or held, they can only be experienced. The search goes on and is never exhausted.
GBK: What is it in Zen meditation that made you participate in the practice? You already have your regular prayer times as a community/Eucharistic celebrations and other rituals.
 SAB: The Branch of NDS to which I belong is called "Apostolic." This means that we do not pray all the schedules of our Contemplative Sisters. We pray together each morning, have our personal daily prayers, Sunday worship, and other communal celebrations.  It is encouraged that we have a spiritual guide/director. I have been gifted with a Filipina sister who has accompanied me regularly over many years. We also have an annual retreat time during which we are freed from community tasks. On retreat, we have the privilege of more space and time, and we are usually accompanied by a director.  Some retreats are closer to Zen practice, while others use imagination (which I deal with in my book on Bibliodrama–The Transformative Word).
The practice of Zen leads to stripping off layers of trivia, internal gossip, or repeated inner stories.  I experience it as a demanding process that yields results. I notice my growth in levels of awareness, and patience with myself and others.  I sense changes in my value system and an inner space that can reach out in generosity.  Anger, impatience, aggressiveness, negative perceptions/reactions of course are still there, and I am glad to experience the range and totality of my emotional life.  But somehow reactive behavior has lessened, and reflective behavior has grown.  This change is not a trajectory, but more like a deepening circle.
GBK: Can Zen help in society's transformation? Does your research contribute towards interreligious ecological ethics?
SAB: People are changed through participation in different processes and practices, one of which is Zen. There is no doubt that the patient practice of Zen can heal.  It can give creative energy for involvement and actions for social change.  The stories I recount in my book–particularly that of Sr. Elaine McInnes, the Canadian Sister who founded Zen practice in the Philippines show this truth.  Arriving in the Philippines during martial law, she was asked by a political prisoner to teach meditation to the prisoners. Having gained permission from Marcos and granted protection for both the prisoners and herself, she answered the request. Over some years and at considerable personal risk she enabled prisoners to live that horrific experience of unjust incarceration.
The lengthy time she lived in Japan, where she had practiced, and been recognized as a Roshi/Enlightened teacher, prepared her for the Philippine mission.  After the Philippines, she was instrumental in setting up Phoenix Prison Trust in UK; an NGO comprised of volunteers.  They teach meditation and yoga to prisoners; publish and share resources.  Prisoners are encouraged to share their experiences of meditation.  I have the privilege of receiving their newsletter and attending their live online events.
The Marikina Zendo has opened to practitioners from all over the world.  The leaders organize Zen on Google Meet when practitioners can join.  Japan is the ancestral root, with continual contact between the Roshi and the Zendo. Teishos/teachings are given by Roshis from different countries. Present practitioners are in Guatemala, Canada, Switzerland, Germany, the US, UK, Ireland, and the Philippines. Most of this growth has been happening during the pandemic.  The need to reflect, meditate and respond to the needs around us from an inner place of peace has grown in intensity for some people.  Institutional religions are not always able to answer people's aspirations; their structures can make it difficult for them to adapt to this fast-changing world.
My book is a very modest contribution within the vast spectrum of thinking on interfaith.  It was written out of my experience. If it helps anyone on their journey, I am glad.  It has helped me to express what burnt within me. My search continues and we will see where it leads.
 GBK: What else would you like to say to the Pressenza readers?
SAB: If you have reached this point and not skipped over too much, thank you.  Any comments would be appreciated. Let's go forward together as world religions, committed to creative presence and actions in the world.  Let transformation start with each one of us, where else can change really happen?
GBK: Sister Anne, I treasure your book and am grateful for this interchange. Thank you for sending out positive energies to the world. You are one of those who continue to send many acts of loving-kindness within the community to aid people to cope with the impact and human toll of the pandemic. Iyaiyaman, Sister Anne!
---
About the writer: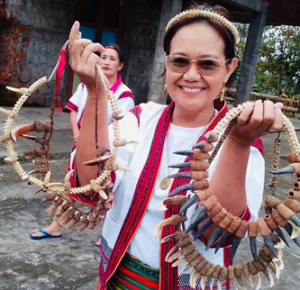 Genevieve Balance Kupang (Genie) is an anthropologist, consultant, researcher, and advisor to individuals and organizations engaged in working for good governance, genuine leadership, justice, integrity of creation, peace, the indigenous peoples, preservation of cultures, and societal transformation processes. She is a peace educator, author, interreligious dialogue practitioner, and resource person with a career in the academe and NGO.