Original publication: UN Verification Mission in Colombia
Adriana Cuaspud was born and grew up in the village of Miraflores, in the municipality of Cumbal in Nariño in southern Colombia, in the heart of a peasant family. Like everyone else, she wanted to study and get ahead in order to support her family. He managed to study up to ninth grade in the village school, but was unable to continue his studies because one day, due to the lack of students, the school was closed. Without a school, many opportunities vanished for her, as well as her intentions to help her family get ahead. One day, the FARC guerrillas came to her village and, as a young and restless girl, she was struck by the sight of women in camouflage and with weapons. She made a decision that changed her life and led her to join the ranks of the now defunct FARC guerrillas for 19 years. There she was trained in journalism, economics and received military training, so she felt at the time that it had been the right decision.
When the talks between the Colombian government and the guerrillas began, like many, he felt uncertainty and mistrust. Even in the midst of the bombings and fighting, she watched from a distance as the talks were conducted between the parties, hoping that they would lead to something good for her and her comrades. Finally, the news they had all been waiting for arrived and the peace agreement was signed. She began her journey towards laying down her arms. "We laid down our arms, but not our convictions," she says firmly.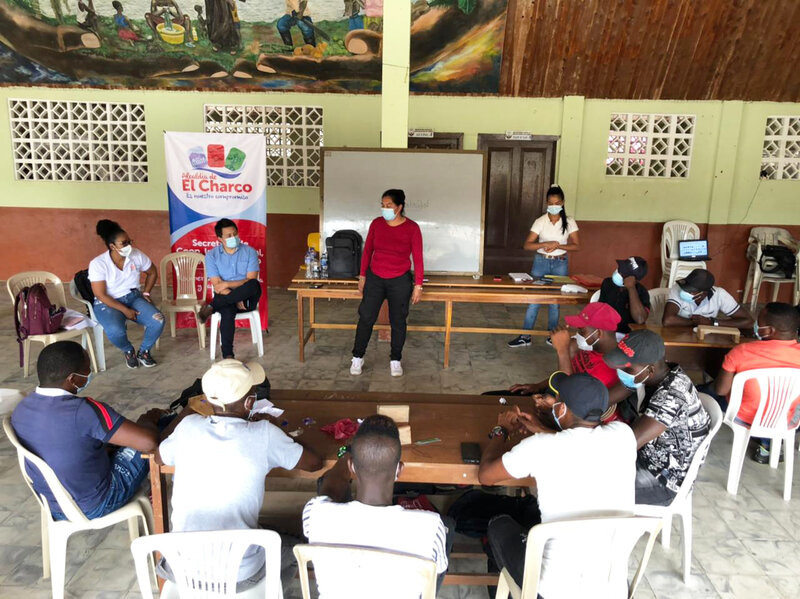 Adriana Cuaspud in a meeting with people in the process of reincorporation in the municipality of El Charco, Nariño. Photo by: Nadya González, UNVMC
She is also a member of the Board of Directors of Fedecomún, the federation of social and community organisations in south-western Colombia, which brings together all the associations of people in the process of reincorporation in Valle del Cauca, Cauca and Nariño. From there, it promotes the productive processes of its partners and community reincorporation initiatives that help to boost local economies.
"We laid down our arms,
but not our convictions," she says firmly.
It is because of these convictions that today, she is one of the most active representatives of former FARC members in the department of Nariño. She is a member of the Departmental Council for Reincorporation and promotes and accompanies the development of an agreement signed between the Governor's Office and the Agency for Reincorporation and Normalisation, together with five mayors' offices in the department, which aims to effectively advance the reincorporation process.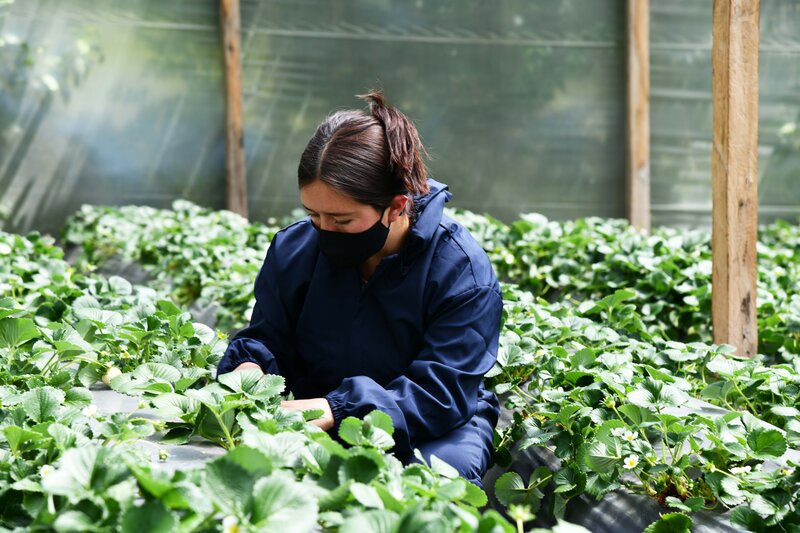 The World Food Programme supported the Association in the development of this productive initiative. Photo by: Nadya González, UNVMC.
Her desire to grow and learn is as strong as when she was a child, so since she began her reincorporation process, she has taken advantage of every opportunity to access training and has taken first aid courses with the National Learning Service (SENA) and completed a technical course in nursing assistance with the Red Cross.
Back in the land where she grew up, she decided to promote a productive project in Miraflores, where, with the support of the World Food Programme (WFP) and the United Nations Verification Mission, she was able to make another of her dreams come true: to help her family and neighbours. After two years of work, they now have three greenhouses where they produce strawberries. "We received training from SENA in fruit processing and learned how to make yoghurt, desserts and jam," she says. The WFP donated them the machinery to do the transformation and they continue working and looking for allies to make this enterprise grow, which seeks to benefit more families in the village. Step by step, they are looking for allies to legalise their brand, achieve certification in Good Agricultural Practices and obtain certification from the National Institute of Food and Drug Surveillance (INVIMA).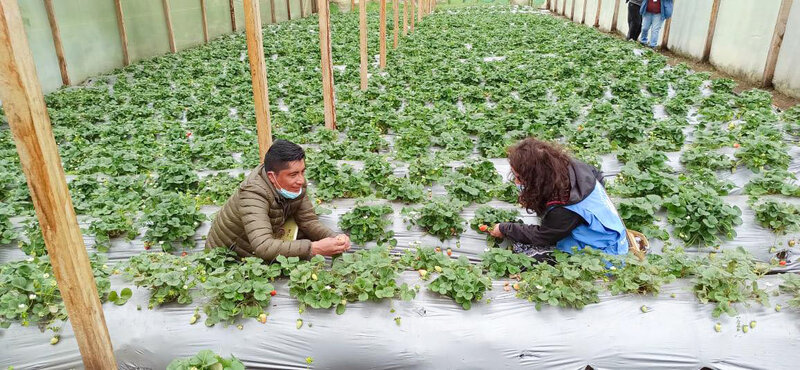 Productive initiative of the agricultural association Forjadores de Paz, made up of ex-combatants and their families in the village of Miraflores in Cumbal, Nariño. Photo by: UNVMC
For now, 22 people work in the three greenhouses they have and market the fruit locally, door to door with effort and determination. They know that to achieve the large and prosperous enterprise they want, they must work hard and they are producing about 50 kilos of great quality strawberries a week.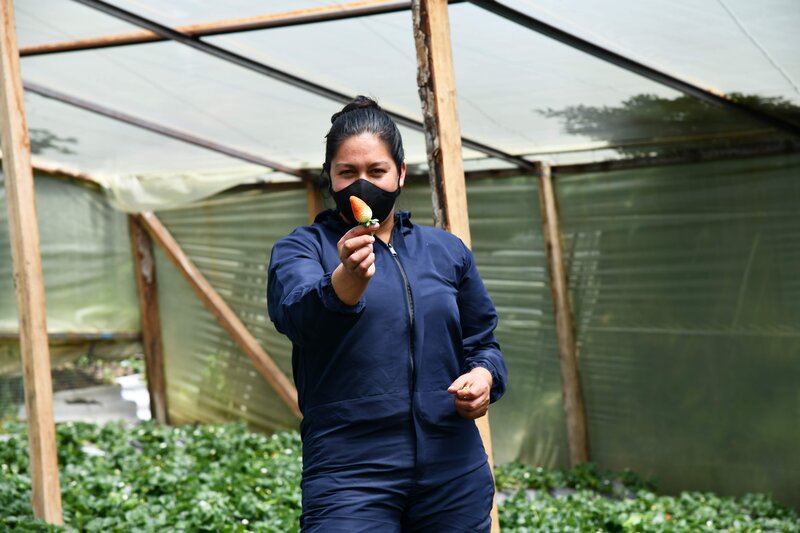 Adriana Cuaspud leads this group of people who are betting on agriculture and innovation to help their families get ahead. Photo by: Nadya González, UNVMC
"I tell the women that this is about interest and commitment to get ahead. Women don't have to be subjected only to the work of the house or the home. We can work as equals, so it is time for us to continue to be enterprising, we all have the same capabilities," says this woman who has already come a long way and sets an example of leadership and determination.
"To women I say that

this is about interest and commitment

to get ahead".
About her greatest desires, she affirms that "we want change, it has not been easy to work for peace. We have been living in conflict for many years now, but the hope is to continue working so that if we don't achieve it, it will be the new generations who will have health, education and decent housing".
To those who are suspicious of the will of the vast majority of people who are in the process of reincorporation, she replies: "we are committed to peace, that was the commitment we made when we signed the agreement and laid down our arms, and here we are fulfilling it". She is one example of the many who are working in Nariño and tilling the field as peacemakers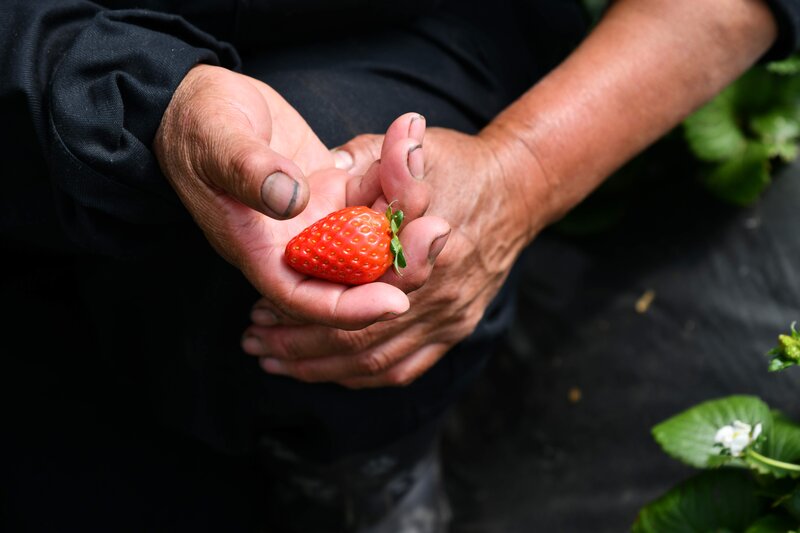 The members of the Asociación Forjadores de paz work in the 3 strawberry greenhouses, and manage to harvest an average of 50 kilos of strawberries per week. Photo by: Nadya González, UNVMC.
"We are betting everything on peace.

to peace, that was the commitment

we made with the signing of the

agreement and the laying down of arms

and here we are fulfilling it".
Nadya González
Public Information Officer – Pasto Regional
UN Verification Mission in Colombia