The academic update Humanizing Education: intentional learning, affectivity and new roles in the educational space, held the closing meeting of its first cohort on Wednesday 19 May, in a virtual way. The postgraduate course was taught at the Instituto de Educación Superior de Formación Docente y Técnica 9-002 Tomás Godoy Cruz, a state-run public institution located in the province of Mendoza.
In an atmosphere of great affection, the teaching team and the students shared their testimonies of what they had learned and experienced during this year of study and practice of the foundations of the Pedagogy of Intentionality. The postgraduate course, which was attended by around 40 students, has been approved by the General Directorate of Education of the province. Andrea Novotny was in charge of coordinating the refresher course, while Noelia Cartofiel, Pía Pagano and María de los Ángeles Curri coordinated the modules.
"It was a beautiful meeting, I continue to be impressed with each shared story, how the bases of Humanising Education could be transmitted virtually. It was very inspiring, it renews the energy of believing that every day we are a little bit closer to the future we want", remarked Atilio Clementín, teacher of the postgraduate course.
New cohorts of the Academic Update will continue, while in June the Higher Level Teaching Specialisation in Humanising Education will begin – also approved by provincial resolution – which will deepen the contents which were addressed during the first year.
The update is based on the book Pedagogy of Intentionality, Educating for an Active Consciousness, by Mario Aguilar and Rebeca Bize; and on the contributions of Silo's New Humanism. The teaching team is part of the Universalist Humanist Pedagogical Current (Copehu), which has been developing content, holding international meetings of educators and providing educational spaces since 2011 in different countries.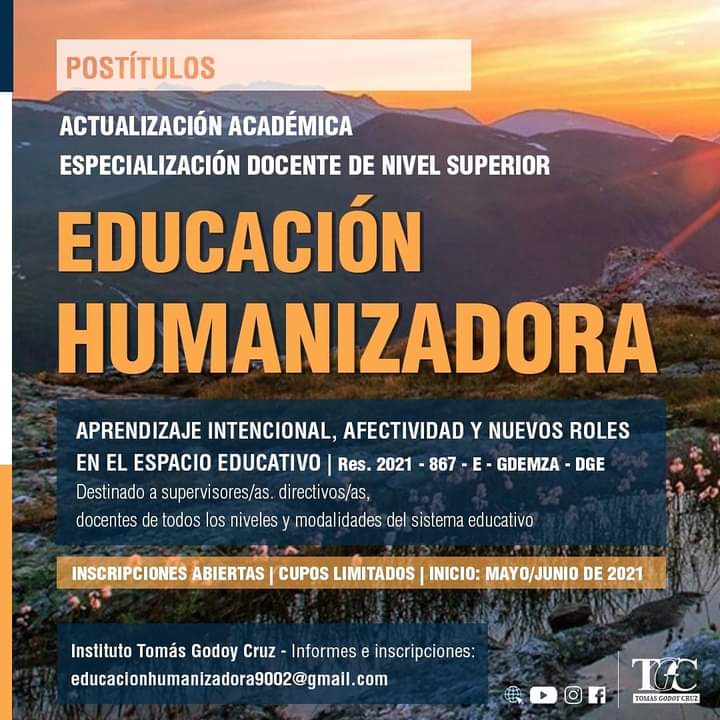 As a final summary, teacher Noelia Cartofiel shared the story "We are seeds", recovering the students' contributions:
"We are going to invite you, men and women, which we are going to take a few minutes….

We are going to close our eyes to find ourselves.

We are going to be aware of our breathing, inhale and exhale. With each inhalation we feel how our inner light fills us. With each exhalation we notice how our body relaxes.

How are my feet?

What register do I have of my body?

How is my mind?

How does my heart feel?

Can I recognise tension?

Can I quiet my thoughts?

Can I perceive my heartbeat?

We breathe…

We open our eyes…

We look at each other…

Not only the image of the camera, nor what the screen reflects.

We go through our gazes.

Can I recognise the gaze of each and every one of those which are at the meeting?

We breathe…

This is a gift which we want to leave you to keep in some corner of your heart.

WE ARE SEEDS

Once upon a time, in a place far, far away…

Well, not "once upon a time", but which there is and will be. And not so far away either… here close by, just around the corner, in a glance which escapes over a chinstrap, in a loud laugh which slips through an unmuted microphone at a Zoom meeting, in a message answered late but with just the right words, in a hug, in a breath, in a meeting…

Well, I've gone off topic…

There was once, there is and there will be a group of seeds. Dancing and restless seeds, seeds full of life, vocation, hope, awareness, gratitude and transformation. But, as usually happens with most seeds, they felt small, they thought they were alone in that green sea which gives us the grass of a field. The seeds could not recognise themselves as full of life, full of light.

Days passed and they began to feel the call of nature, of the wise and marvellous nature.

Now the seeds had to choose between continuing to keep their shape, that is, not to break and to continue being a small miracle which holds within it all the magic of life.

Or to break, to be reborn, to grow, to flow, to fill their existence with meaning.

Which is why, little by little, they let themselves be inhabited by this call to go out into life.

And as in every rupture, which is sometimes painful, sometimes difficult but always opportune, they let themselves go through and so some small shoots were born. Different sprouts, sprouts with different textures, with different colours, with different magic inside. Sprouts which were the beginning of a new life, of a new form.

Some grew a little at a time and with some resistance.

Other sprouts came to light quickly, supported by their inner ethics and grew so fast that they filled the park with nascent green.

Some confused sprouts did not know what to do, but with the strength of the whole they were encouraged to make their way to life.

Because that is what life is, a new sprout, a new rebirth, but above all a greening. Greening in inspiration, in openness, in a hurricane of emotions and happiness, but above all in gratitude. Greening and rebirth like a fire which opens the way, illuminating what we thought was in darkness.

And so, as they grew, they also discovered, healed, flew, understood, challenged, deconstructed and reconstructed themselves and changed the place which they inhabited.

And the shoots were reborn into stalks.

And the stems became trunks.

And those trunks became big and strong as trees.

And those trees were pierced by winter and its cold. By autumn and its mania to push us to let go. By spring and its desire to blossom and be reborn. And summer, what can we say about summer, which with its warmth and affection shows us the fruits of all our processes and chosen paths.

No two trees were the same. No two trees were the same size or with the same nascent green. What there was was a group of trees which, with learning, perpetual awareness, identity and humanity, felt themselves every day and never forgot which were the seed of a root change, of a new rebirth, of a constant learning and of an everlasting emotionality.

"We are seeds", we repeated to each other as a teaching team when this journey began.

"We are seeds", said a friend which left us the legacy of rebirth even when he was gone.

"We are seeds", we remind ourselves every time which we have to reinvent ourselves because we feel far from our internal unity.

And today we say to you: never forget which are seeds, which filled our path with sprouts of learning and pushed us to understand in depth, which is a complex but necessary process to make our way in life, challenging ourselves professionally and personally.

We are seeds of learning, consciousness and affectivity to Humanise the Earth.

We are seeds even in hostile terrain, even in a pandemic, even in difficult times.

Just as there is a sea of little fires, as Galeano said, there are seeds of change, all different and with their own intensity, which green up in their own time with such inner strength that they spread and push, which change and fill with life everything they touch.

You are seeds…
Thank you…"