LITERARY
by Zahra Patterson
We met in a dimly lit room
My heart was pounding
Just watching and waiting for the moment
He began to speak very slowly
I was drawn in from day one
Every week we met in that same place
We sipped wine listening to poetry
Soon, I would learn he, too, was a Scorpio
My first assignment was to begin journaling
Tell the reader about your daily walk, he said
Then, include details about a sexual experience
Clutching my pearls, I felt the intimidation
How can I share something so personal
With this new stranger, a fellow Scorpion
Slowly, my comfort zone became a canvas
The "Road Less Traveled" was my highway
The lesson unleashed a sensual side I had never dared
To divulge on paper, yet I couldn't stop writing
I became addicted to this newfound freedom
Two Scorpios had become one poet
He, the teacher and I, the novice student
Creative writing was my pure joy
I, like Frost, had become one traveler
Along a safe road that I never challenged
The dormant creative writer who was too afraid of criticism
Yet, my mentor, was never judgmental
Instead, he forced me onto the road less traveled
Through journaling in Writers on Writing
I was given the tools to analyze, critique and accept
Accept my true identity as a hibernating writer who wanted to be heard
I never saw myself taking center stage because family always came first
Lewis ushered me into creative spaces where I could shed the truth
Sometimes, dark spaces are scary when life's realties begin to surface
Lewis created a new genre for my voice to reside and wanted me to fit in
Not only did I fit in, but I took center stage at commencement
I've never felt more accepted, proud or wanted as a writer in that moment
In that safe, dark room where Lewis and I met every Monday night at 6PM
He was my introduction to graduate courses at LIU's English Department
My fellow Scorpion taught me to live freely and never be afraid to travel
down a road without footprints because sometimes, you have to blaze your own path!
Thank you, Lewis Walsh
Rest in peace
We will always celebrate our birthdays
On earth and in heaven
Love, Zahra Patterson
---
About the poet: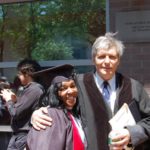 Zahra Patterson lives in Fort Greene, Brooklyn with her family. She is a program manager at NYU Tandon School of Engineering, Department of Finance and Risk Engineering and English adjunct professor at New York City College of Technology. Zahra earned her MFA from the English Department at Long Island University in 2010 and an MA from NYU Steinhardt in Secondary English Education with a minor in Special Education in 2018.
Footnote:
Homage to Lewis Warsh, who was a poet, a prose writer, and one of the founding professors of the MFA program in Creative Writing at Long Island University, Brooklyn Campus. Professor Warsh passed away on November 15, 2020. His students and friends honored his memory…writing.