SPIRITUALITY
by Genevieve Balance-Kupang
Mandala is a Sankrit word that means "sacred or magic circle." Babies as young as seven days old prefer seeing this primal shape known to man more than any other shape. In Asia, among Buddhists and Hindus, mandalas are circles symbolically designed to represent the cosmic order. Mandalas have some expressions of it in most diverse religions and indigenous traditions throughout the world as universal articulations of the human heart to be whole and achieve harmony and peace in one's being, and wholeness within creation.
To our dear reader, look at the mirror and greet yourself with a smile. Affirm your unique beauty with the mandala of your eyes. Everything we see passes through the mandala of our eyes as pointed out by Fr. Vincent Busch, SSC, a Columban missionary in Mindanao who has also written on mandala. This is one great realization for us, our eyeballs (pupil and iris) are mandalas embedded in our physical body. Likewise, we were first nurtured in our mothers' wombs, a mandala, before we came out kicking in our universal abode, we call Mother Earth, which has also the shape of the mandala.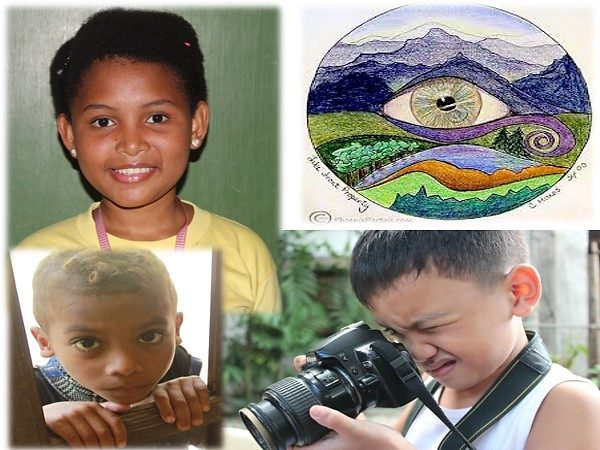 Our eyeballs are mandalas, used to seeing the beauty of creation.
Photo credits: AJ Jandusay and Marlon Nacienceno
Mandala art has been used throughout the world for self-expression, spiritual transformation, and personal growth. It is seen by Tibetans as a diagram of the cosmos. In Tibetan, the word for mandala is kyilkhor, meaning 'center.' Kalachakra means 'wheel of time.' It represents the totality of past, present, and future in an ever-flowing dynamics leading humanity to illumination or full individuation of the Self. It is used by Native Americans in healing rituals. Christians, too, have mandalas in their cathedrals. As a researcher, I was amazed to discover that the labyrinth & rose windows of the Gothic Cathedrals like Chartres, in France is a mandalic pattern used as a tool for meditation. Hildegard of Bingen, a visionary Christian nun has extensively drawn mandalas.
With Nepalese Buddhist monk Venerable Jamyang Pemba. He was part of the group of monks who created the sand mandala above.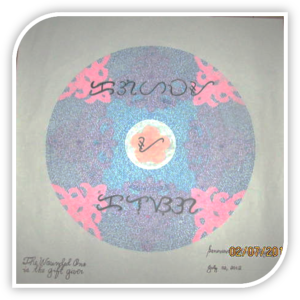 A mandala for healing.
The Celtic stone circles, the yin-yang symbol, the Navajo sand paintings, the Philippine Christmas star, labyrinths, ceremonial dances, wreaths, halos, dream catchers, liturgical seasons, among others are all mandalas that help people define themselves within a wider world of meaning and value. The mandala also fits the human experience of the natural world. The bloom of a flower, the circle of the horizon, the dome of the sky, the zodiac circle, the cycle of the seasons, the cycle of breathing in and breathing out, our life's journey vis-a-vis the universe story, before the womb and past after the tomb, have long inspired humanity to reflect upon their place in the greater scheme of things.
I also observed that whenever council of elders/tribal council discuss important issues in the "ato," "dap-ay" (council house in Bontoc and among Northern Kankanaeys), they are always in circles; our dance rituals in our indigenous tradition and the carefully arranged newly harvested rice plant "palay" in Filipino, we call "kinnapin ay pagey" in Kankanaey has also the shape of a mandala.
An archetypal symbol of wholeness, the mandala was used as a therapeutic art tool by psychologist Carl Jung, who believed that creating mandalas helped patients to make the unconscious, conscious. The process of creating mandala is an integrated tool where one is fully involved and participates. Just like other art forms and human endeavors, we indeed become co-creators with a creative God; it is an art form to express spirituality through silence, flow, nature, others, meaning, and altruism. From my personal experience, creating mandala boosts most of the cosmic sensors like awareness, extra-sensory perceptions, grace, intuition, intention, hunches, impulses, inspiration, promptings, soul messages, sudden insights, revelations, and even images experienced in dreams.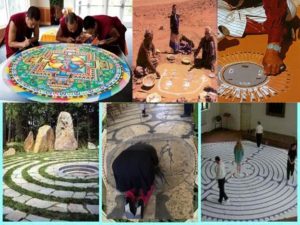 Mandala Arts are expressions of spirituality in diverse religions and indigenous traditions. They are articulations of the human heart to be whole and achieve harmony and peace in one's being and wholeness within creation. Photo credits: Louniza Napay (bottom center) and Sr. Severiana, SPC (bottom right).
---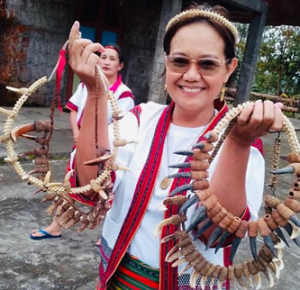 Genevieve Balance Kupang (Genie) is an anthropologist, consultant, researcher, and advisor to individuals and organizations engaged in working for good governance, genuine leadership, justice, integrity of creation, peace, the indigenous peoples, preservation of cultures, and societal transformation processes. She is a peace educator, author, an interreligious dialogue practitioner, and resource person with a career in the academe and NGO.