PAINTING
The Korean Cultural Center of Chicago is currently hosting a solo art exhibition by Dr. Kuhn Hong entitled "Ethiopian: Hands Stretched out to God" from April 16- 27, 2021. It was so heartwarming to connect with a Korean-born physician & artist who reside in another country but exhibiting artworks mostly done in my home country Ethiopia. It is thanks to my Ethiopian associate in Chicago, Mr, Abera Sisay of the Global Alliance for the rights of Ethiopians, who sent me the contact details of the artist particularly for this interview. Needless to say, Dr. Kuhn Hong was so kind in providing the information and fine images of his artworks. I would like to say congratulations on his solo exhibition and I shall let the readers get to know about him more.
Born in South Korea, Dr. Kuhn Hong worked hard at his academic studies since his youth. However, he found solace in his leisure time doodling on the back of papers. In primary school, his doodles won many prizes from art contests. In high school, he pursued art more seriously but was stifled by his parents who were afraid that an artist could not make a living after the war. As a result, Kuhn went to medical school, but that did not stop his love for painting. He joined a group of fellow medical students and nursing students and spent weekends painting together. They even had a chance to have art exhibitions.
After graduating from medical school, Dr. Hong came to Chicago, completed residency training, and started his practice. His brushes lay aside while he was busy working at the hospital and raising his family with his wife. It wasn't until his work on a short-term medical mission trip down the Amazon River in Peru, when he picked up his ink pen and reignited his creative fervor. While treating hundreds of patients in tiny river villages, he started to draw the people he encountered and the surrounding scenery in a small sketchbook during breaks. Copies of those ink drawings were shared with people who donated medicine, money, and prayed for his mission expeditions. His first solo exhibition was in Seoul, Korea after the gallery owner saw his ink drawings.
After many years of medical practice and mission trips, Dr. Hong retired and moved to Addis Ababa, Ethiopia to serve in a mission hospital as a volunteer radiologist for 5 years, from 2013 to 2018. During his time in Addis Ababa, he spent weekends and evening hours painting freely. He held exhibitions at Asni Gallery and at the mission hospital where he served. He was invited to showcase his artwork at Viviene Gallerie in Paris, France as well.
Currently, Dr. Hong resides in Chicago, IL. He is an active member of Palette and Chisel as well as Plein Air Painters Chicago and Duneland Plein Air Painters. He enjoys attending many workshops and learning more about technique. Often you will find him in Michigan City, Indiana, in his studio space inside the former St. Mary's School. He continues to showcase his art with a recent exhibition at the Lubeznik Center of Arts.
Here are some of the paintings on exhibit: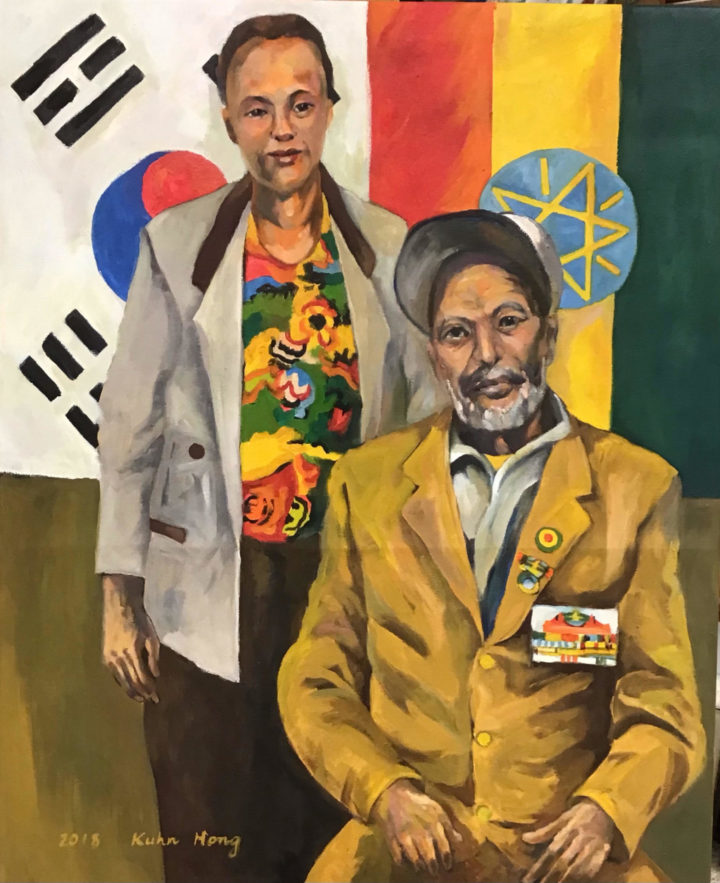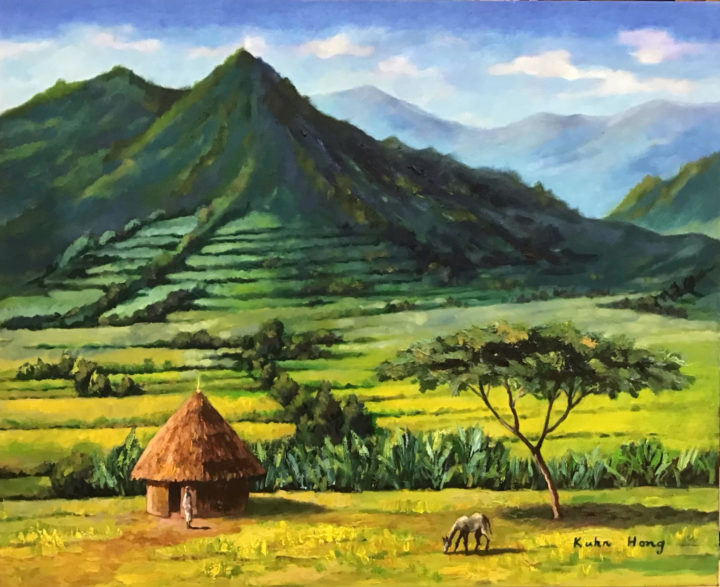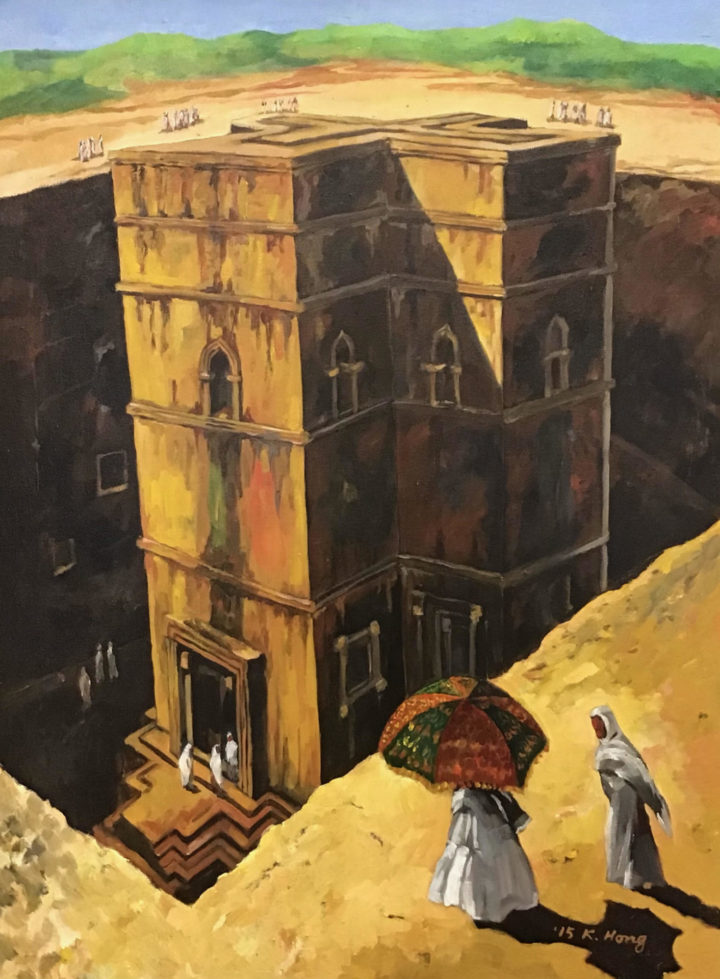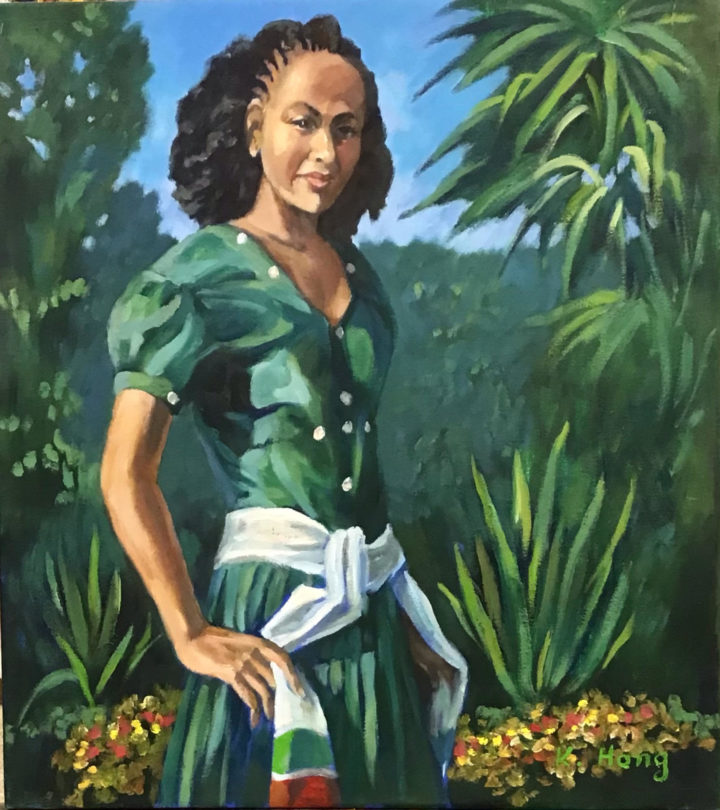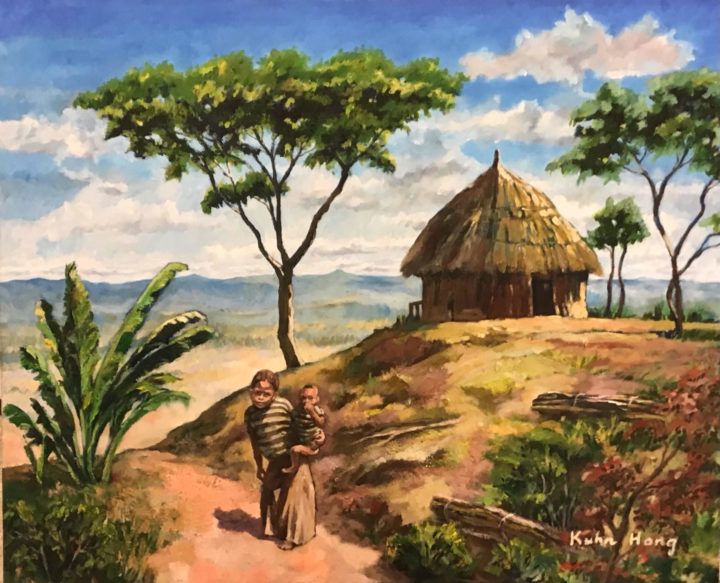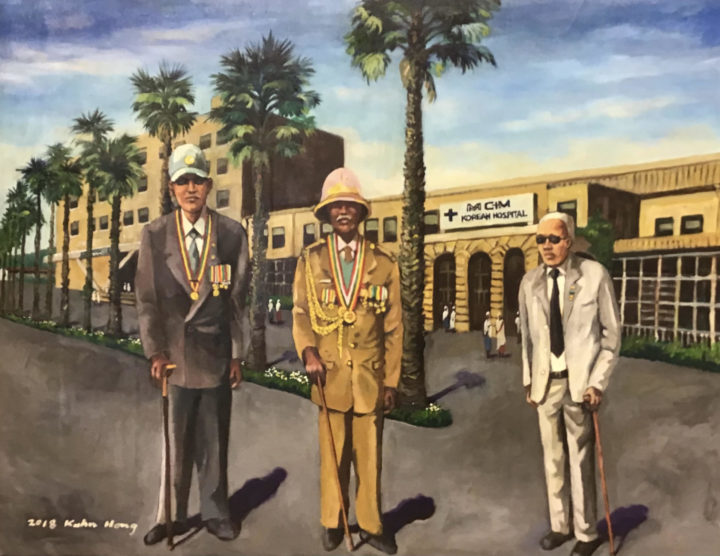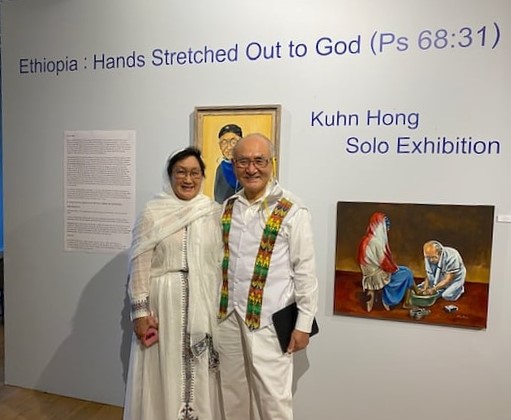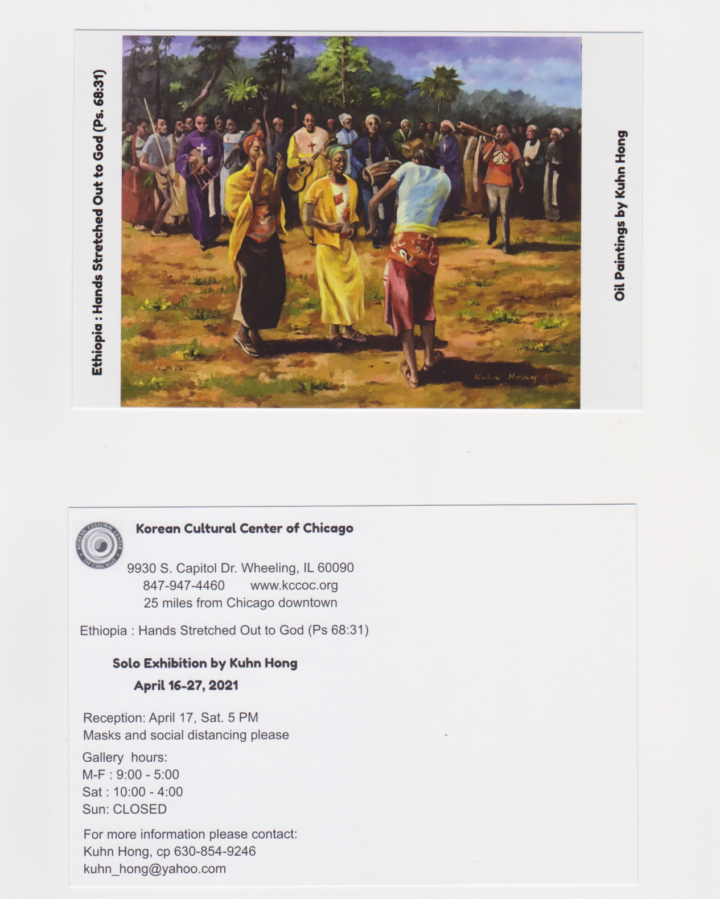 Bereket: Could you please share the motive that inspired the artworks recently on show? Why Ethiopia?
Dr. Hong: I served at the Myungsung Christian Medical Center (MCM) in Addis Ababa which is also known as the "Korean Hospital" for Ethiopians. I am a retired radiologist who worked in a Chicago hospital for 34 years before retirement in 2013. I lived in Addis for 5 years, from 2013 to 2018. While I was working in the hospital and taught medical students, I painted in the evening hours and weekends.
Bereket: How long have you been painting? When was your first exhibition? Do you link any connection with your medical field and doing art?
Dr. Hong: I have enjoyed painting since I was a little boy but my parents would not allow me to pursue a career in art since they thought an artist would not make a living in Korea immediately after the Korean War. We were a poor country then. My first solo exhibition was at SYN Gallery in Insadong, Seoul Korea in 2011. When I decided to go to medical school, at Seoul National University, the top one in Korea, I joined the Art Club. We gathered during the weekend to paint in the small room and had the experience of having an annual exhibition. Naturally, I did paintings related to the study of medicine and taking care of patients like in the Operating Room, etc.
Bereket: Do you have any deep personal experiences with the places, objects and items you show in your paintings?
Dr. Hong: Although I put brushes aside while I was busy in medical practice and raising children, I had the opportunity to be involved in short-term medical missions. During the breaks, while hundreds of patients are waiting, I started to sketch the people and scenery. Then I loved those people and places in exotic places. When I arrived in Ethiopia, I learned about its great history, culture and religion and loved to paint those.
Bereket: You have said in your artist statement that, I want to tell a deeper story through my paintings than what the original image might have captured. In this particular sense, what stories are you telling to the world through your painting?
Dr. Hong: Any ordinary tourist could take beautiful photographs from the scene in a short period of traveling. But living in the country and spending five years, I got to learn more deeply that which could not be easily captured by a casual encounter. Every single painting has a long story I would like to share while maintaining the beauty of the painting itself.
Bereket: It's nice and so beautiful to see your works– intensive beauty, attractive colors and still-life representation of subjects and objects. Any thoughts on abstracts?
Dr. Hong: I have seen and been challenged with abstract paintings and I also tried a few while I was struggling. However, I am more attached to realistic painting to express the feeling with common ground easily rather than a mixed message that could be transmitted by abstract paintings. I am not against abstract paintings and I love artists' creative works, but not for me.
Bereket: Since you're in your solo exhibition in Chicago, you might represent the Korean community and attract Ethiopians and others there as well. What's the feeling of being in a solo show with diverse communities?
Dr. Hong: Many Korean friends came to the show, naturally. Also, many American artist friends paid the visit. But many Ethiopians whom I never met came to the show and made friends for the first time. I will say "music and art are an international language". While I was in Ethiopia, I visited many rural areas as a part of the mobile clinic. Some village people would feel offended to be photographed and they even hated the flash since they were afraid their souls would be taken away by the flash. But they did not mind being sketched, and as a matter of fact, they were fighting to be in line to be drawn. Ethiopians living in the Chicago area loved to see their country and people in paintings which were rendered beautifully to make them proud of their heritage and background.
Bereket: As you know we are affected by the COVID19 pandemic globally. How is the pandemic affecting your daily life? Has it motivated you to express your feelings in any way artistically?
Dr. Hong: Although many mission hospitals around the world learned that we are back home and are asking us to come to help, we cannot travel now. I am helping to read CT scans from home by using a computer and Internet now, and Soddo Christian Hospital in Wolaita region is one of those. So I am painting at home using the computer images by Zoom session and had an exhibition related to the Covid virus in Michigan City, Indiana last October. The entire paintings were related to the patients, doctors, etc.
Bereket: Could you give words of advice to young artists in the beginnings of their careers?
Dr. Hong: My father was right to give up art in a poor country back in the 1960s. But may I challenge you to go where your heart is. Money is not everything. You find the life which you love. Just by watching the Korean situation, good artists make a good living as the economy has been blossoming. But regardless of the outcome of your success, you will be happier while you are doing what you love to do. Go for it! Whether you are in Ethiopia, Korea or America, do not be discouraged by someone who is against the idea of becoming an artist, musician, writer or actor/actress.