The European Commission has several technocratic ways of consulting with EU citizens. It also has several ways, again technocratically, to apply pressure to have certain issues (which citizens believe are not being adequately acted upon) discussed and on which a position should be taken. In a second context, during this period there are two on-going European Citizens' Initiatives which our agency is supporting in various ways. So far, both of these have reached 10% of their goals. And both of them have been officially extended – because of the pandemic – in spite of the fact that they have not passed their expiry dates. Let's take a look at them.
1.European Citizens' Initiative on Basic Income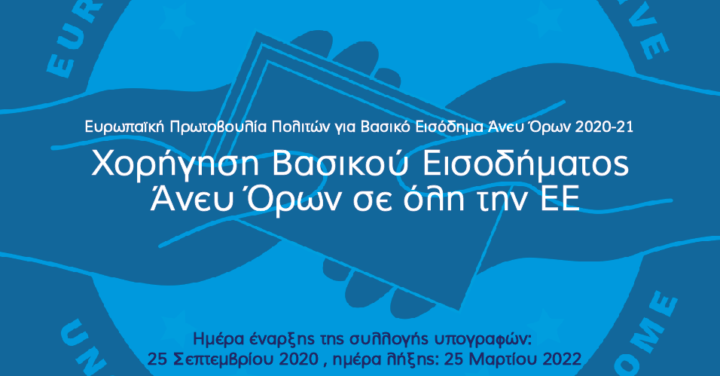 The table writes:
European Citizens' Initiative on Unconditional Basic Income 2020-21
The Granting of the Unconditional Basic Income throughout the EU
Start day for collection of signatures:
25 September 2020, last day: 25 March 2022
The debate on a Basic Income that is universal, unconditional, sufficient and personalized is not new. However, it took on a new dimension from the moment the pandemic broke out. Countries have been obliged to grant – on a monthly basis – a type of income, due to measures to suspend commercial and business activities. Despite the fact that the Basic Income is not an allowance but a human right, it looks like we are experiencing an increasing familiarization of the issue through the policies which are put in place due to the pandemic. Different countries had already carried out pilot schemes before the pandemic and at the moment the debate is in favour of those who believe that the time has come for a redistribution of resources, more objective taxation and even taxation of corporate communications and social media platforms such as Facebook. In parallel with this, labour is taking on a completely different form due to technological progress and with the introduction of Artificial Intelligence in the workplace, leaving hundreds of thousands of people outside the work environment and unfortunately boosting the gig economy. At the same time, voices are multiplying which talk of the recognition of other forms of labour which do not necessarily provide an income but which help the cohesion and development of our communities such as the care of children by their parents, the care of the aged in their homes and community service.
Sign the Basic Income initiative.
Watch and share the video of the Greek team.
2.European Citizens' Initiative on Patent Free Vaccines, Pharmaceuticals and Diagnostics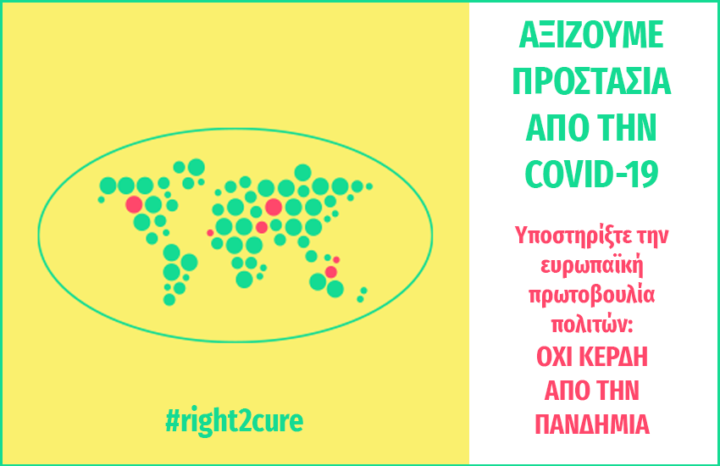 The table writes:
We deserve protection from Covid-19. Support the European Citizens' Initiative NO PROFIT ON PANDEMIC #right2cure
We all have a right to healthcare. In a pandemic, research and technology must be disseminated widely, quickly and all over the world. No private company should have the power to decide who will have access to treatments or vaccines and at which price. Patents allow a single company to have a monopolistic hold on basic pharmaceutical products. This limits the availability of drugs increases their cost and makes it difficult for people who need them to access them.
Details about the costs of production, public financing of research and development as well as the effectiveness and the safety of vaccines and treatments must be made public. Contracts signed between public authorities and pharmaceutical companies must be made public for the sake of transparency and accountability.
Taxpayers have paid for the research and development of vaccines and treatments. Whatever has been paid for by taxpayers must be used for the public good. We cannot allow large pharmaceutical companies to privatize key health technologies which were developed with public funds. A collective threat needs a communal approach and solidarity: not private profitability.
Public funds must always be provided with guarantees of the availability of the treatments and vaccines, and guarantees of affordable prices. This was stressed, among other policies, by the Greek Minister of Health, Vassilis Kikilias, after the way in which certain pharmaceutical companies behaved by not keeping their promises to provide a specific number of vaccines to EU countries and the unfortunate declarations about "vaccines as a  public good".
Signed the No Profits from the Pandemic initiative.
Translation by Jeannette A. Arduino,  from the voluntary Pressenza translation team. We are looking for volunteers!